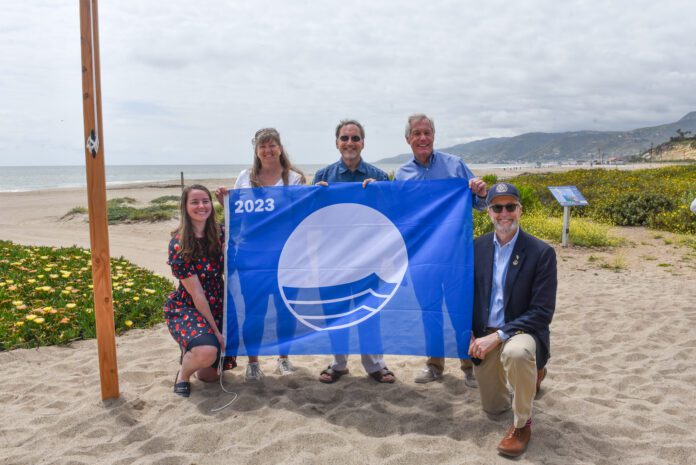 Awards program promotes environmental education and management, safety, and tourism
Sandwiched between Zuma Beach and Zuma Lagoon, Westward Beach is about a mile-long strip of clear skies and smooth sand. With parking right to the beach, Westward Beach is undoubtedly one of the most accessible beaches in Malibu.
In 2021, Westward Beach was officially entered into the Blue Flag program as a pilot site. Before applying for the honor, Westward Beach had to meet more than 30 criteria related to those categories.
Last month, Westward Beach was given that award and on Thursday, May 25, prominent leaders gathered at Westward Beach to commemorate this prestigious designation.
Los Angeles County Department of Beaches and Harbor Director Gary Jones recognized and introduced the speakers for the Blue Flag Ceremony on Thursday afternoon.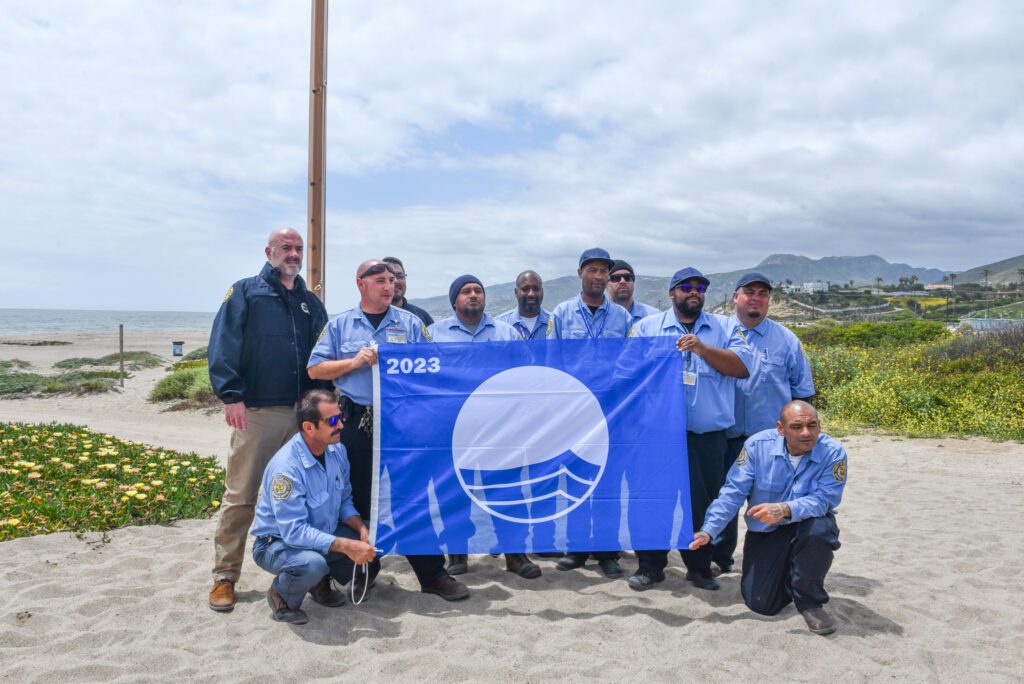 Those in attendance from the City of Malibu were Mayor Bruce Silverstein, City Manager Steve McClary, Councilmembers Paul Grisanti, Doug Stewart, and Marianne Riggins, and Media Information Officer Matt Myeroff.
"It's my honor to be with you today as we raise the blue flag over Westward Beach for the first time," Jones said. "Many thanks to all our Zuma Beach field staff and departments team; these staff members contributed tremendously to ensure the beach meets the Blue Flag criteria and that we were ready for today."
Started in 1987, Blue Flag is an international awards program that promotes environmental education and information, environmental management, safety and services, social responsibility, and responsible tourism. Internationally, the Blue Flag has been awarded to more than 5,000 beaches, marinas, and tourism boats from 50 countries.
"At DBH, we want everyone to be able to enjoy the beach and the Blue Flags emphasis on safety, access, and environmental responsibility mirrors our commitment," Jones said. "It not only recognizes Westward Beach is a great beach, it also recognizes everyone's hard work caring for our coast involved with our operations here."
Jones then introduced Silverstein.
"The City of Malibu is proud that Westward Beach is one of only two beaches in the continental United States to receive this prestigious Blue Flag Award," Silverstein said. "The reason Westward Beach is receiving this award is because they have managed the beach so well, protected its natural beauty and fragile ecosystem, and kept it clean, safe, and accessible for all to enjoy."
Silverstein ended his speech with Malibu's Vision and Mission statement.
"Malibu is a unique land and marine environment and residential community whose citizens have historically evidenced a commitment to sacrifice urban and suburban conveniences in order to protect that environment and lifestyle and to preserve unaltered natural resources and rural characteristics," Silverstein said. "The people of Malibu are a responsible custodian of the area's natural resources for present and future generations."
With close proximity to The Point Dume Natural Preserve, Westward Beach is also known for its periodic sightings of seals, dolphins, and other sea life. The sheer cliff area is also used for rock climbing.
After an evening of ambience, visitors can enjoy panoramic views at the Sunset Restaurant, also located between Westward Beach and Zuma Beach. Relax, unwind, and choose from cocktails, seafood, and meat plates. With patio seating, enjoy a unique dining experience and Pacific Ocean views.
Jones also attended the Marvin Braude Trail improvement celebration and community bike ride with Supervisor Lindsey Horvath the day prior.
"With the Blue Flag Award and the Marvin Braude Trail upgrades, it's undoubtedly going to be a great summer for our LA beaches," Jones said.
Blue Flag USA Program Coordinator Annie Mercer acknowledged and thanked the community's leadership, dedication, and involvement.
"Beaches and Harbors can raise this flag with pride, it means Westward Beach surprises U.S. standards for healthy and sustainable resources; this beach will serve as a role model for other destinations as the Blue Flag Program continues to expand," Mercer said.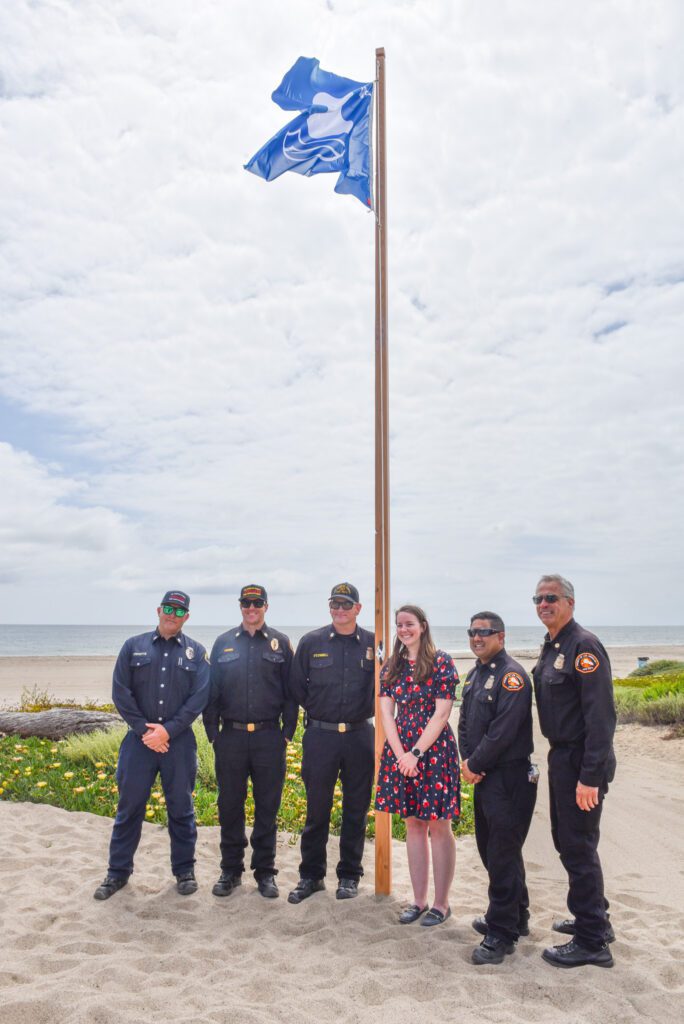 While Public Works commissioners and outdoor enthusiasts hope to build more accessible transportation for bicyclists, Westward Beach has suffered coastal erosion these past few years due to high tides and rainstorms. 
"Unfortunately, Westward Beach took quite a bit of impact of erosion from those storm events, so any development or any infrastructure, has to be developed in a way that is mindful of that—we're one of many agencies that are involved with that," Jones said. "For many reasons, that's a favorite beach of ours, there's many reasons why we wanted Westard Beach to be our first Blue Flag entity."
The Los Angeles County Department of Beaches and Harbors manages Marina del Rey harbor and 25 miles of beaches along the Los Angeles County coastline, including world-famous Zuma, Malibu, Surfrider, and Venice beaches.
The flag will fly over Westward Beach from May 25 through Sept. 30, and over Delray Beach Municipal Beach in Florida from May 19, 2023, through April 30, 2024.