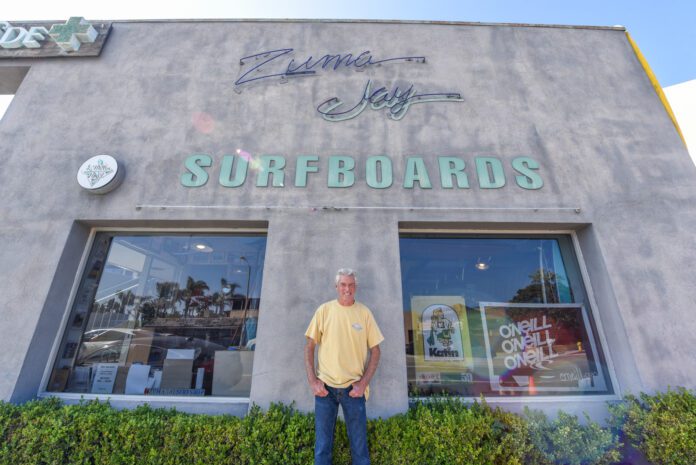 Iconic surf shop is known the world over 
It may be hard to believe, but that little surf shop you probably drive by daily on Pacific Coast Highway, Zuma Jay Surfboards, just turned 50. Its owner, Jefferson Wagner, can often be found out front with a broom keeping what he calls "a family business" looking neat and tidy. Yet, this small storefront is responsible for helping to spread the sport of surfing and its immense imprint on our culture and Malibu itself.
Malibu's oldest surviving surf shop started out humbly as Backside Surfboards in a shack at the back of the Whale Watch restaurant (now the Sunset) that Wagner helped the late Bernie Safire build in the early '70s. Wagner was shaping and glassing his own boards back then. As the sport exploded, Wagner outgrew his shack "where the dumpsters are at the back of the restaurant" and moved to his current location across and down from the Malibu Pier, where's he's been for more than four decades.
And Wagner helped the sport grow as one if its biggest ambassadors. As a skilled surfer, he caught the eye of Hollywood and became a water stunt performer. That led to scores of walk-on and one-liner roles with more than 200 credits. He's worked as a model, posing for the best fashion photographers of the day, including Bruce Weber, the late Herb Ritts and the master of Hollywood glamour, George Hurrell. For five years, Wagner was the Marlboro Man.
He also became a pyrotechnician and special effects coordinator, all while running the business with the help of his young hires he's employed for five decades. Wagner estimates he's hired 300 local kids from Malibu and Pacific Palisades throughout the years. On one wall of the shop already crowded with surfboards, kayaks, wetsuits, leashes and all the gear needed for water sports, he keeps room for more than a hundred photos of some of the teenagers who've worked at Zuma Jay's.
He's been around so long that now even children of former workers are currently employed at the shop.
Zuma Jay Surfboards' longevity is astounding for nearly any business, especially in Malibu with its low residency and frequent weather-related road closures. But tourists seem to know where to find Zuma Jay. A few times a week, tourist buses stop at the store and people come in seeking photos and a handshake. That can't be said for the less than handful of other local businesses that can claim a half-century in Malibu.
Zuma Jay's Surf Shop, as it's als known, has managed to weather the ups and downs of economies come and gone and has done so unbelievably with no internet presence that drives today's marketplace.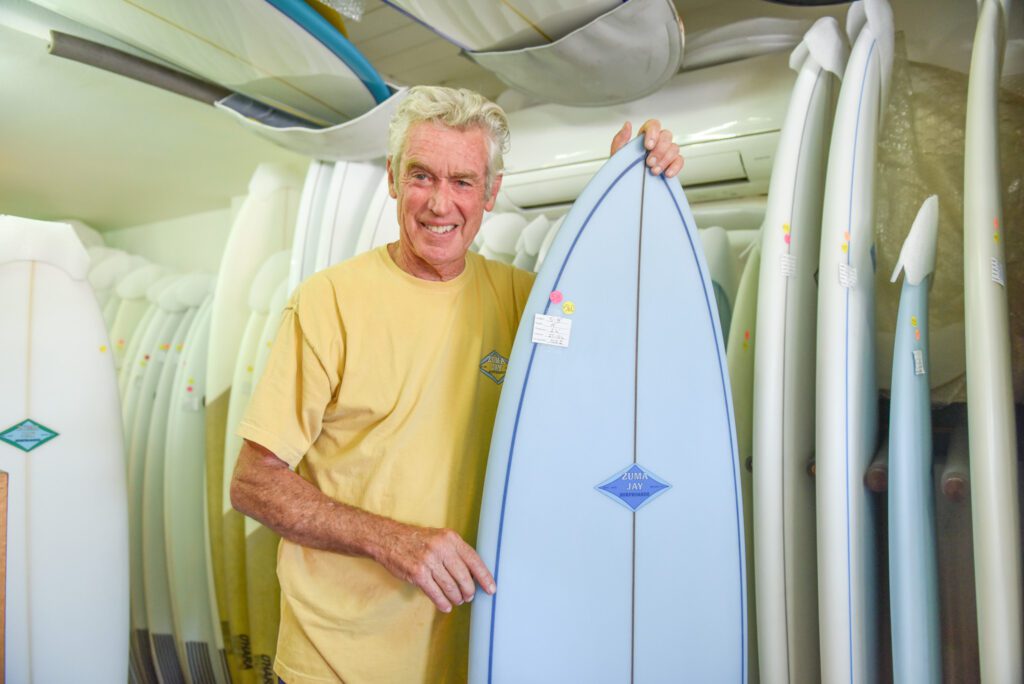 "I don't do internet and I don't advertise. I don't do Faceplant and Tweeker [sic]," the businessman quipped. There are no internet sales at Zuma Jay's. It's strictly word of mouth and a reputation that has stuck with so many original customers over the years; many of them now bring their grandchildren to the shop which seems to delight the local icon.
Although Zuma Jay's is a family business, it's supported by so many youths learning surfing, boogie boarding and water sports, so Wagner supports them too. He's sponsored Malibu Little League teams, coached surfing at Malibu High School, and actually brought competitive surfing to Pepperdine University. He helped form the team in 1980 with Jack LaLanne's son, Jon LaLanne, and other university students who worked at the store. Wagner is proud to have mentored those athletes and their first team who "went far" in the NSSA (National Scholastic Surfing Association).
Wagner has actually been a Malibu resident longer than he's owned his store. He's invested in the community's success and is often asked for his opinion on environmental and business issues facing the city. As an involved Malibu resident, he was voted onto City Council and served as mayor twice in the last 15 years. He's been an opponent of overdevelopment. Although he wouldn't oppose a proposed hotel at the site of the old La Salsa restaurant across from his store, he would mourn the loss of 30-foot tall fiberglass La Salsa man who watches over PCH. "Hotel fine, but Salsa man stays," he said.
Wagner is not currently serving an elected position, but as a fierce defender of Malibu, he said, "I continue my participation because I love my town."
Now 70, Wagner expects to be running Zuma Jay's for years to come, but acknowledged it won't be another 50 years. He's hoping some young employees some day will buy it.