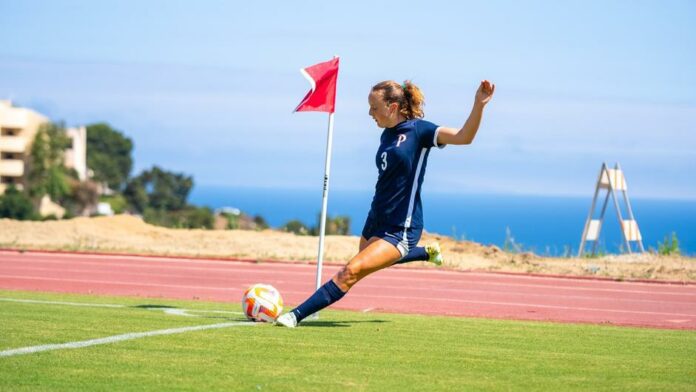 Pepperdine will host Georgetown and Michigan this week to kick off regular season
The Pepperdine Waves women's soccer team scored a victory before its season kicks off this week.
The Waves defeated the Arizona Wildcats 2-1 in an exhibition match on Aug. 10 at Pepperdine's Tari Frahm Rokus Field.
Junior forward Kelsey Adams and senior midfielder Skylar Enge scored goals for Pepperdine in the contest.
Both goals happened in the first 30 minutes of the matchup.
Adams received the ball from senior defender Victoria Romero via header with 16 minutes on the clock. Adams gathered the ball between her feet and kicked it with her right foot past Arizona's goalkeeper and into the net. Enge scored around 14 minutes later. Freshman forward Julia Quinonez passed the ball to Enge, who nailed the ball with her right foot into the goal.
The Wildcats scored their lone goal 40 minutes later.
Enge had one assist in the game. Romero, Adams, and senior Tori Waldeck also each registered an assist.
Pepperdine sophomore goalkeeper Harlee Head had two saves in the game.
Pepperdine took eight shots, include four on goal, while Arizona took 10 shots, including four on goal.
The Waves host Georgetown on Thursday at 3 p.m. to start their season. The squad will host Michigan on Sunday at 1 p.m. Pepperdine plays at San Diego State on Aug. 24.
The Waves finished last season with a 9-4-5 record.