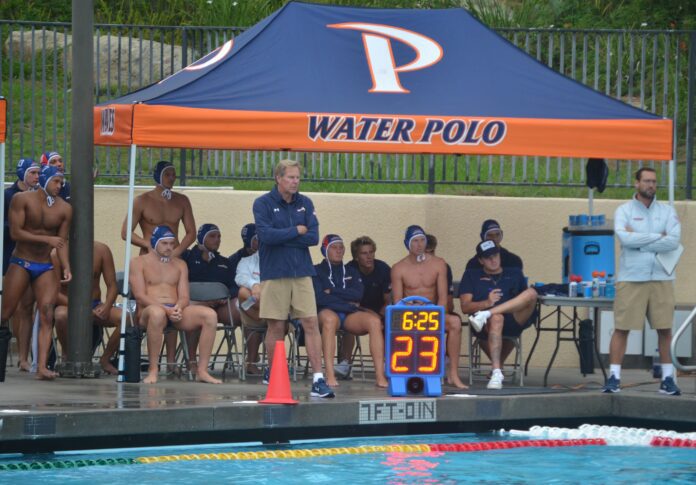 Former Olympian has won a national title and five WCC Coach Of The Year awards at Pepperdine
Pepperdine Waves men's water polo head coach Terry Schroeder gained his 500th career win as the Waves went undefeated in the two-day Julian Fraser Memorial Tournament in San Jose.
Schroeder, in his 31st season coaching the Waves, reached the milestone when Pepperdine defeated Bucknell 17-8 on Oct. 21, the first day of the tournament. He ended the event with a 502-343 coaching record.
In a statement, Merrill Moses, the Waves' associate head coach and a past Waves standout, said Schroeder, also a former player, has had an amazing water polo career.
"This is an amazing accomplishment to lead a team to 500 wins," Moses said of Schroeder. "His knowledge of the game and coaching style has impacted so many Pepperdine athletes to succeed in the water and outside in life."
Moses, coached by Schroeder as a Wave and Olympic player, said he would not have been as successful in his career without Schroeder.
"I have learned so much from him as a player and now get the privilege to be coaching beside him and have gained a tremendous amount of knowledge from him as a coach."
Schroeder is in his second stint as Pepperdine's head coach. Beginning in 1986, he coached the Waves for 20 seasons and composed a record of 340-220. Schroeder led Pepperdine to the national championship in 1997.
He stepped away from the post in 2005 to join the U.S. National Team's coaching staff. Schroeder initially returned to the Waves sideline as a volunteer assistant in the summer of 2012. He became the head coach again at the beginning of the next year.
Heading into Pepperdine's game against California Baptist in Riverside on Saturday, Schroeder has a 162-123 record since the 2013 season.
Schroeder is the seventh coach in men's college water polo history to have at least 500 victories under his belt. The others include Dante Dettamanti, Denny Harper, Jovan Vavic, Mike Schofield, Pete Cutino, and Ted Newland.
Schroeder was named the NCAA National Coach of the Year the season Pepperdine won the national title and has garnered conference coach of the year recognition five times. Schroeder coached the U.S. to the silver medal at the 2008 Olympics and guided the squat at the Olympics four years later. He is also an inductee in the CoSIDA Academic Hall of Fame, the International Swimming Hall of Fame, the U.S. Water Polo Hall of Fame, and the Pepperdine Athletics Hall of Fame.
Schroeder was also a standout water polo player at Pepperdine. He was on Team USA's roster for 16 years and was a team captain from 1983-92. He dived in the pool for four Olympic games including the 1984 and 1988 Games where the U.S. won silver medals.
The Waves opened the Julian Fraser Memorial Tournament with a 7-6 downing of Princeton.
Sophomore Adam Csapo rang up 4 goals and 2 assists in the match, while driver Ryan Brosnan, a graduate student, tossed in 2 scores, and senior center defender Nico Tierney scored a goal.
Freshman center Chase Wilson led Pepperdine with 4 goals in the triumph over Bucknell. Csapo, sophomore attacker Conor Brough, freshman utility Jon Carcarey, senior attacker Christian Hosea, and junior center Matty Walsh each had two goals. Brosnan, utility Kaden Kaneko, a graduate student and Tierney each throw in a score.
Pepperdine began the second day of the tournament with a 15-14 triumph over Fordham. Csapo tossed in four goals to lead the Waves in scoring. Seven of Csapo's teammates scored in the contest, including Tierney with three, Brosnan and Hosea with two each, and Carcarey, sophomore attacker Sandor Gal, senior center Travis Reynolds, and Wilson with one apiece.
The Waves' last match was a 23-5 thumping of Long Island University. Attacker Curtis Jarvis, a graduate student, scored six goals and Brough tallied four. Clay Kaneko, Kaden's brother, scored three goals as did Wilson. Seven Waves scored one goal each including senior attacker Andrew Outcalt, junior attacker Dane Howell, sophomore utility Milo Joseph, Kaden Kaneko, Csapo, Hosea, and Reynolds.
Pepperdine began the week with a 19-4 record. The squad hosts Air Force on Sunday at noon, two days after playing California Baptist. The Waves go to the Bay Area to play San Jose State on Nov. 4 and Santa Clara the next day.