Luke Gifford finished in a three-way tie for first place in local qualifying at Palm Desert on May 1
Pepperdine Waves men's golfer Luke Gifford wasn't feeling the greatest about his golf game after the West Coast Conference Championships in Washington at the end of April.
Sure the Waves, the sixth-ranked team nationally, finished third in the nine-team tournament, and Gifford placed 17th out of 43 golfers and posted 11 birdies in the event. However, the golfer didn't believe he played his best.
Pepperdine associate head coach Chris Zambri noticed. So the day after the WCC Championships concluded, the former USC head coach treated the graduate student to breakfast.
"I had a serious bummer of a back nine at the close of the tournament," Gifford remembered. "Chris Zambri and I talked about things specific to me and how I can improve. I took a lot out of that. I took a lot of confidence out of it."
That pep talk helped propel the 23-year-old to his usual standout ways on the course. Gifford finished in a three-way tie for first place at U.S. Open Golf Championship local qualifying at Indian Ridge Country Club in Palm Desert on May 1.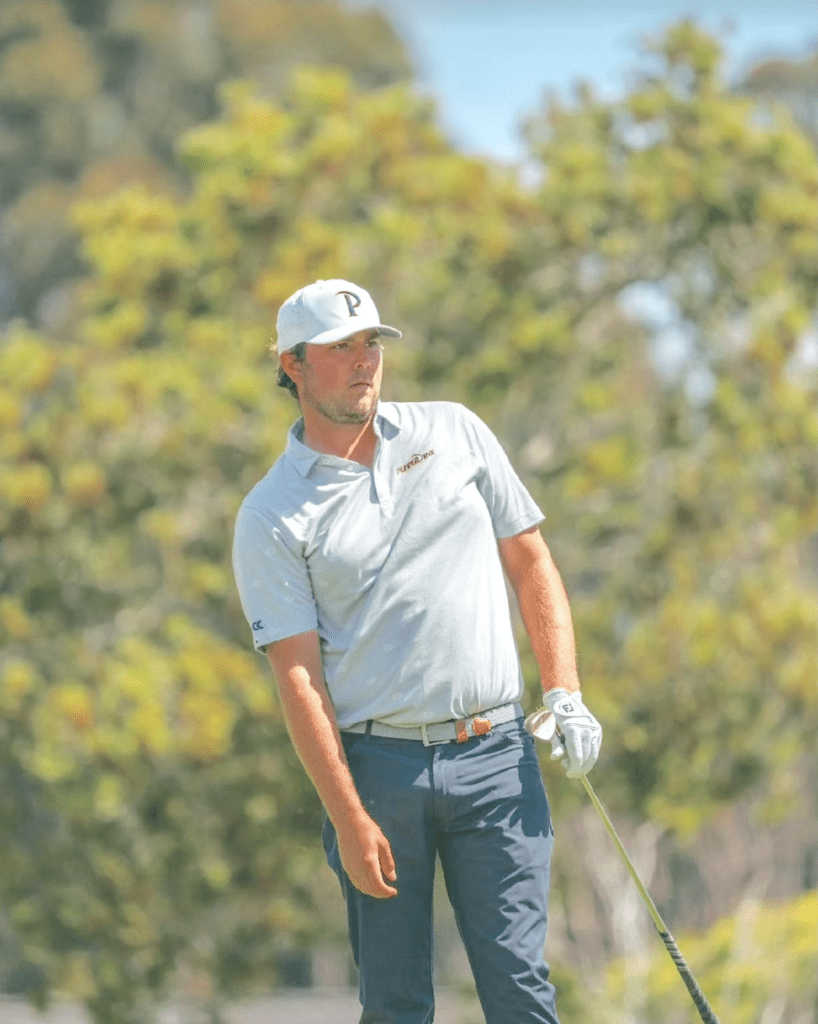 Gifford carded a 1-under 71 to claim one of four spots that advance to final qualifying, which is May 22 and June 5. The U.S. Open, one of four major championships in golf, will take place June 15-18 at The Los Angeles Country Club.
Gifford focused on playing his game and having fun, as opposed to zeroing in on advancing in the qualifying process.
"I have the talent to get through, it's just whether or not I put together the right day, have a good enough day," he said. "There are a lot of players and not many spots that go out to local qualifiers. I take it with a grain of salt and just try to play well — not make silly mistakes."
Teeing off in the desert often means swinging clubs under breezy conditions, so Gifford aimed to shoot around -2 under.
"The windier it gets, the higher the scoring will be," he noted. "I got off to a good start. I didn't have an amazing performance in any category of the game. I just didn't hit any balls out of play. I played pretty boring golf, honestly."
Gifford tied with Cullen Plousha and Jonathan King for first place. The fourth golfer to move on in qualifying was Chris Evans. Seventy-five participants from Canada, China, Ireland, Japan, and the U.S. failed to qualify.
This was Gifford's fifth qualifying attempt.
On the same day, he was named an All-WCC first-team golfer along with teammates William Mouw, Derek Hitchner, and Sam Choi. Mouw and Hitchner were named co-WCC Player of the Year. The two are the fifth and sixth Pepperdine golfers to win the honor.
Gifford has a 72.29 scoring average and has placed in the top-20 in five tournaments this season with 12 below-par rounds. He graduated from South Florida before coming to Pepperdine, and last season was named the American Athletic Conference Men's Golf Scholar-Athlete of the Year.
Gifford, who hails from Boca Raton, Florida, decided to attend Pepperdine for a fifth season of college golf after meeting with Zambri and head coach Michael Beard. He recognized the talent on team's golf lineup and realized how the Waves program, national champions in 2021, could prepare him for professional golf.
The golfer improved this season.
"My average day or even off day is much better than before coming to Pepperdine," Gifford explained. "My bad days are much better. A bad day would be one, two over, now. Before, it would be three or four. It doesn't seem like much of a difference but in golf one shot is very important."
Gifford said his best outing of the season was in the Western Intercollegiate tournament in Santa Cruz last month. Pepperdine won the three-round event, and he finished 14th with 12 birdies.
"I had two rounds in the 60s, and it was one of my better putting weeks," Gifford said.
However, he hasn't played his best golf yet.
"I wouldn't be surprising to me if I flipped a switch and started playing really well," Gifford noted.
The Waves are the top seed at the May 15-17 NCAA Regional in Morgan Hill. Their aim is to advance from that event to the NCAA finals, Gifford stated.
"We have a really good team," he said. "If we handle our business, we will get to nationals."
The U.S. Open and its qualifying rounds will be held on courses that Pepperdine played on this season. Gifford hopes that gives him an advantage.
"Making the U.S. Open has been a dream," he said. "I want to be a professional after college. I want to play in the best tournaments and compete in majors."