Both squads are defending conference tournament champions
The Pepperdine Waves men's and women's golf squads are heading into this week's West Coast Conference Championships with Bay Area tournament titles under their belts.
The men's team won the Western Intercollegiate in Santa Cruz on April 12, and the women's team finished as co-champions of the Silicon Valley Showcase in Millbrae on April 11. Additionally, the men's team's Derek Hitchner, a graduate student, won the Western Intercollegiate's individual title and Lion Higo, a junior on the women's team, won individual tournament crown at the Silicon Valley Showcase.
The teams begin play in the three-day WCC Championships on Thursday in Bremerton, Washington. Both squads are defending WCC tournament champions.
In the Bay Area last week, the men's and women's Waves teams competed against other college squads and heavy winds throughout the events.
The men's team rose from fourth place to first place the second day of the three-day tournament with a 22-under 328. Waves head coach Michael Beard said his squad "went off" in the second round of the 14-team event at Pasatiempo Golf Course.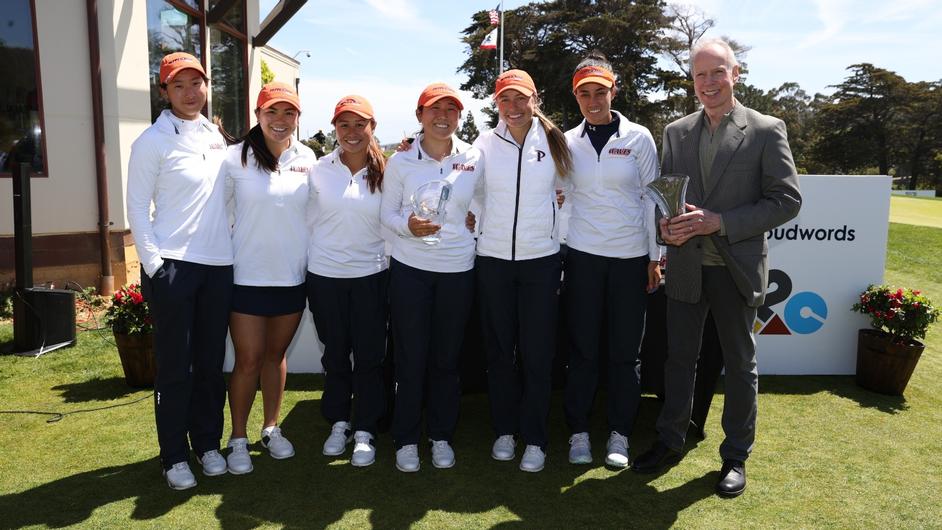 "I've never seen a day like that," he said. "Some of the coaches were coming up to me and saying they had never seen it — especially here. Its pretty neat that these guys can experience that. When you think you can do it, it's different than actually doing it, so just doing it will help our guys' confidence going forward."
The women's team played better than any other team in the second and third rounds of their three-round tournament at Green Hills Country Club. Pepperdine shared the co-champion status with Stanford, the top-ranked team in the nation. Waves head coach Laurie Gibbs said finishing tied at first with Stanford is a honor.
"Coach Rich and I are very proud of the team to win a fourth tournament of the regular season," she said, mentioning Pepperdine assistant coach Rich Greenwood.
The men's team's clubs caught fire in the second round. The team broke North Carolina's previous record of 14-under 336 in 2018 to take first place. Graduate student Sam Choi, the WCC Golfer of the Month in March, led the way for Pepperdine and had a first-place lead in the event. Hitchner was in third and their teammate graduate student Luke Gifford was tied for eighth.
Hitchner took the lead the last day of the tournament. After Hitchner was awarded the Intercollegiate's blue jacket with white sleeves and the tournament trophy, his teammates doused him in water to celebrate. It was the first tournament win of his college career. Hitchner's final score was 203 (68-64-71). He had 13 birdies, including seven in the second round.
Hitchner, Beard noted, had been close to winning tournament championships before.
"With golf you just kind of have to wait," Beard explained. "You feel good, the stars align, and things happen. That was this week for him. I'm very proud and happy for him because I know how bad he wants it."
Hitchner is the third consecutive Pepperdine golfer to win the tournament. Joe Highsmith won it in 2021 and Dylan Menante won it last season. Beard said having three winners in three years is amazing.
"This place is so difficult," he said. "There are so many great teams, great players, great coaches."
The Waves also won the event's team title two years ago.
Pepperdine finished 9 strokes in front of second-place Oregon this year with a 16-under 1,034 (345-328-361).
Choi finished in fourth place with a score of 205 (66-65-74) and Gifford tied for 14th with a score of 210 (69-67-74). Senior William Mouw tied at 13th with a score of 209 (69-69-71) and sophomore Ian Maspat tied for 19th with a score of 213 (73-69-71).
"I'm really proud of our guys," Beard remarked.
Higo led the women's team to victory with score of 214 (68-73-73). She had an eagle on the fifth hole in the first round and recorded six birdies in the tournament.
"Awesome win for Lion," Gibbs noted. "She has had a fabulous season."
Higo was the WCC Golfer of the Month in February and the conference's Co-Golfer of the Month in March.
She was one of five Pepperdine golfers to finish in the top 10 at the Showcase.
Junior Kaleiya Romero, tied at first the second day of the tournament, finished fourth with a score of 216 (68-71-77) and freshman Jeneath Wong placed sixth with a score of 218 (74-72-72). Lauren Gomez, a sophomore, placed 10th with a score of 222 (72-74-76). Senior Reese Guzman, who competed as an individual, had a score of 220 (67-77-76) for ninth place. Additionally, freshman Yingzhi Zhu tied for 27th with a score of 234 (73-81-80).
The Waves final score was 869 (281-290-298). Pepperdine and Stanford finished 39 strokes ahead of third-place Santa Clara.