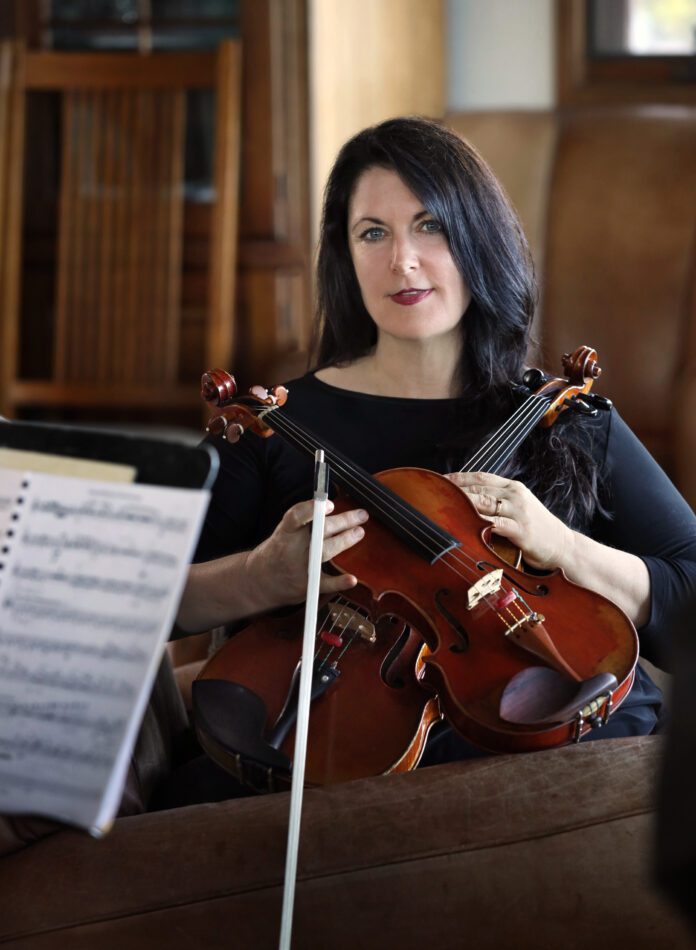 'Caritas' will celebrate healing and those who heal
The beautiful music of Malibu resident Maria Newman is about to be featured in a meaningful concert in tribute to the healers, frontline responders, essential workers, and caregivers throughout the COVID pandemic. The vocal group Artes Vocales is presenting its concert "Caritas" Saturday afternoon, June 3, at St. Edmund's Episcopal Church in San Marino. In an act of thanks, tickets are free for caregivers, frontline/essential workers, and first responders.
Newman, a member of the Newman musical dynasty of Hollywood composers, will accompany the choir on violin along with her husband, violist and musical artist Scott Hosfeld.
Newman's featured work is her requiem mass "Requiem: Missa Mortem da Pacem." The piece was actually written during the AIDS crisis when the composer learned of the death of a 9-year-old boy who contracted the disease through a blood transfusion. The Malibu composer who has been hailed "a real genius" by Fanfare and "one of the most charming and distinctive composers of her generation" by music critic Jim Svejda said she "wanted to be enveloped in a musical tonic while struggling to digest the fact that innocent people of all ages were dying from a horrible disease. My requiem took shape in that moment. It became a catalyst for pain, a way to cope, a path for hope in light of hopelessness. It is my letter to that child and to every human who has suffered misunderstanding and loss.
"For the 'Caritas' concert we want to honor all those who sacrificed so much working through the COVID pandemic. All the horrible things we've gone through."
"[The founder and artistic director of Artes Vocales, Dr. Steven Kronauer] thought it would be a fitting mass in a secular and sacred sense as a catalyst for change, a catharsis, something that helps to rid one of pain and yet recognize it at the same time," Newman commented.
"The program is called 'Caritas' which means dear ones. These are the people who have taken care of us during this time. Artes Vocales wants to honor the caregivers that may have already been forgotten. First, we were banging pots and pans to honor them. The caregivers were heroes and then soon they sort of got lost as time passed. They were so beloved. Then when the pandemic continued, in frustration, I think a lot was taken out on them.
"The whole program honors different sets of caregivers, from mental health, hospice, firefighters who put their lives on the line, who went in without thought for themselves; researchers who helped to find treatments and this is over the decades, not only what we've been through in the past three years and surely what we'll go through in the future."
Newman noted that these topics can be controversial to some but stated, "Music is not about politicizing anything. This is thanking the people who stayed with patients as they were dying, people who became their surrogate families during their hospital stays, people who tried so hard to keep patients connected to their families who could not visit, neonatal workers, and those on the frontlines. This concert is to celebrate what these people so selflessly did for the rest of humankind."
Kronauer, an opera singer who spent years in Europe performing and who now lives in downtown LA, echoed Newman's words.
"I remember banging pots and pans outside our windows to thank our healthcare workers during the lockdown," he said. "I was also spurred by the story behind Maria's work, which so brilliantly invokes and inspires Caritas — the Latin word encompassing charity, compassion, generosity of spirit, willing what is good for another. We thought this is a great idea to reignite our thanks for those who take care of us.
"Interspersed between the movements of Maria's gorgeous mass there are various solos of other music including Bernstein, Brahms, a Broadway piece and various eclectic solos featuring wonderful musicians including Newman's daughters Martha and Isabella Thatcher. It's an eclectic program. It's going to be stunning. It's going to be an extremely powerful afternoon."
To purchase tickets visit artesvocales.com or eventbrite.com/e/artes-vocales-presents-caritas-an-homage-to-all-who-take-care-of-us-tickets-626675251547
Tickets for caregivers, essential workers, and frontline/first responders are free. (Enter promo code CARE)