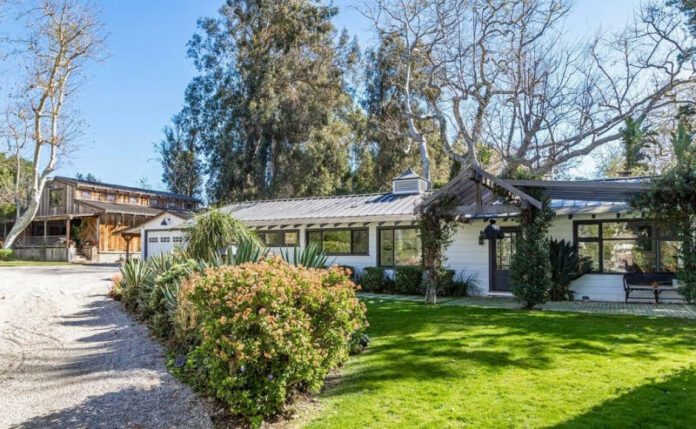 Award-winning TV chef Sandra Lee lists oceanfront PCH home near Big Rock
Multiple Emmy-winning TV chef and cookbook author Sandra Lee, 56, has listed her oceanfront home for $7.5 million — more than twice what she paid for it just over three years ago, according to Dirt. Located at 19620 Pacific Coast Highway, the property is also available for long-term lease at $42,500 per month.
Originally built in 1948, the 1,719-square-foot one-story house with three bedrooms and three baths features formal rooms, outdoor deck and access to 75 feet of beach frontage. Her remodel gave it a "glam" interior look with crystal chandeliers, mirrors, glass, and white walls.
Probably best known for her "semi-homemade" cooking concept, Lee acquired the property shortly after splitting with longtime partner Andrew Cuomo, governor of New York from 2011-21. During her career, she's been the creator and host of shows on Food Network, Cooking Channel, HGTV and Great American Country, has written 27 books, and been a national spokesperson for numerous charities.
Carbon Beach property with 60 feet of ocean front asking $35.995 million
This contemporary two-story home, first built in 1956, has been "reimagined" by Saffron Case Homes of Malibu. The four-bedroom, 4.5-bath abode in 4,400 square feet features an open floor plan, huge main bedroom suite and 60-foot deck. Located at 22160 Pacific Coast Highway, it's walking distance to SoHo house and Nobu.
Back in 2019, the house sold for a mere $19 million.
YouTuber/podcaster Cody Ko buys Reese Witherspoon's former hideaway above Zuma
Cody Ko and his new wife, Kelsey Keppel, paid $3.6 million in winter 2021 for a townhouse in far western Malibu. That house was recently put up for sale so the couple could then purchase Reese Witherspoon's former "hideaway" in the hills above Zuma for $7.7 million.
This property changed hands a number of times in recent years. The current seller, Meg Haney, a billionaire's daughter from Tennessee, purchased the spread from Witherspoon and her ex-husband Jim Toth for $6.7 million in 2020.
Built in 1950, previous owners had updated the property and operated it as a wedding venue. Situated on two acres with large trees, there's a four-bedroom main house, a converted barn with one bedroom, separate building with gym and media room, and a horse corral.
What may be the world's priciest mobile home is for sale in Paradise Cove for $5.85 million
Architectural Digest was probably the first to report on the world's priciest mobile home "Inside America's Priciest Trailer Park" — now for sale in Paradise Cove. The three-bedroom double-wide trailer on a bluff-top does have breathtaking views similar to nearby properties outside the mobile home park that have sold for over $100 million.
Located at 247 Paradise Cove Road, it's listed for $5.85 million. Another mobile home there, at 97 Paradise Cove Road, was on the market for $3.9 million.
The Wall Street Journal attributes those prices to wealthy buyers who like the "sweeping views, built-in sense of privacy and seclusion, and direct access to a cove popular among surfers." Over the years, celebrity residents like Matthew McConaughey, Stevie Nicks, and Minnie Driver also upped the ante.
Former Point Dume home of Jakob Dylan on the market for $17.65 million
Originally built in 1958 and situated on just over an acre, local architects Burdge & Associates reconstructed this 5,941-square-foot-home in 2011 for Dylan and his wife Paige, who lived there until 2015. The one-story, six-bedroom main house at 6930 Dume Drive also comes with a guest house, tennis court, and private beach easement.
In its latest incarnation, designer and realtor Lady Michael McCraine reimagined and updated the property with a cream-colored exterior, neutral gray interior doors, warm-hued walls, lighter wood floors, and a kitchen with double islands, La Cornue range, and Calacatta countertops.
Dylan, 53, a two-time Grammy-winner, rose to fame as lead singer and primary songwriter for alternative rock band The Wallflowers, which he co-founded in 1989. As of 2022, the band had three No. 1 hits and 13 songs that reached the Top 10 on Billboard's Adult Alternative Airplay list. Dylan was born in New York City to musician Bob Dylan and model Sara Lownds.