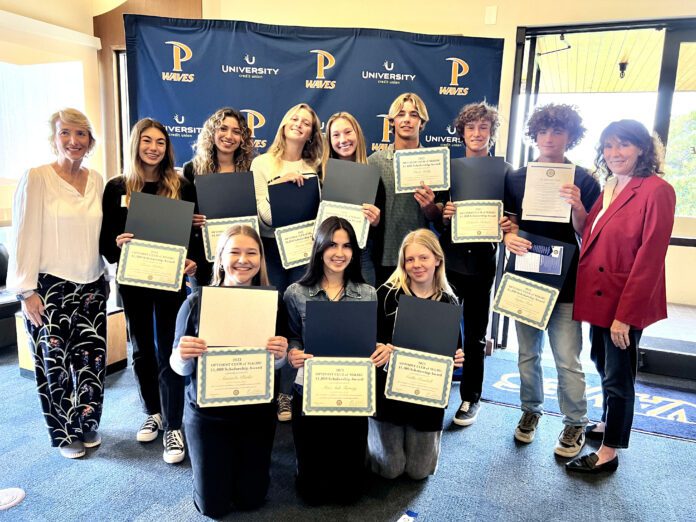 Distinguished students from Malibu High School, Viewpoint, and Oaks Christian recognized for their achievements
This year, the Optimist Club granted scholarships of $1,000 to a total of 11 students. Out of these recipients, nine students were from Malibu High School, while one student each hailed from Viewpoint and Oaks Christian.
For the past 60 years, the Optimist Club of Malibu has been presenting scholarships to graduating seniors. Initially, the scholarships began with a value of $100, but they have now been raised to $1,000 per recipient.
Throughout the span of 24 years, the Optimist Club of Malibu has generously distributed a sum of $294,000 in scholarships. Notably, among the beneficiaries was Henry Stern, our former State Senator, who was granted a scholarship in the year 2000.
On May 18th, this year's award ceremony took place in the Jones Trophy Room at Pepperdine. The event was attended by ten out of the eleven distinguished recipients, accompanied by their parents. Notably present were Patrick Miller, Linh Snyder, Cindy Smith, and Katie Dahm from MHS (Malibu High School), along with Isaac Burgess, the Executive Director of Malibu Pathway.
"We were very proud of all of the students that we selected this year," Scholarship Program Chair Marie Wexler said. "They have all worked so hard to be well-rounded."
In order to be eligible, the student must either be: 1. A resident of the 90263, 90264, or 90265 zip codes or 2. A graduating senior of Malibu High School or 3. The son or daughter of a member in good standing of the Optimist Club of Malibu. However, there is no preferential treatment for the children of club members.
Regarding the decision-making criteria, one-third of the scoring is based upon the student's Grades 9-12 Grade Point Average, including the 1st Semester of their Senior Year; one-third of the scoring is based upon the student's extracurricular activity, and one-third is based upon the student's community service activity.
A Committee of Club Members reviews each application received, and each applicant is scored between 0-25 on extracurricular activity and 0-25 on community service. Once they compile the scores, they meet to review the results and discuss any scoring issues. This year, the Committee included five members: Margaret Hauptman, Dr. Sam Bruttomesso, Bonnie Lockrem, Frank Brady, and Marie Wexler.