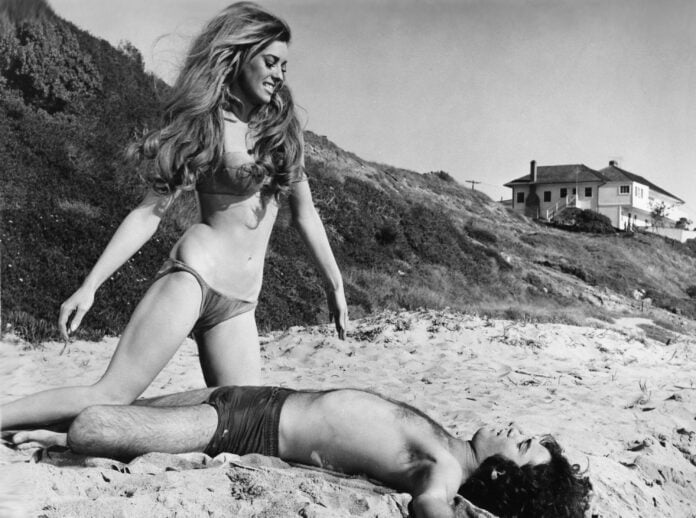 Here's a list of three Malibucentric movies all citizens should see
By Benjamin Marcus
Entertainment Editor
Plug "Malibu" into the "Locations" search box on IMDB.com and you'll get back over 3,000 hits. Proximity to Hollywood, perfect light, variety of scenery, and other factors have made Malibu an ideal place to shoot commercials, documentaries, TV movies, TV series and feature films from "Cohen Collects a Debt" (1912) to "American Badass: A Michael Madsen Retrospective" (2021). There's a long list of shows that Malibu citizens should watch, but here are three for starters.
1. "Don't Make Waves" (1967): In the novelization to "Once Upon A Time … In Hollywood," Tarantino mentions this "silly comedy" as one of Sharon Tate's first film roles.
"Don't Make Waves" is indeed a silly comedy set in a Summer of Love Malibu — an alchemy of hipsters and squares where citizens kvetch about paying $100,000 for a Malibu house. (1967's $100,000 would be $840,987.89 in modern dollars, but still …).
Tate's bodacious beach babe Malibu rescues Tony Curtis from drowning and shocks his heart maybe too much with some mouth-to-mouth resuscitation. That leads to a twisted web of sex triangles and quadrangles with Tate, Curtis, Claudia Cardinale, muscleman Dave Draper, Robert Webber, and Joanna Barnes all getting emotionally mixed and tangled up.
A goofball firestorm, "Don't Make Waves" rages from deep in the hills and dales of Malibu down to the beaches and bedrooms. Johnny Fain is visible. Jim Backus does an "as himselfie" cameo, and throws down some Mr. Magoo. It's a lot of silly fun.
Watching the film, you might see yourself or your house or your neighbor's house in it. Ten points if you can identify where the silly car accident happens at the beginning. Anyone? Anyone?
2. "Malibu Beach Party" (1940): Where the swells meet the swells. In this "Merry Melodies" spoof Jack Bunny (Jack Benny) sends out invitations to a beach party at his Malibu cottage and gets a procession of A-listers in response — many in costume. They politely sneak away as Jack Bunny plays the violin and the whole eight-minute cartoon is a sight gag on famous actors and actresses and their characters and quirks. If you don't have Tarantino's encyclopedic movie memory and need help identifying the movie stars parodied, IMDB lists them in order of appearance.
3. Beyond the Valley of the Dolls (1970): "This is my happening baby, and it freaks me out!" Sound familiar? Austin Powers stole that line from this very weird and wild, sex, drugs, and rock and roll spoof of "Valley of the Dolls." Written to his eternal fame and shame by esteemed film critic Roger Ebert and directed by mammarithmetician Russ Meyer, BTVOTD features lesbian sex scenes, a trans character, and lots of lewdity and nudity — much of it cut to dodge an X rating. The freaked out Ronnie "Z Man" Barzell was inspired by now-infamous record producer Phil Spector, and much of the movie — including the bloody and bizarre grand finale — takes place in a West Malibu beach house you might recognize. This movie is whack. Don't miss it.
Then and Now 1970 Past – Malibu 1970 Location on Malibu Beach for -Beyond the Valley of the Dolls- with Edy Williams as the Bikini Woman.jpg:
Edy Williams hovers over victim David Gurian in Beyond the Valley of the Dolls. The location of that house and that beach was a mystery, until legendary stunt coordinator Buddy Joe Hooker revealed the property was located on PCH just past Encinal Canyon. Contributed Photo