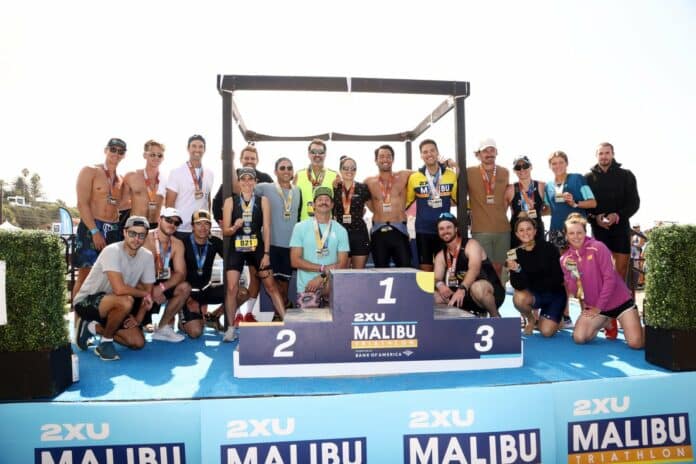 The Malibu Triathlon, presented by Super League Triathlon, returns to Zuma Beach for its 38th Annual swim-bike-run race weekend on Sept. 30 to Oct. 1. More than 5,000 athletes, including Hollywood celebrities, will test their fitness as they raise critical funds for the Pediatric Cancer Research Program at Children's Hospital Los Angeles.
Since 2007, the Malibu Triathlon has raised more than $17 million, resulting in the development of life-saving treatments that are helping children around the world in their fight against cancer. The acclaimed race welcomes triathlon enthusiasts, international athletes, celebrities and Fortune 500 companies all competing to raise money for the cause.
"I am inspired by the dedication and efforts of the participants in the Malibu Triathlon who run, swim and bike to raise funds for pediatric cancer research at Children's Hospital Los Angeles," says Alan Wayne MD, director of the Cancer and Blood Disease Institute at the hospital. "Thanks to the remarkable generosity of athletes and their supporters, we continue to lead progress in the fight against childhood cancer and blood diseases. Research is central to our mission and our successes, and I am immensely grateful to everyone involved in the triathlon for partnering with us to improve the outlook for children and adolescents with cancer and blood diseases."
Celebrities from all walks of life will test their fitness on Sunday, Oct. 1, as they compete head-to-head in the Malibu Triathlon Celebrity Division, which comprises 0.5-mile swim, 17-mile bike ride and/or 4-mile run. Past participants have included Tom Cruise, Matthew McConaughey, Jennifer Lopez, Zac Efron, Jennifer Garner, Felicity Huffman, Minnie Driver, Will Ferrell, the late Robin Williams and many more. Malibu Triathlon will announce the celebrity division participants for the 38th Annual race in the coming weeks.
"The great part about the Malibu Triathlon is that it's a chance for the everyday recreational athlete to push themselves in a physical fitness test alongside famous celebrities, all while raising critical funds for an amazing cause," said Malibu Triathlon race director Brennan Lindner. "We're so thankful for every participant that takes part in the Malibu Triathlon. Because of their dedication and commitment to the cause, and the kind support of the Malibu community in hosting and supporting this event, we're able to make a real impact on the fight against pediatric cancer."
As part of the race weekend, the Super League Triathlon Championship Series race will take place Saturday, Sept. 30. The world's premier swim-bike-run series, Super League Triathlon's new competitive racing format provides a fast, dynamic and exhilarating show for spectators. The race will feature some of the world's best athletes and Olympic medalists who will compete in the unique Eliminator format, with three rounds of fast swim, bike, and run action that sees the athletes towards the back cut from the race after each stage.
"Malibu Triathlon is the nation's premier triathlon, which is why we're excited to reintroduce Super League Triathlon to an area that loves the sport so much," said Super League Triathlon CEO Michael D'hulst. "We've seen a great response to the first two installments of Super League Triathlon in Malibu and we're excited to continue this new tradition with a globally broadcast race that has an inspiring lineup of World and Olympic champions, and is completely free to spectate."
The full schedule of race weekend is below:
Saturday, Sept. 30. 7 a.m. PT

Super League Triathlon Championship Series

Eliminator format. 3 x 300 m swim, 4.6 km bike, 1 km run

Individual, Corporate Challenge and Relay Olympic Distance Triathlon

1.5 km swim, 40 km bike, 10 km run
Sunday, Oct. 1, 7 a.m. PT

Celebrity Division Classic Distance Triathlon

0.5-mile swim, 17-mile bike, 4-mile run

Individual, Corporate Challenge and Relay Classic Distance Triathlon

0.5-mile swim, 17-mile bike, 4-mile run
Registration is open at www.MalibuTri.com/Register.
For event details and information on the Malibu Triathlon visit MalibuTri.com. For information on the Super League Triathlon Championship Series, visit SuperLeagueTriathlon.com