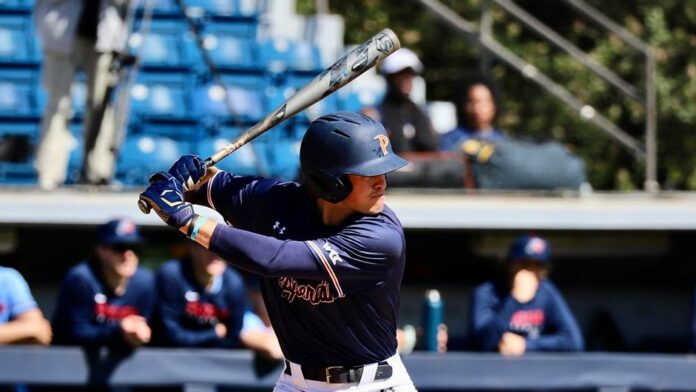 Peck, taken by the Tigers in the seventh round, was the highest-drafted Pepperdine player since 2016; Johnson goes to Astros in eighth
Two Pepperdine Waves baseball players were selected in the 2023 MLB Draft on July 11.
Junior shortstop John Peck was picked by the Detroit Tigers in the seventh round, and senior second baseman Ryan Johnson was selected by the Houston Astros in the eighth round.
Peck was the 614-pick draft's 200th pick, while Johnson was the 254th.
Peck, the highest-drafted Pepperdine player since 2016, was one of 21 players the Tigers selected in the 20-round draft.
He batted .296 with 157 hits including 31 doubles, four triples, and 20 home runs as a Wave. He also scored 107 runs and drove in 89. He was a second-team All-West Coast Conference player this season.
According to a draft analysis on the MLB's website, pro scouts were initially excited about Peck because of his breakout sophomore season in 2022, in which he was named to the All-West Coast Conference's first team. However, the three-year starter struggled to find consistency in the batter's box this spring.
"Peck does have good defensive actions and at least an above-average arm, which could give him the chance to stick at shortstop, at least at the outset of his pro career," the analysis reads. "Some see second base as a better long-term fit and the fact he's played three infield positions and some outfield could help him fit in a future utility role."
Johnson was one of 20 players the Astros picked.
Johnson's home run total of 18 was second in the WCC this season and also second on the Pepperdine single-season list. He was fifth in the WCC in RBIs with 45 and slugging percentage at .647. He batted .289 with 55 hits and a Waves-high 14 doubles. Johnson led Pepperdine in walks with 33 and had the fourth-best on-base percentage at .416.
Johnson started 159 games during his four college seasons. He was named to the All-WCC second team and American Baseball Coaches Association/Rawlings All-West region second team after the close of the season.