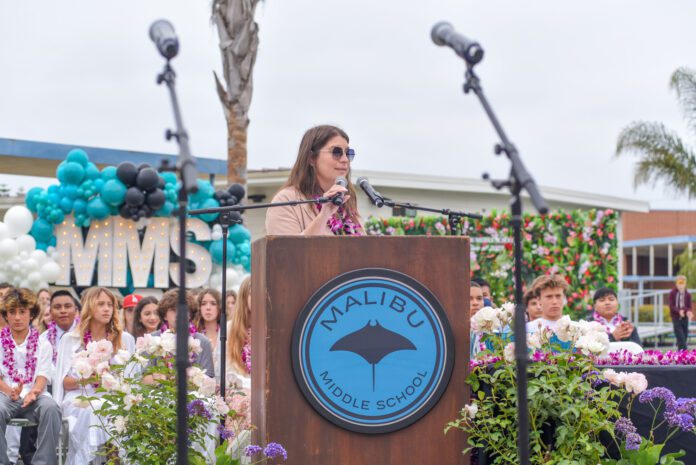 Families and teachers gather at the amphitheater to acknowledge students for moving up to high school 
Eighty-six Manta Rays celebrated a milestone at the Middle School amphitheater: They received their middle school certificates. Proud parents, staff, and family celebrated the day with speeches, music, and certificates on Friday, June 9.
Malibu Middle School Principal Melisa Andino welcomed the audience to the eighth-grade promotion ceremony and thanked the staff and parent volunteers for their dedicated time leading up to the event.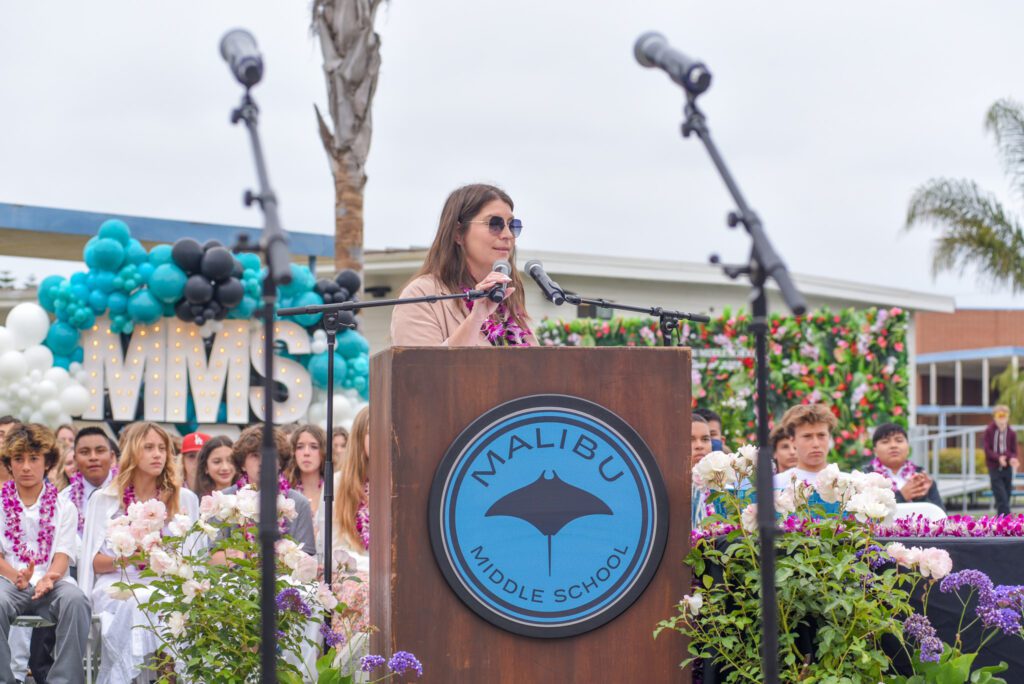 "I say it all the time, Malibu Middle School is a great place to be, this morning is just another example of how spoiled we are, while others may comment on the weather, the beach, the mountains, what we know is that the people is what makes this place such a great place," Andino said. 
Special awards were given to students, including the Presidential Education Award, the Emily Shane Writing Award, the Excellence in Education Award, Community Service Award, Citizenship Award, Student Leadership Award, and the Principles Award.
Middle School Counselor Lorene Whitehouse presented the awards.
"The Excellence in Education Award is awarded to students who have shown exceptional dedication to their academic studies; this dedication has led to great growth in academic, extracurricular and in personal growth," Whitehouse said. 
Andino presented the Principles Award to Natalie Lapajne and Kayla Walser.
"Here at Malibu Middle School we feel like grades are important, but so is character, these students listen with an open mind, they value others' perspectives, they work well with their peers, they are humbled and they lead by example in all that they do," Andino said. "Not only are they both extremely kind, they are both willing to help their fellow students."
Those in attendance included Malibu Schools Pathways Executive Director Isaac Burgess, Malibu City Councilmember Marianne Riggins, City Manager Steve McClary, City Councilmember Paul Grisanti, and Malibu High School Principal Patrick Miller.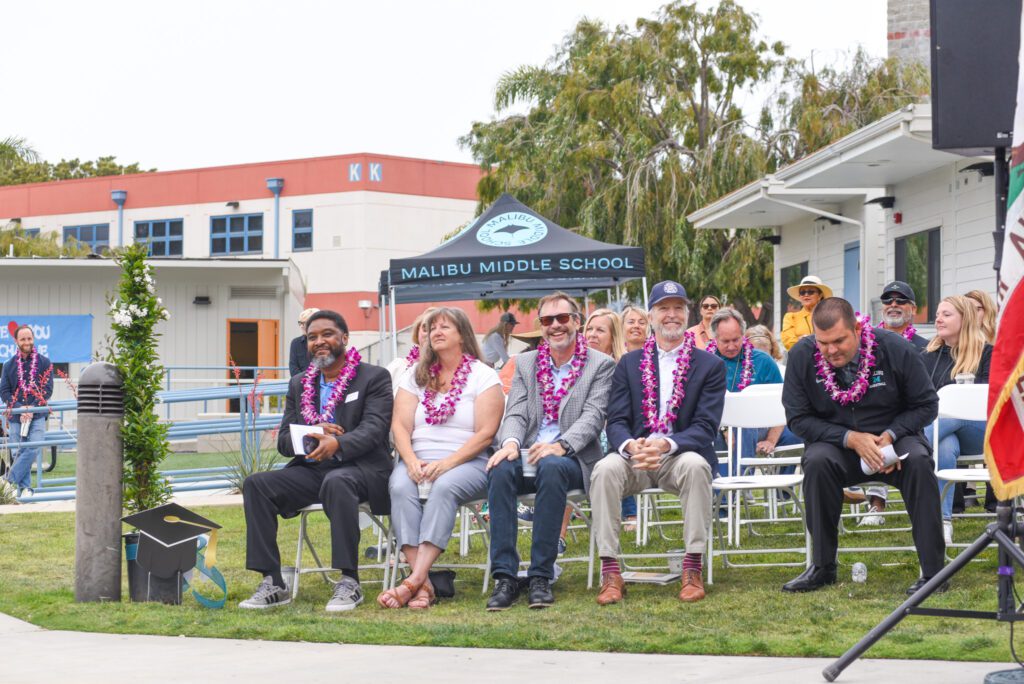 The eighth-grade Orchestra performed "El Toro" by Don Brubaker. The eight-grade band and choir/theatre performed "Lean on Me" by Bill Withers.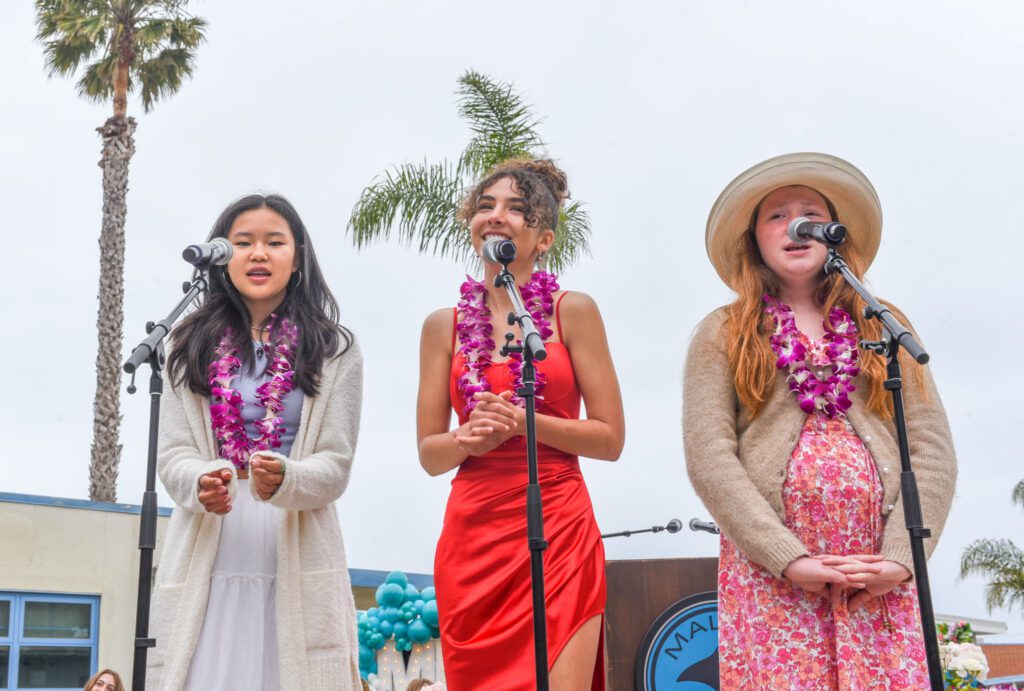 Andino has been a part of Malibu Middle School for 16 years and shared memories and why she loves being a part of the Malibu community.
"I love it because of the community and the people, it's all of you that show up every day, you are the reason why I show up to work every day for our little Malibu Middle School family," Andino said. "Students behind me, you may not remember the curriculum or specific lesson, but I hope you have fond memories of the adults who care about you and who show up every day to be a part of your story."
"Manta Rays, you did it! Congratulations to all our outstanding students," Andino said.