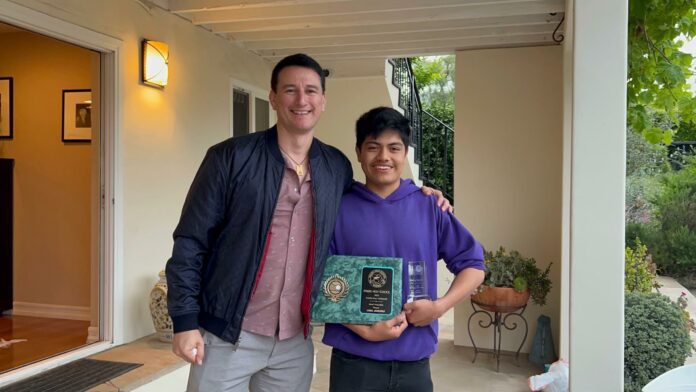 Head coach says junior setter's play stood out on the court
Malibu High Sharks boys volleyball player Axel Jimenez didn't make much of an impact on the court during his freshman and sophomore seasons on the team. The amount of playing time he received was scant.
However, this month he was recognized the team MVP at the Sharks' banquet and was also named to the All-Citrus Coast League's first team along with eight other players from schools such as Nordoff, Fillmore, Channel Islands, and Carpinteria.
Jimenez, whose junior season ended last month is proud of the honors, but feels there is more to accomplish.
"I'm not satisfied," he said. "It's a first step to where I really want to be in the future. As a freshmen, the titles were something of an end goal for me and looking at the players on my team that have earned them in the past — they were all so amazing that it felt like it would be a while before I could earn them."
Sharks head coach Derek Saenz said Jimenez, the team's setter for the first time, deserved the all-league and team MVP nods. The coach called Jimenez Malibu's best pure setter in recent seasons.
"When you are a setter, you have to look at all the players on the court," Saenz said. "You are looking at your guys. Who's hot? Who's going to hit? Then, you are looking at the defense. You have to have to look at both sides of the court. You are managing 12 people. He embraced the role of being a setter."
Sharks Keegan Cross, who won Malibu's most improved award, and Taj Menteer were named to the league's second team and Calab Newman, the squad's lone senior, was honorable mention all-league.
The volleyball players were not the only Malibu athletes to receive Citrus Coast League honors.
Baseball player Travis Kies was named to the first team in his sport, while softball player Autumn Taylor was named to the second team in hers.
In boys golf, Morgan McDonough and Sam St. John were named to the first team.
Julian Hayman was named to the first team in boys tennis, and Connor McPherson was placed on the second team. Solel Marques, Grant Pernice, and Joshua Brant earned honorable mention statuses.
Lloyd Bema was first team in boys track and field by winning a league title in a specific event. He was also second team with his brother Lloyd Bema.
In girls track and field, Hannah Kaloper, Tallula Murphree, Lucella Costa, Joy Kim, and Samantha Skuro were named to the second team. Costa, Kaloper, Kim, and Skuro were also received honorable mention.
Boys swimmers Jake Sichta and Eros Brunel earned first team honors by winning league titles in specific events. Brunel, Thomas Drummond, Nico Marazzi, and Filip Kurial were named to the second team.
Girls swimmer Vanessa Clarke was named to the first team and Charlie Flores was named to the second team. Clarke, Flores, Izzy Morris, Ally Burke, Ceylon Zappa, Frankie Little, Stevie Sturges, and Nina Sichta nabbed honorable mention.
Back on the volleyball court, Jimenez was stuck behind more talented Sharks during his first two years of high school. He received no playing time his freshman season. The next year, positioned as a libero, he played a bit.
Saenz said Jimenez was a late bloomer in volleyball, but someone that really studied the game by watching video.
"We didn't have a junior varsity team, so he never had a chance to get reps and play," Saenz recalled. "He was always into it, though. When I'd talk about anything with college volleyball or the national team, he knew what I was talking about."
Last fall, at the outset of the club volleyball season. Saenz noticed how Jimenez had gotten better and decided to position him at setter. He said Jimenez's play stood out on the court.
"He improved in the club season," Saenz said. "We came into the high school season and he did great."
Jimenez was comfortable in role for two reasons.
"It was because of my own confidence improved and the certainty that the ball was coming to me," he said.
Jimenez helped lead the Sharks to a playoff berth for the third straight season.
Jimenez, Saenz said, positions the ball well for his teammates on the court and is a hard-working, positive influence.
"I'm pretty excited for next year," he said. "Axel is going to play club volleyball, so he is getting reps."
Next season, Jimenez wants to continue to be recognized for his play.
"I want to get my team to a level where everyone is eligible for the same awards I got this year and go with my team to a higher level that MHS has never seen before," he said.