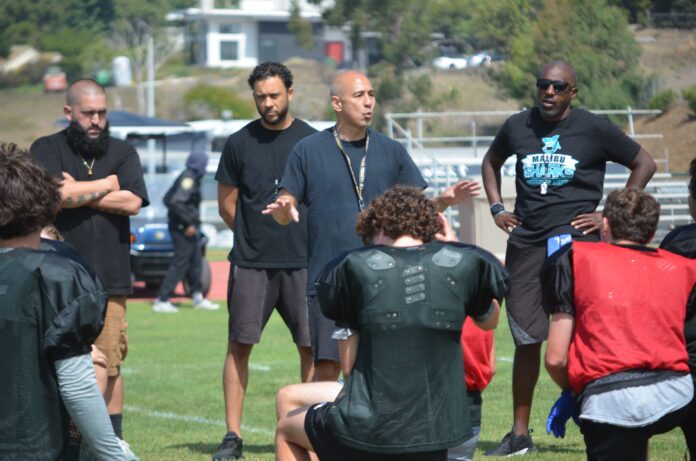 Sharks finished the 2022 season with a 3-5 record
At one point during the Malibu High Sharks football team's second day of practice, running back Tanner Kies received the pigskin in a bit of open space.
The ball carrier juked once, then juked twice to evade Malibu defenders' grasp. Kies ran for a few more yards and was quickly beyond any defensive player's reach.
Sharks head coach Mike Halualani compared the sophomore to a NFL All-Pro running back.
"He reminds me of a young Christian McCaffrey," Halualani said of Kies. "I know that is a big jump, but if I had to put someone on — he is my Christian McCaffrey."
Malibu High is wrapping up its first full week of practice in preparation for its 2023 campaign. The Sharks began having two practices a day on Aug. 17. For the first few days, the players only wore helmets and shoulder pads with shorts. The squad began adorning their full gridiron gear in order to tackle each other on Tuesday.
"I've been ready for that," senior defensive end Tyler Celikel said days beforehand. "I stay ready."
The Sharks' Aug. 18 practice was energetic.
While the linemen hit football sled pads at the blow of an assistant coach's whistle, Malibu's skill position players squared off to practice offensive plays and defensive alignments under the watchful eyes of Halualani and two other assistant coaches.
"Steve drive in on that ball! You get it, you're gone!" Halualani yelled to defender Stevie Clark after the sophomore defended a pass play.
"On this team there is no 'my bad.' Its only move onto the next play," Halualani said to encourage a quarterback after a failed pass attempt.
Halualani was impressed with how the Sharks, a bunch of at least 30 players, had grasped the fundamental concepts of football in the first two days of training.
"We've implemented a brand-new offense, a brand-new defense," he said. "The kids have picked it up quickly and have really gotten it without missing a beat. There is a lot of good energy."
Malibu competes in the CIF's 8-Man Freelance Football League. The league is composed of teams from schools with smaller enrollments. Instead of 11 players lined up on opposite sides of the ball, in 8-man football, there are eight players on offense and eight players on defense. The game does sometimes have a quicker pace then traditional football.
The Sharks finished the 2022 season with a 3-5 record.
Malibu's first game this season is at home against Desert Christian on Sept. 1. They play Milken at Birmingham High School six days later. The Sharks host Sherman Oaks CES on Sept. 14 and Calvary Baptist on Sept. 22.
Malibu, Halualani noted, will be a fundamentally sound group with complex formations on offense and defense.
"Our players will have to make a lot of pre-play decisions; lots of pre-play calls will have to be made by the linebackers, quarterbacks, and wide receivers," he said.
Malibu senior tight end Harper Ray said the team must be dedicated to be successful this season, while Celikel noted the defense can't have too many missed tackles and has to create turnovers. Senior linebacker Graydon Phelps added that the Sharks have to limit their turnovers on offense.
Halualani wants Malibu to be competitive every time they lace their cleats up and step on the gridiron.
"We want to bring every game down to the last team with the ball wins," he said.