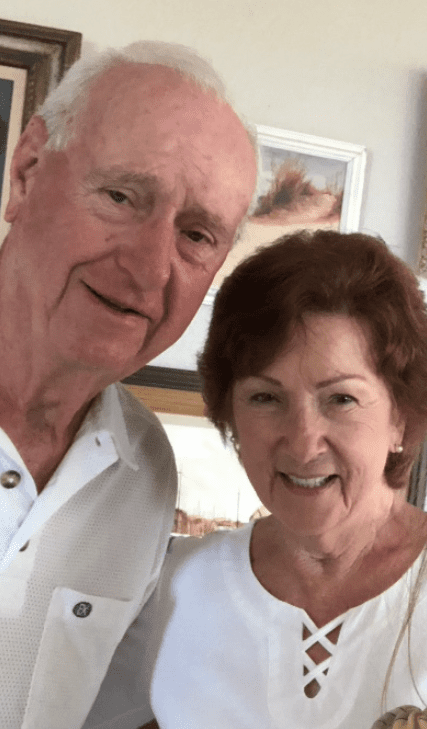 Faith Vera Blizzard (nee Baida), a resident of Malibu, CA, since 1976, passed away on November 19, 2022, at the age of 89. Just 130 days later, on March 29, 2023, her devoted husband of 68 years, Kenneth ("Ken") William Blizzard, also passed away at the age of 89.
Faith was from Saskatoon, Saskatchewan, Canada, while Ken hailed from the south side of Chicago. They met in the Athletic Director's Office at the University of Detroit. Faith worked in the Office while a student, and Ken was on the basketball team. They completed their education at Hillsdale College in Michigan.
Ken and Faith were married on September 4, 1954, at Our Lady of Peace Catholic Church in Chicago. Their first child, Kenneth ("Kenny"), was born on August 2, 1955, in Michigan.
After college, the new parents moved to California, where Ken became a teacher for the Los Angeles School District. Shortly after becoming a teacher, Ken saw a recruitment sign on a fire station that read "Firemen Needed" and he decided to take the exam. On February 3, 1958, he became a Los Angeles City Fireman and rose to the rank of Captain during his 33-year career as a LAFD fireman. He always said becoming a fireman was one of the best decisions he ever made. Faith kept busy raising the children and typing screenplays for writers.
Once settled in California, Ken and Faith had two more children, Thomas ("Tom"), born July 6, 1957, and Kathryn ("Kathy"), born August 21, 1961. Kathy married Todd Sausser on August 6, 1995, and made Ken and Faith a grampy and grammy by having two children, Shay (in 1997) and Tanner (in 2000).
Ken and Faith loved to travel in their motor home and visited many parts of the world over the years. When at home in Malibu, however, they enjoyed walks on the beach with their dogs, all named Susie. Faith was interested in genealogy and loved creating photo cards on her computer. Ken was a prankster and never missed an opportunity to bring out his "pet" mongoose.
Ken and Faith are survived by their grandchildren, Shay Sausser and Tanner Sausser, both of Topanga, their son-in-law, Todd Sausser of Topanga, Ken's sister-in-law, Patricia Blizzard (the late Tom) of Chicago, and many Blizzard nieces and nephews from Chicago.
A Memorial Mass in honor of Ken and Faith Blizzard will be held on Saturday, August 12, 2023, at 11:00 am at Our Lady of Malibu Catholic Church.
In lieu of flowers, donations in memory of Kenneth Blizzard may be made to the LAFD Foundation. Please make checks payable to LAFD Foundation and mail them to 1700 Stadium Way, Suite 100, Los Angeles, CA 90012.