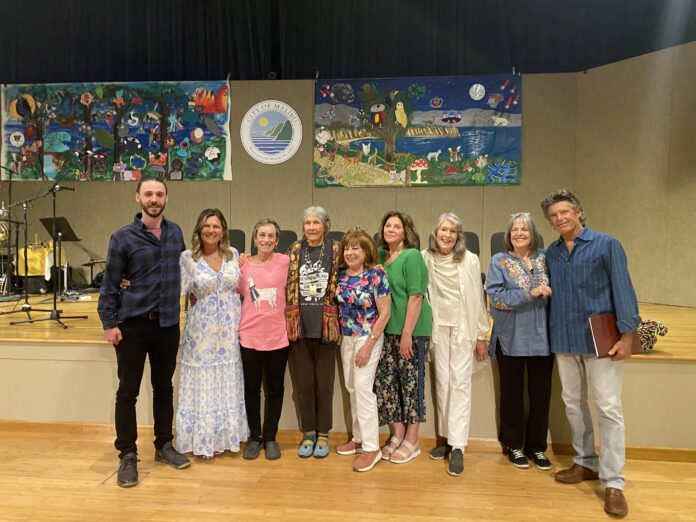 Hassall will lead as the fifth Poet Laureate in Malibu history
The Malibu poetry community has reason to celebrate as poet Nathan Hassall was appointed the city's poet laureate on August 28.
Hassall will be the fifth poet laureate, succeeding Ann Buxie, who served a two-year term that began in 2021, and helped create the Malibu Poet Laureate program in 2019.
Hassall called it an honor to have the esteemed position and succeed the poetic pillars of the community that previously held it.
"They feel very much like mentors generally, not just necessarily in poetry but in life," Hassall said. "They have got a few years on me and their life experience is something to learn from. I am hugely honored to know that they're in my corner and want to support me as I go and do this at a relatively young age, which is quite rare. It means so much to have their support and belief."
Hassall said as he begins his tenure, he expects to help foster the already-thriving Malibu poetic community and hopes to expand the interest for creating and enjoying poetry across the network of creatives and artists that work in and around Malibu.
"I would like to see if we could grow it, [poetic community] in numbers and increase engagement in those already involved in the community," he said. "The idealistic side of me thinks there's a poet in everyone, whether they write it down or not. The poetry tourists I'd like to bring them in more."
Hassall has been a well-known member of the Malibu poetic community since shortly after moving to the area just over five years ago.
Hassall, originally from a town named Horsham in West Sussex, England, received his Bachelor's degree in history before earning his Master's in creative writing from the University of Kent.
While studying at the university, he met his wife, who was studying abroad, hailing from the city of Malibu.
Upon relocating to the United States, Hassall's passion for poetry quickly led him to finding the city's poetry community upon reading in the newspaper about the inaugural poet laureate, Ricardo Means Ybarra. He then found out about the numerous poetry events around the city led by Ybarra.
With his rich experience in poetry and creative writing, Hassall took on the role of educator alongside Ybarra and another eventual poet laureate, Ellen Reich. With their guidance, Hassall began teaching and advocating for poetry at Webster Elementary, Malibu Elementary and Malibu High schools. He said he has absolutely loved his experience with all the students he's had the opportunity to work with.
"They're fearless. It's not just a romantic thing to say that they write some of these lines in these poems that are really profound, they hit you and you say 'Whoa, this is coming from a 10-year-old?'" Hassall said. "There's the kind of power of the art, even to kids, to be able to give language to something they wouldn't have had without poetry."
He said adults are similar in the sense that they could look to poetry to express complex emotion or thought, or give a new lens to experiences that others may not see or realize.
Hassall said in his own experience, he has drawn inspiration for his work from all aspects of life. He said the art of poetry does a service to the world by putting in words the beauty and tragedy in the human condition.
"A lot of people think poets should just sit inside and write but they've also got to live, go outside and experience the world strongly to write about it," he said. "Dominant themes are philosophy, nature, psychology, altered states of consciousness, even just conversations with people. It's about the experience of being a fleshy body in the world. Ironically, it's really hard to put language to it. Inspiration comes in pockets."
He said poetry finds the poet in times of a big life event such as marriage or a death, but also in the everyday.
"The beauty of poetry is that it can take the mundane or everyday and turn it into something that reminds you how extraordinary it is to be alive," Hassall said.
Malibu of course, as it does many of our artistic residents, has played a part in inspiring Hassall to create works of art, but to also give back to the community in teaching and giving other aspiring poets a platform to share their work.
"It's a home of artists. Actors, filmmakers, musicians, all sorts, I love that about it," he said. "Meeting people who can have deep, meaningful, serious conversations is special. It's hugely influential to be around the ocean and all these walks of life. Both the community and the natural side of the city — it's very inspiring."
Looking forward to his two-year appointment, Hassall plans to continue to be an ambassador for poetry and an advocate for the art. He will continue to build on the momentum and success of poetry programs like Caffeinated Verse, a workshop led by special guest readers, and Jubilations, which Hassall calls "Ann Buxie's Baby," poetry gatherings that celebrate joy in a time of whelming possibilities, to give voice to the true nature of vitality modeled on the natural world, to attend to the power of love and joy. These gatherings are open-air and highlight the beauty of our environment.
Hassall also expects to add his personal influence to the city's poetry programs and is excited by the opportunity to grow the art in his community. His envisions a monthly workshop series of generative writing workshops. These workshops will encourage the creation of new poems and will draw on the inspiration and support of peers to push poets forward toward new art and new perspectives of poetry.
"It's a very big honor and I can't wait to step in to the role and do what I can for the art and the community," Hassall said.