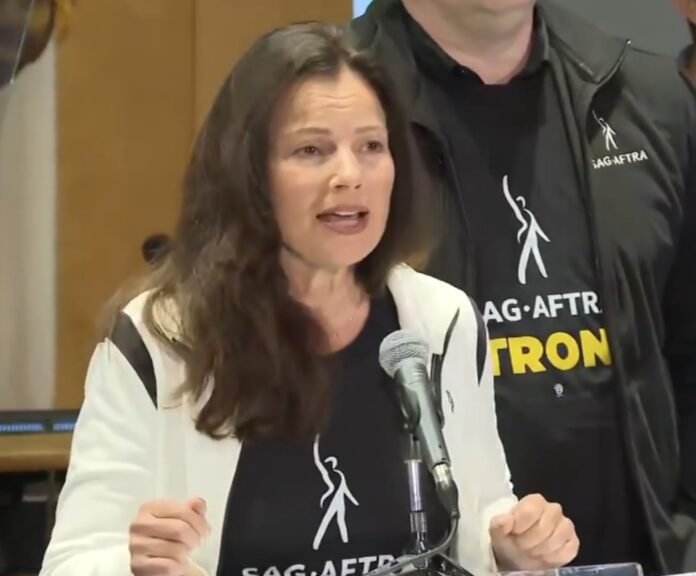 The Malibu angle on the Hollywood strike
By Benjamin Marcus
Hats off and huzzah to Malibu's Fran Drescher. Way back in 1984 — as fast-talking PR person Bobbie Fleckman in "This is Spinal Tap" — Drescher summed up the '80s music business: "Money tawks and bullshit wawks."
On July 14, as president of the Screen Actors Guild-American Federation of Radio and TV Artists, the queen of Queens went all Henry V on the Alliance of Motion Picture and Television Producers and said the same thing in more than five words:
"It came with great sadness that we came to this crossroads. But we had no choice. We are the victims here. We are being victimized by a very greedy entity. I am shocked by the way the people that we have been in business with are treating us. I cannot believe it, quite frankly. How far apart we are on so many things. How they plead poverty, that they're losing money left and right while giving hundreds and millions of dollars to their CEOs. It is disgusting. Shame on them."
A combination of pissed and pained — like she'd been bit by a pet dog or betrayed by a trusted lover — Drescher's words fired a starter's flare inspiring 160,000 SAG-AFTRArtists to call bullshit on the AMPTP and wawk off sets and red carpets to join the Writer's Guild of America and send a message to Hollywood: "We're mad as hell and we're not gonna take it anymore!"
The 2020s chao$ flamed by the transition from theaters and broadcast TV to streaming and Internet — and the existential job threats of artificial intelligence — are similar to the 1920s chaos of "Babylon." This picture by Malibu residents Damien Chazelle and Olivia Hamilton looks back almost 100 years to the angsty, chaotic, existential madness inspired by the tech transition from silent movies to talkies. A three-hour-plus homage to a hundred years of big screen movies, the Malibuans boldly and loyally (foolishly?) released their $100 million baby into theaters Dec. 23, 2022.
Babylon earned a boffo $15.4 million in America and Canada and $48 million in other territories: A big shortfall for a picture some say needed $250 million just to break even.
Babylon streamed onto Paramount+ in February of 2023. Did streaming make up that shortfall? Unlikely.
And there lies the present chaos. To stream or not to stream — and how to divvy up the spoils: That is one of the points of contention. Along with reconfiguring streaming residuals for WGA and SAG-AFTRA members, the use of artificial intelligence (AI) is also a sticking point. Standing tall alongside Bobby Fleck … sorry, Fran Drescher, Duncan Crabtree-Ireland, the national executive director and chief negotiator for SAG-AFTRA had this to say about that:
"We're pretty far apart on AI. The companies refuse to recognize that you can't expect people to sign over their name, image, likeness, and voice, their persona to some corporate conglomerate with no right to ever say what they're going to do with it in the future. That is not going to happen, we are not going to agree to terms like that, so the companies have to move in our direction and come up with some reasonable agreement."
The transition from silent movies to talkies sparked what many consider the Golden Age of Hollywood. "The Jazz Singer" (1927) begat Depression-era talkies "King Kong" (1933), "Snow White and the Seven Dwarfs" (1937) , "The Wizard of Oz" (1939) and "Gone With the Wind" (1939), which foamed the runway for "Citizen Kane" (1941), "Casablanca" (1942), "The Best Years of Our Lives" (1946) and "It's A Wonderful Life" (1946).
Many of these movies featured in a closing montage on "Babylon."
Likewise, the Streaming Era has unleashed a tsunami of creative talent as shows are no longer competing for theater space or a few slots on broadcast TV: "The Sopranos" (1999-2007), "Breaking Bad" (2008-13), "Game of Thrones" (2011-19), "Orange is the New Black" (2013-19), "The Crown" (2016-present), "1883"/"1923″/"Yellowstone" (2018, still going) have begat a hundred other shows you swear are the best thing ever — "Norsemen," "Peaky Blinders," "Comedians in Cars Getting Coffee" — and another couple hundred shows you've never heard of and will never have time to watch even if you cloned yourself and cloned yourself again and were locked in a prison cell for 23 hours a day. You could never see it all.
But now it's all grinding to a halt. Because we've got Trouble, right here in Century City, with a Capital T and that rhymes with G and that stands for Greed!! Also Envy, Anger, Pride. What is this all going to cost? The WGA strike alone was projected to cost California $30 million a day to $150 million a week and the total cost could go up to $4 billion in production delays, lack of output and a thousand other costs.
As of the weekend of July 22-23, the creatives and studios were still at an impasse. But "Oppenheimer" opened to a respectable $80.5 million in 3,610 North American theaters while "Barbie" painted the town pink with a stunning, record-breaking but not surprising $155 million in 4,243 theaters.
Although, theaters are coughing up blood they're not dead yet; however, the math of Hollywood is getting scrambled and it's causing "Babylon"-class chaos.
Will this prolonged strike affect Malibu? Oh, you betcha, in many many ways. To paraphrase Bette Davis in "All About Eve" (1950): "Fasten your moneybelts, it's going to be a bumpy strike."
Photo Caption (Fran Drescher Speaking.jpg):
SAG-AFTRA President and renowned actor Fran Drescher addresses the media during a crucial news conference in Hollywood on July 13, Threatening Film and TV Productions "Share the Wealth, We're Vital!" Screenshot taken from the New Conference