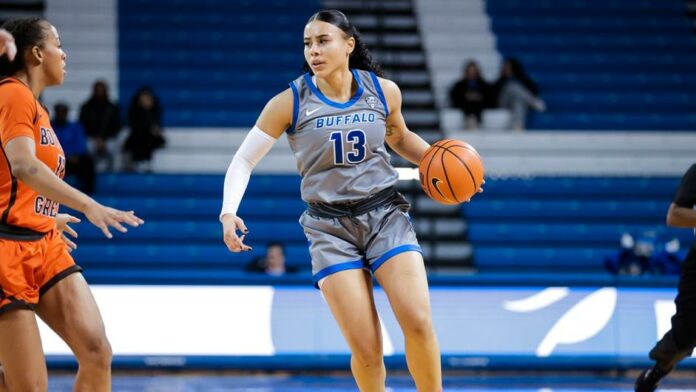 Emerita Mashaire, one of nine newcomers, is the first Finnish-born player to join the Pepperdine program
The Pepperdine Waves women's basketball team added a wing player with international playing experience to their roster last month.
Emerita Mashaire, a 6-foot transfer from the Buffalo Bulls, joined the Waves squad for the upcoming season.
Mashaire, a junior, averaged 4.9 points, 3.7 rebounds, and 1.8 assists for Buffalo last season. She started all 28 of the Braves games and played 30.2 minutes a contest.
Mashaire is one of nine newcomers including six Division I transfers that have joined Pepperdine's roster since the close of last season.
Mashaire scored 10 points against St. Bonaventure last season and scored 16 points on a career-high 6 made field goals against Bowling Green. She had a career-high 8 rebounds and career-high 4 steals against Ohio.
Before that, Mashaire played her freshman season with the Cincinnati Bearcats. That season she averaged 2.5 points, 1.0 rebounds, and 0.6 assists a game. Mashaire scored 19 points against Houston.
This season, the Helsinki, Finland, native will be the first Finnish-born player ever to lace up her sneakers for the Waves.
Marshire previously played for Finnish U15, U16, U18, and U20 squads. She won the Finnish Championship bronze medals with the U18 and U20 teams, and she helped Finland win a European Championship Division B Gold Medal.
The other newcomers to the Waves include guards Alexis Griggsby, Ella Brubaker, Jasmine Peaks, Mi'Cole Cayton, and Myra Gordon and forwards Helana Axelsson, Holly Griffiths, Maggie Vick, and Megan Harkey.
The Waves will also enter the 2023-24 season with a new head coach, Tim Hays. Hays has brought on three new assistant coaches — Kelsey Keizer, Kianna Ray, Shawn Faust, and Rabun Wright.
Pepperdine finished last season with an 11-19 record, which includes a 7-7 record in the West Coast Conference. The Waves advanced to the second round of the WCC tournament last March.