Russian immigrant uses extreme colors and surreal style to captivate Malibu residents 
World-renowned artist Ann Krasner is a Malibu-based artist who has had work displayed across the world. Her distinct style of extremely bright colors and vivid visual storytelling has been displayed in Russia, Spain, France, Switzerland, Sweden, England, and all across the United States.
Krasner is the creator and owner of the Malibu Art Garden, a hillside art garden of eye-catching sculptures and studio full of unique paintings. The nearly 30-year art career began at the home where the Malibu Garden sits today.
Krasner was born in Moscow in 1967, and immigrated out of the Soviet Union to the United States as a political refugee in 1988. She had a background in sciences, having her Master of Sciences in mathematics and computer science.
Five years after moving to the United States, Krasner and her husband Paul moved to Malibu. To celebrate their move, Paul gifted Krasner a brush and canvas.
Although Krasner grew up enjoying the arts, and had taken ballet and piano classes growing up, she had no formal artistic training. However, she quickly fell in love with creating art.
"This was the beginning! I was like a crazy woman painting non-stop, making 10, 20 paintings a day!" Krasner said.
She said her new environment provided her with inspiration.
"I think there's something in the air in Malibu. This is why there's so many creative people here," she said. "We're surrounded by all this beauty and I think it's impossible to not want to create and do something really, really spectacular."
She explained that she is inspired to create art that tells a story and is a window to a bigger story. Her paintings depict experiences in her own life as well as moments in the lives of polarizing artists and historical figures such as Louis Armstrong, Ella Fitzgerald, and biblical figures Adam and Eve.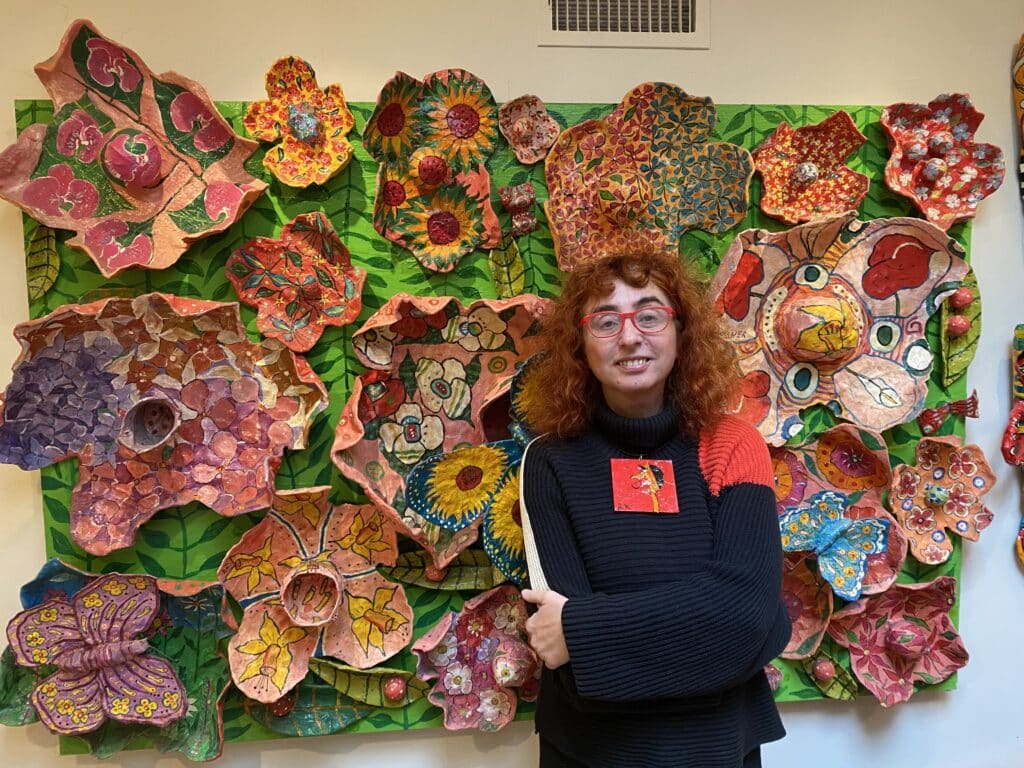 Just two months after creating her first painting, Krasner took her paintings into town and was able to display them at the Malibu Gallery. She said within a day, the two paintings she had up for display had been sold. She returned with 40 more, which all found new homes in just a couple of weeks.
Krasner continued to balance her family life and art life as she raised her three children. She said it was especially challenging when her son began creating music, an artist in his own right. She described her son Benjamin as a musical prodigy.
She said she would dedicate a lot of time supervising her son's piano exercises, and meanwhile daydreamed about taking on her next artistic endeavor, sculpting.
She recalls that at around the age of 13, her son branched off on his own with his art, allowing her to pursue her desire to become a sculptor. This is when she enrolled in a welding and metalwork class at Pierce College.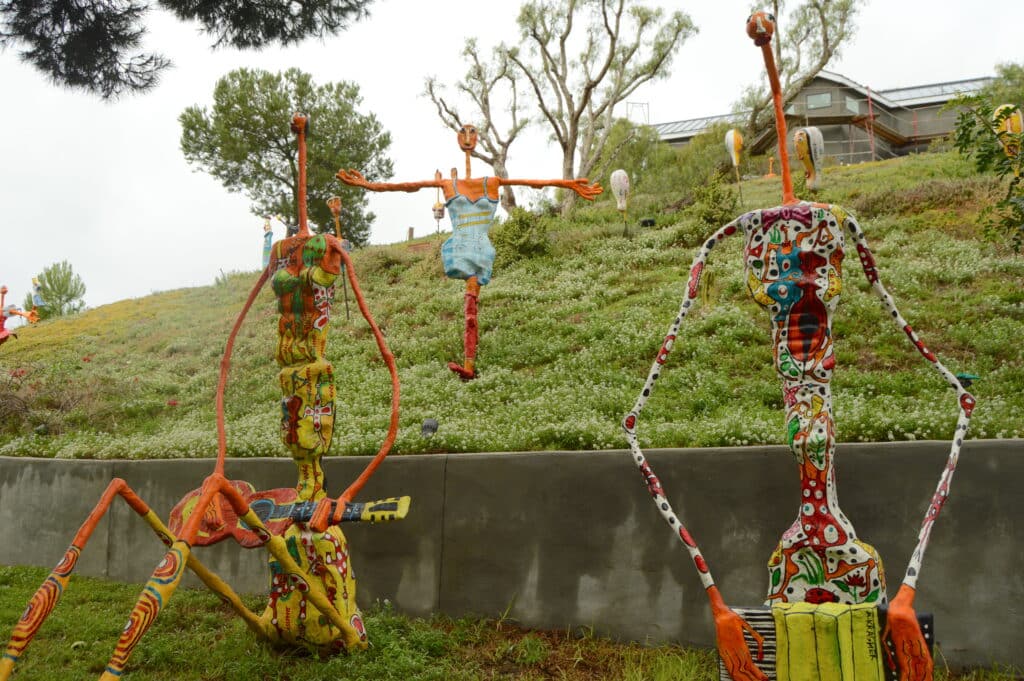 However, on her first day in the class, she became overwhelmed by the experience, and nearly quit the class. She said had it not been for the professor, who was patient and reassuring, she would have never acquired the skills needed to create her signature sculptures.
She said the professor had seen her paintings, saw her potential and personally helped her begin to build confidence and skill with metalwork.
"It was fate," Krasner said, "It's very important to meet people who appreciate what you do, share your vision, and most of all are excited by what you are trying to do and can help you."
She has now been creating sculptures for nearly 10 years, and her sculptures have been displayed from the shores of her local Zuma Beach to the Black Rock desert during the yearly Burning Man festival.
Her signature sculptures are addition sculptures, meaning she creates a frame for a sculpture and adds different types of layers of found materials to give each sculpture a unique shape and feel. She uses a metal frame, covered by layers of plaster and six layers of fiberglass.
She explained that Malibu provides the ideal conditions for creating her sculptures. The humidity is usually ideal and the temperature must remain between 68 and 75 degrees to create her work.
Her sculptures, like her paintings, tell stories. She has created sculptures of artists like Salvador Dali, Pablo Picasso, Louis Armstrong, Ella Fitzgerald, Alfred Stieglitz, Frida Khalo, and Diego Rivera that reflect moments and experiences in their lives.
Krasner quoted Mexican painter Rivera who once spoke about his wife, Khalo, as saying "[she] is hard as steel and delicate and fine as a butterfly's wing" and said that inspired her to create a sculpture that depicts Rivera on one side and Khalo on the other. She said it is stories like these that she hopes to represent with her work.
She has also created sculptures of animals, flowers, and people that capture aspects of life, thought, and imagination.
They are designed to withstand all conditions, including rain, snow, and the strongest of winds. Krasner's work even withstood the biggest challenge of disaster, during 2018's Woolsey Fire. To her surprise, as the fire ravaged across the garden property, all the sculptures survived with little to no burn damage.
She said she continues to look for new forms of art to create and further her skills. She has now begun creating jewelry and working with ceramics.
Her many styles of work have been displayed across the world. Her work has been in the Pushkin State Museum of Fine Arts in Moscow, the National Art Museum of Catalonia in Barcelona, Grande Arche de la Défense in Paris, La Galerie Original in Nice, and Gallerie D. Assadi in Nyon, among many others.
Stateside, her work has been featured at museums like the Smithsonian Institution in Washington, D.C., the Philadelphia Museum of Art, Seattle Art Museum, Gilcrease Museum in Tulsa, the Los Angeles County Museum of Arts (LACMA), and the Frederick Weisman Museum in Los Angeles.
Her work has also been showcased at festivals like Burning Man in Nevada and the Telluride Jazz Festival in Colorado.
She said her passion for her art continues to grow, and she is just as passionate about creating now as she ever has. She said the excitement of the constant flow of ideas even keeps her up some nights.
Krasner loves being based out of Malibu, as it serves as constant inspiration.
"It's mind boggling, it's like a show," Krasner said. "No art show can compare to what we are seeing here everyday. I am in love with this place."
She has now created nearly 7,000 pieces of art including oil paintings, sculptures, ceramics, and mixed media.
Art enthusiasts can contact Krasner and visit the Malibu Art Garden by calling (310) 463-1756 or visiting www.annkrasner.com.