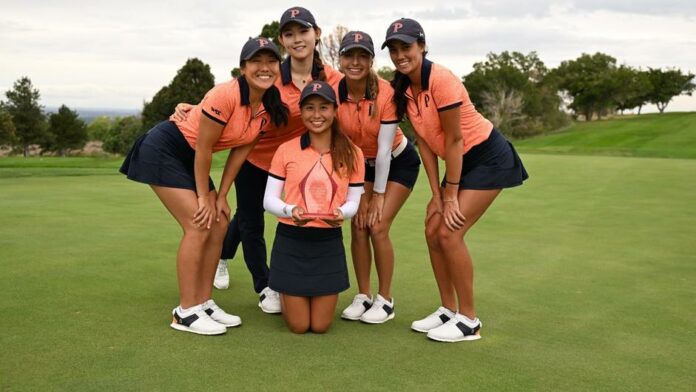 Pepperdine wins New Mexico's Dirk McGuire Invitational for the fourth time
The Pepperdine Waves women's golf team began their 2023-24 campaign with a tournament win earlier this month.
The Waves, ranked 15th in national polls, won the two-day Branch Law Firm Dirk McGuire Invitational at the University of New Mexico Golf Course in Albuquerque, New Mexico.
Three Pepperdine golfers finished in the top 10 of the individual standings as the squad out-golfed 15 other teams to win the event, which began on Sept. 11.
Junior Lauren Gomez led the Waves, shooting under par in all three rounds and finishing tied for third place. Gomez had a career-low 6-under in the second round and had 14 birdies throughout the event. She was tied for first place at one point during the last day. Her three-round score was 208 (71-66-71).
Kaleiya Romero, a senior, tied for eighth with a score of 213 (73-68-72). Romero had four birdies in the final round and eagled the fifth hole of the first round. She had 10 birdies total.
Senior Lion Higo tied for 10th with a score of 214 (73-68-73). Higo had 10 birdies, including two in the final round. She eagled the fourth hole in the second round.
Sophomore Jeneath Wong finished with a score of 218 (75-68-75), which tied her for 24th. Wong hit nine birdies, including one in the last round. KaYee Kwok, a junior, placed 41st with a score of 222 (75-75-72). She had seven birdies.
Pepperdine finished with a team score of 850 (292-270-288). Kansas placed second. Arizona State finished third. UNLV was fourth, and SMU and New Mexico tied for fifth.
This season's Waves squad tied the lowest 18-hole score in Pepperdine history with an 18-under 270 in the second round. The team's 14-under in the first two rounds is third in Pepperdine records for lowest 36-hole score. The group's 14-under overall is seventh in program history.
This is the fourth time Pepperdine has won the invitational. The Waves previously won it in 2005, 2009, and 2013.
The Waves played in the three-day Golfweek Red Sky Classic in Vail, Colorado, which began on Monday. Higo, named to the ANNIKA Award preseason watchlist on Sept. 14, won the classic last season.
The ANNIKA Award is given to the national player of the year. Wong was one of 25 golfers selected as a Player of the Year candidate. The second-year Wave finished last season as a WGCA All-American honorable mention. Additionally, Wong's 72.72 scoring average is the best ever for any Waves women's golfer during their freshman season.