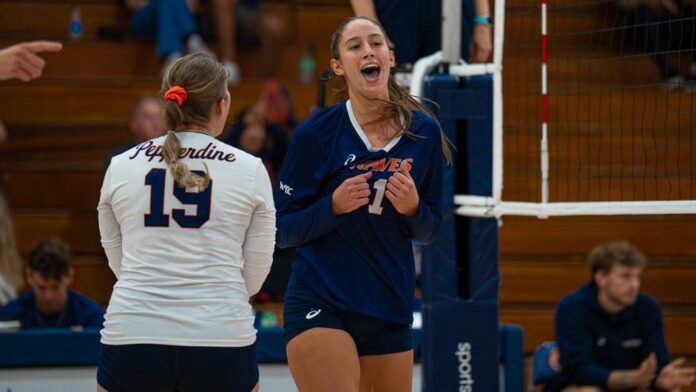 Santa Ana product posted 18 kills with only one error on 33 swings for a career-high .515 success rate
Pepperdine Waves women's volleyball player Grace Chillingworth isn't someone that gets too emotional on the volleyball court.
"I go into every game with an open mindset," she said. "I play for my teammates and look to be there for them. Honestly, I go into every game with a calm mindset. I'm not much of a fiery, outgoing player."
So, Chillingworth, 20, said her demeanor during the Waves' five-set victory over rival Loyola Marymount on Oct. 19 was a bit out of the norm.
"I came out of my shell a bit," she recalled. "I was cheering and hyping up my teammates a lot. That was fun to experience."
The 6-foot-3 outside hitter's performance on offense was pretty much normal though — stellar as normal. The 2022 All-West Coast Conference first-teamer rang up 18 kills, three blocks, and an ace in the Waves' 3-2 triumph. The performance came three days after Chillingworth was named the WCC Offensive Player of the Week for the third time in her college career.
Chillingworth said gaining the conference recognition was an honor.
"It feels awesome," she said. "It obviously wouldn't be possible without all of my teammates. It feels great."
She garnered the weekly award after leading Pepperdine to sweep over Santa Clara on Oct. 12.
Chillingworth posted 18 kills with only one error on 33 swings for a career-high .515 success rate. She also had eight digs and one block on defense and had 12 successful receptions without an error.
Chillingworth doesn't believe it was her best performance of the season but was a fun contest to be part of.
"I try to do my best every game," she said.
Two days after Pepperdine beat Loyola Marymount, Chillingworth recorded 18 kills and a block in the team's 3-0 win over San Diego. Heading into Pepperdine's home game against Saint Mary's on Thursday, she had reached double-digit kills in six straight contests.
Senior setter Birdie Hendrickson had 10 kills, seven digs, two blocks, and an ace in the win over San Diego, and setter Isabel Zelaya, a graduate student, had 30 assists and 11 digs. Zelaya has had five double-doubles this season.
"Izzy always puts me in good situations," Chillingworth said of Zelaya's ability to pass the ball.
Chillingworth won WCC Offensive Player of the Week twice in 2022.
Chillingworth, a player who aims to be consistently effective during matches and always keep the volleyball in play, began playing volleyball at age 8. She loves the camaraderie the sport requires to be successful.
The Tustin native attended volleyball clinics and hit the volleyball back and forth with her dad in their front yard. One of Chillingworth's aunts played on the USA women's national team and her cousin played men's volleyball at Pepperdine.
Chillingworth was a star volleyball player at Foothill High School in Santa Ana. She was an All-Crestview League first-teamer and Under Armour AVCA All-Region player her junior year. Chillingworth tallied 589 kills, 417 digs, 105 aces and 80 blocks in high school.
She also helped the Tstreet Volleyball Club win various tournament crowns during her years in the club volleyball program.
Chillingworth was second on the team in kills her first year at Pepperdine and was named to the WCC All-Freshman team. Last year, she led the Waves in kills and service aces.
Pepperdine entered the week on a 12-game winning streak and with an overall record of 13-6. The squad is 9-0 in the WCC. The team has eight games left on their schedule after the Saint Mary's matchup. Seven of the contests are against WCC foes.
This season, Chillingworth said, has been exciting. The Waves feel like a special group, she remarked.
"I feel like we are evenly spread in terms of skill," Chillingworth noted. "We don't have one star player. Our skills are all spread out — the pins, the middles, the setter, the libero, everything. We have a very deep team. We can rely on anyone to go in."
Pepperdine was defeated by Stanford in the first round of the NCAA Championships last season. Chillingworth said the Waves want to win the WCC crown and play in the NCAA tournament again.
"We want to see how far we can make it," she said. "Right now, we are focused on the WCC, taking it one game at a time, and overcoming the small obstacles that are in the way."