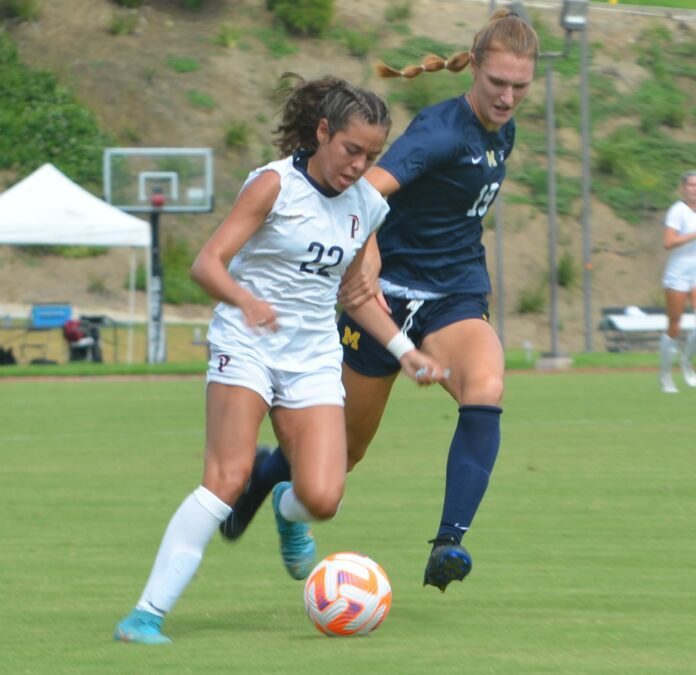 Pepperdine players have now won the recognition four times this season
Heading into her freshman campaign, Pepperdine Waves women's soccer player Julia Quinonez aimed to be a starting forward for her squad.
The 18-year-old accomplished that when Pepperdine's coaches tapped her to be one of the team's 11 starting players in their second game of the season, a 2-2 tie with Michigan, on Aug. 19.
Quinonez, a substitute in Pepperdine's first game, said getting the starting nod was a great feeling.
"I knew it was going to take a lot of hard work and time and just practice," she explained. "That was my mentality coming into the season. I really want to help my teammates as much as possible."
The freshman has started 10 of the 11 matches she has played in and become one of Pepperdine's major scoring threats. Quinonez was named the West Coast Conference Offensive Player of the Week for the second time this season on Oct. 9.
She credited her teammates and coaching staff with helping her to receive the weekly honor.
"They are all amazing," Quinonez stated. "From the start of the season, they have taken me under their wings and showed me how to be a Wave. I'm so honored to be a part of this team."
She won the honor after kicking two goals and an assist in Pepperdine's victories over Pacific on Oct. 4 and Saint Mary's three days later.
Quinonez booted the Waves' first goal in their 2-1 win over Pacific. She assisted her team's first goal in its defeat of Saint Mary's. Quinonez headed the ball into the back of the net to score Pepperdine's final goal of their 3-0 triumph.
The freshman is second on the Waves with four goals.
Quinonez secured the WCC offensive accolade for the first time on Aug. 28 after she kicked the contest-winning goal in Pepperdine's 2-0 win over CSUN and scored in the Waves' 1-1 tie with San Diego State.
Quinonez was sitting in a first-year seminar class each time she found out she received the conference honor.
"My phone was blowing up," she recalled.
Waves players have now won the weekly recognition four times this season. Pepperdine sophomore goalkeeper Taylor Rath won the conference's Defensive Player Of The Week honor the same day Quinonez garnered the offensive accolade for the first time. Waves sophomore midfielder Tatum Wynalda seized the offensive player of the week title seven days before.
Quinonez said her strengths on the soccer field include providing scoring opportunities and her fleet feet.
She relishes having the ball between her cleats and taking on an opponent one-on-one.
"Taking players on is helpful because it creates chances for me or my teammates," Quinonez said. "I like running onto a ball or one-v-ones. I'm happy when I'm in those spots because I am pretty successful."
The Torrance native has played soccer since she was 5 years old. Quinonez played other sports such as basketball and baseball, but running and kicking on the pitch was her favorite activity.
"I found myself really happy on the field," she remembered.
Quinonez played club soccer for LA Galaxy Girls Academy teams as a youth. She starred for two years on Torrance High School's team. Quinonez was the 2023 Pioneer League MVP and the 2023 Daily Breeze Player of the Year. She was also an All-Pioneer League player her senior and junior years.
The transition to college soccer was tough, Quinonez said, but fun. Her high school and club coaches helped her prepare to play the sport on a higher level.
"This is a true blessing," Quinonez said. "This does take a lot of hard work and time but that is what I enjoy. I enjoy the challenge, giving it my all at practice, and being with my teammates and having fun. I love playing the game."
Pepperdine had a 5-3-5 record heading into their contest against Loyola Marymount in Los Angeles on Wednesday. The Waves hosts Portland on Sunday at noon.
Quinonez said her team is playing good soccer.
"We are giving it our all and working hard," she noted. "Having coaches that are passionate about us is really helpful. It's a winning culture."