The Pepperdine Waves men's volleyball team swept Cal Lutheran University on April 1. The Waves, ranked eighth nationally, downed the Kingsmen 25-16, 25-19, 25-22 at Pepperdine's Firestone Fieldhouse.
Junior middle blocker Andersen Fuller led Pepperdine with 11 kills, a .588 hitting percentage, and four blocks. His classmate Jacob Steele, an opposite, had 10 kills, while sophomore outside hitter Joe Deluzio and senior middle blocker Akin Akinwumi each had seven kills. Deluzio also had eight digs. Eli Crane, a redshirt sophomore, had six kills and three blocks.
The victory gave Pepperdine a 15-10 record heading into their match at Concordia on Thursday. The Waves host Concordia Saturday at 6 p.m. also.
The Waves took a 6-4 lead over Cal Lutheran in the first set, then kills by Steele and Akinwumi increased Pepperdine's margin. An ace by Bryce Dvorak, a junior setter, and an ace by redshirt freshman libero Brenden Read soon followed. Pepperdine teammates pairing together on blocks — Akinwumi and Fuller and the Crane and Fuller — closed the set out.
Pepperdine led by five points early in the second set. The Kingsmen did mount a comeback, and trimmed the Waves lead to 13-12. After a challenged call went in Cal Lutheran's favor, Steele, Fuller, and Deluzio registered some kills, and then Fuller closed the set with a point of his own.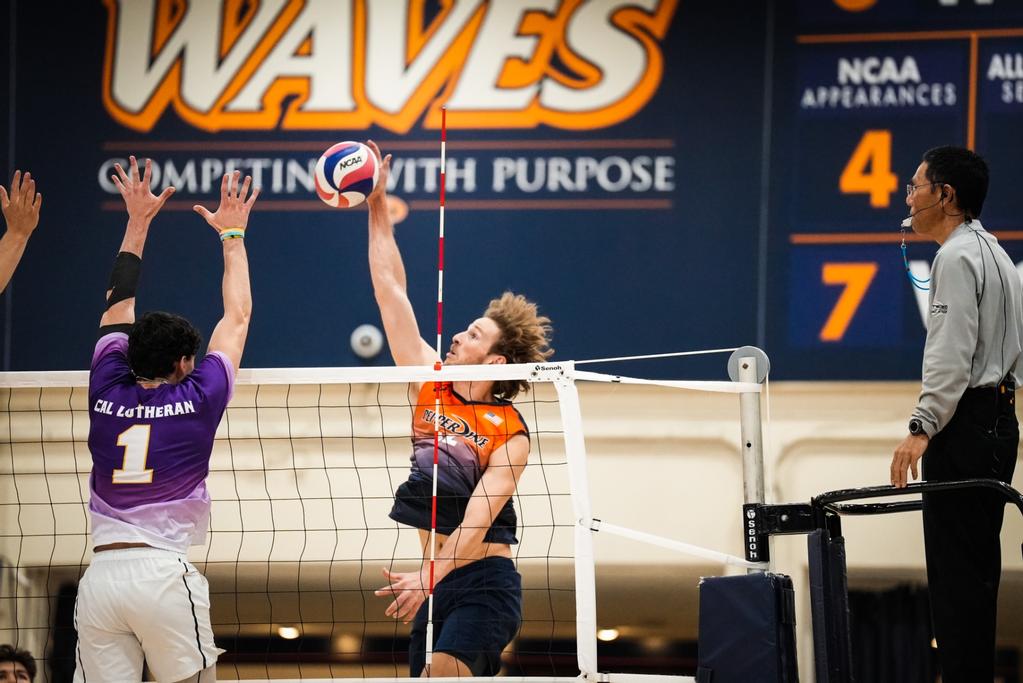 Steele began the third set with an ace. However, Cal Lutheran had an 11-8 lead after some Pepperdine errors. Two blocks — one by Steele and Fuller and one by Crane — tied the set. The Waves grabbed a 17-14 lead after an ace by Read, who then ended the match with a kill.
Pepperdine lost two consecutive contests to BYU before beating Cal Lutheran. Before that, they had a four-game winning streak in which they downed USC twice, Harvard, and Daemen.