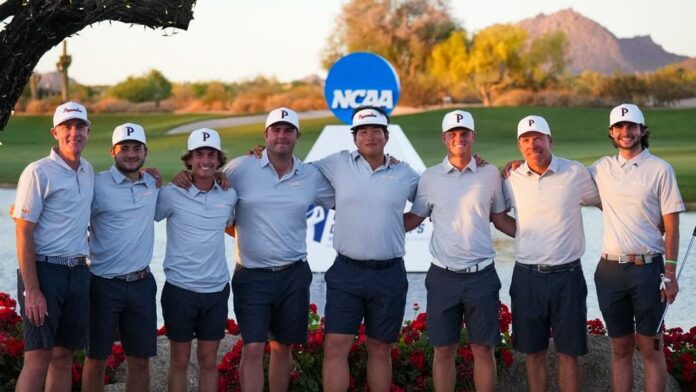 Pepperdine set single-round course record May 28 with an 11-under 269 at Scottsdale's Greyhawk Golf Club
A record-setting round of golf at the Grayhawk Golf Club in Scottsdale, Arizona, helped propel the Pepperdine Waves men's golf team to the NCAA Championships match play of the third consecutive year.
The Waves shot an 11-under 269, which was the first time ever any team posted a sub-270 round at Grayhawk, in the third round of the NCAA Championships stroke play on May 28. Additionally, the 11-under surpassed the previous Waves men's golf record for an 18-hole low at an NCAA Championships by two strokes.
The historic play put the Waves in second place in the four-round, 15-team, event. The next day, Pepperdine closed the spectacle in fourth place and advanced to match play. The team had a four-day total of 1,120 (281-287-269-283) and finished 13 shots clear of ninth place.
The top eight finishers advanced to Tuesday's match play, the quarterfinals of the championships. Pepperdine faced Georgia Tech. The winner of that matchup moved onto face the victor of North Carolina vs. Arizona State match in the semifinals later in the day.
Last season, the Waves were defeated by Arizona State in the semifinals. Pepperdine advanced to the title game and defeated Oklahoma State for the NCAA crown in 2021.
Graduate student Derek Hitchner led the Waves in the third round. He went 5-under 65, which was the tied for second in the Pepperdine record books for the lowest score in the NCAA Championships. Sam Choi and Luke Gifford, both also graduate students, marked 3-under 67 that round.
The following day, Choi shot 1-under to tie for seventh and become the seventh Wave in program history to finish in the top 10 of stroke play at the NCAA Championships. His four-round total of 279 (70-72-67-70) included 12 birdies — two in the last round.
Gifford and Hitchner tied for 11th place. Gifford's 280 (70-71-67-72) included 13 birdies — three in the last round. Hitchner's 280 (73-73-65-69) included 20 birdies — three in the final round.
William Mouw, a senior, tied for 40th with a score of 286 (73-71-70-72). He had 10 total birdies in the event, including three in the final round. Graduate student Roberto Nieves tied for 52nd with a 288 (68-75-72-73). He had 10 birdies total and one birdie in the fourth round.