The women's team is ranked fifth nationally, and the men's team is ranked 35th
The Pepperdine Waves men's tennis team notched a dominant Senior Day victory at home, while the Waves women's tennis team picked up a victory on the road.
The men's squad defeated BYU 4-0 at Ralphs-Straus Tennis Center on Pepperdine's campus on April 15. The same day, the women's team beat BYU 5-2 in Provo, Utah.
The men's team honored graduate students Daniel De Jonge, Eero Vasa, and Tim Zeitvogel, and senior Eric Hadigian before sweeping BYU.
Redshirt sophomore Robert Shelton and freshman Max Wuelfing recorded a 6-1 over BYU's Dominik Jakovljevic and Redd Owen to give Pepperdine the doubles point. Redshirt freshman Linus Carlsson Halldin and junior Pietro Fellin also picked up a win — 6-4 — in doubles play over Zach Fuchs and Brigham Andrus for the Waves.
Wuelfing recorded a 6-2, 6-3 win over Andrus in singles play, then Shelton defeated Owen 6-1, 6-2. The Waves' Maxi Homberg, a freshman, solidified the victory with a 6-3, 6-3 triumph over Fuchs.
The win gave Pepperdine, ranked 35th nationally, a 14-8 overall record and 6-1 record in the West Coast Conference heading into their match at San Francisco on Friday.
The Waves women's squad, ranked fifth nationally, defeated BYU 5-2, recording its 12th consecutive victory over the Cougars.
BYU won the doubles point, but Pepperdine bounced back to win five of six singles matches.
Lisa Zaar, a senior, won 6-1, 6-2 over Emilee Astle and then sophomore Savannah Broadus downed Tina Li 6-4, 6-1. Graduate student Anna Campana defeated Emmie Moore 6-4, 6-3. Junior Janice Tjen was victorious over Bobo Huan 7-5, 6-3 to solidify the Pepperdine win. Nikki Redelijk, a junior, also beat Helen Jiao 6-3, 7-6 (7-1).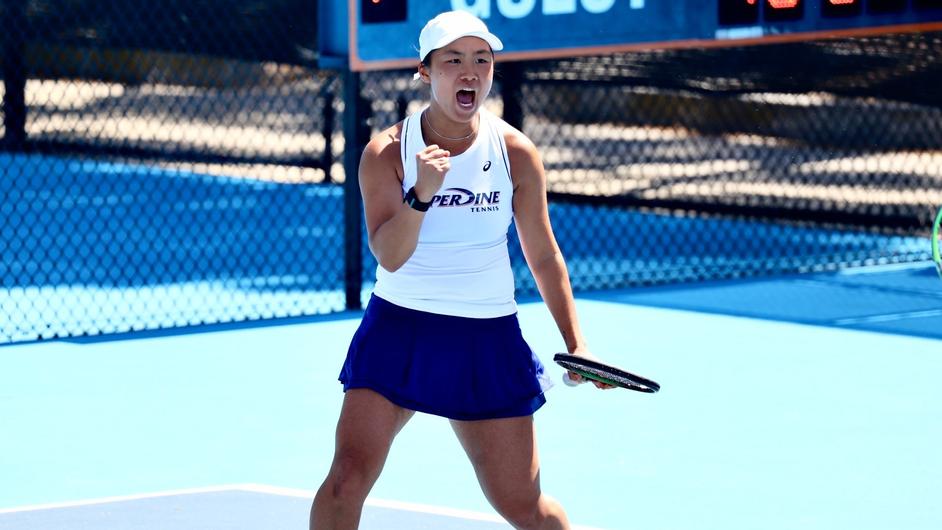 Pepperdine's Bunyawi Thamchaiwat, a graduate student, was defeated by Jacque Dunyon 6-4, 6-1 in singles. In doubles, Astle and Dunyon beat Broadus and Tjen, the top-ranked pair in the nation, 6-2, and Jiao and Kara Wheatley beat Campana and Redelijk 6-0.
The Waves have a 14-2 overall record and 5-0 record in the WCC. They host San Francisco on Friday.