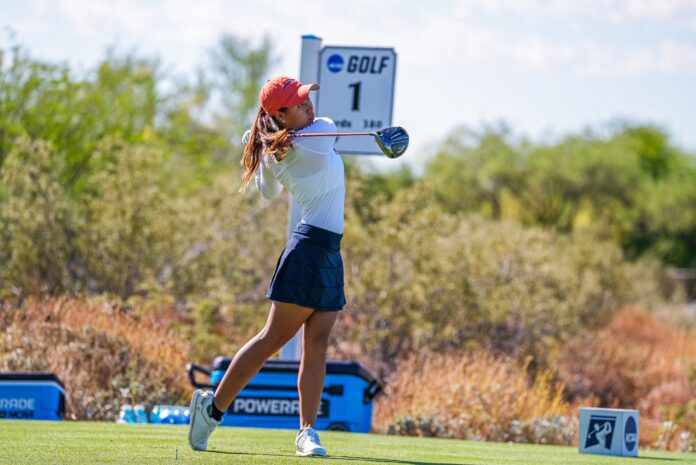 Nationally ranked Jeneath Wong helped Pepperdine reach the NCAA Championships quarterfinal
Pepperdine Waves women's golfer Jeneath Wong will tee off in the 78th U.S. Women's Open at iconic Pebble Beach Golf Links next month.
Wong qualified for the July 6-9 women's golf tournament by finishing in second place at U.S. Women's Open Qualifying at Rancho Santa Fe Golf Course on June 5.
Qualifying for the golf spectacle, Wong said, is amazing.
"It is one of my biggest tournaments to play in," she said. "This a good surprise for me."
She golfed even-par 74-70-144 in the qualifying event.
Wong didn't get off to a great start — she was four over par after three holes — but hitting a few birdies heated her clubs up and she finished the first 18 holes at two over. She shot two under the next round.
"I had a pretty strong finish," Wong noted. "I wasn't expecting to push myself to make it, but I did."
Amari Avery finished the qualifying event in first place. The rest of the field, 62 other golfers, including Wong's teammates Lauren Gomez and Lion Higo, did not qualify.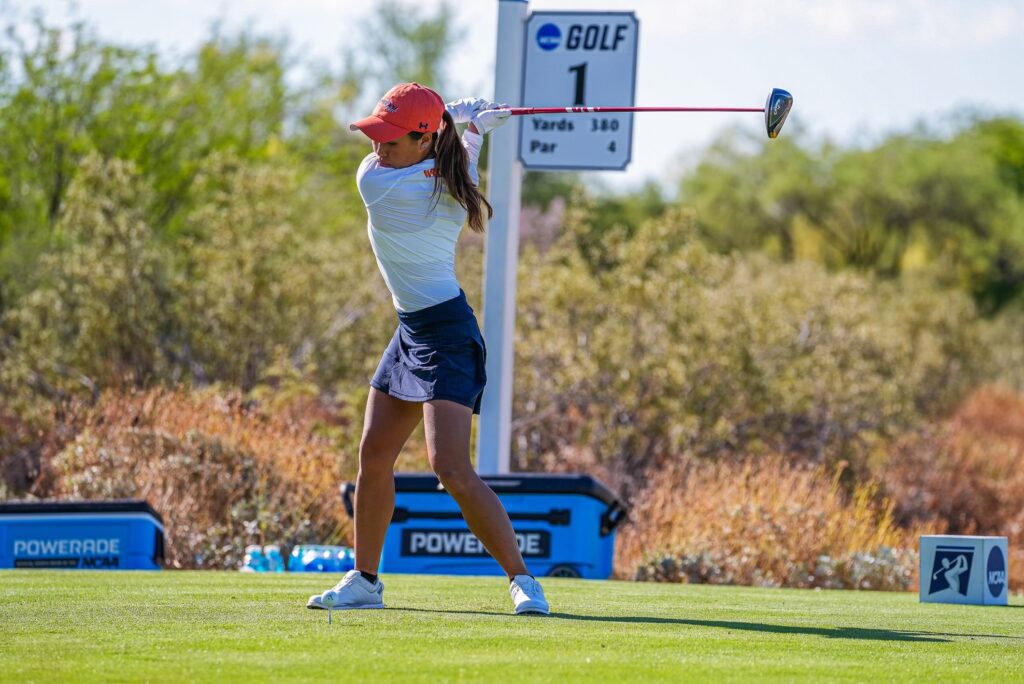 Qualifying for the U.S. Women's Open puts an impressive cap on Wong's freshman season with the Waves. The Melbourne, Australia, native joined Pepperdine in January and finished the season last month as a Women's Golf Coaches Association All-American.
Wong helped Pepperdine reach the NCAA Championships quarterfinals and finish the season ranked 12th nationally by Golfstat and 16th by Golfweek.
Wong was named to the All-West Coast Conference first team. She had a 72.72 scoring average, a Waves' freshman record. Wong had four top-10 tournament finishes and six top-20 finishes.
Wong said Pepperdine's first tournament of the 2023, the Therese Hession Regional Challenge in February, was a challenge for her, but she played better in all the contests that followed.
"I had a pretty good finish," she said.
Wong said playing in the March 29-April 1 Augusta National Women's Amateur was a big deal for her also.
"It was amazing and memorable," she stated.
The 18-year-old began golfing at age 3 with her father, Kenneth Wong. She was also a swimmer and tennis player, but left those sports behind before her teenage years in order to focus on golf.
Wong won the Women's Australian Master of the Amateurs, Portsea and Port Phillip Open Amateurs and Sukan (Sukma) Malaysia in 2022. She finished third in the Southeast Asian Games and 18th in the Women's Amateur Asia Pacific last year.
Additionally, Wong won the Australian Girls Amateur and Victorian Junior Master, Joan Fisher Plate, and Victoria Champion of Champions events in the last several years. She has a few Metropolitan Women's Club Championships also.
Wong and Higo teed off in five-day British Women's Amateur on June 13.
Wong expects to compete in the U.S. Girls Junior Amateur Championship, U.S. Women's Amateur Golf Championship, and the Canadian Women's Amateur Championship this summer.
As a Wave, Wong wants to win college tournaments.
"I'm really focused and determined," she said. "I want to have fun and do my best."
Wong is excited to play in the U.S. Women's Open at Pebble Beach.
"Just seeing the amazing views," she noted. "Most golfers dream of playing at Pebble Beach."
CAPTION (Can go with any of the three photos)
Pepperdine women's golfer Jeneath Wong is shown competing in the NCAA Championships in Scottsdale, Arizona, last month. Wong has qualified for the U.S. Women's Open, which starts July 6 at Pebble Beach. Photo Courtesy of Jeneath Wong