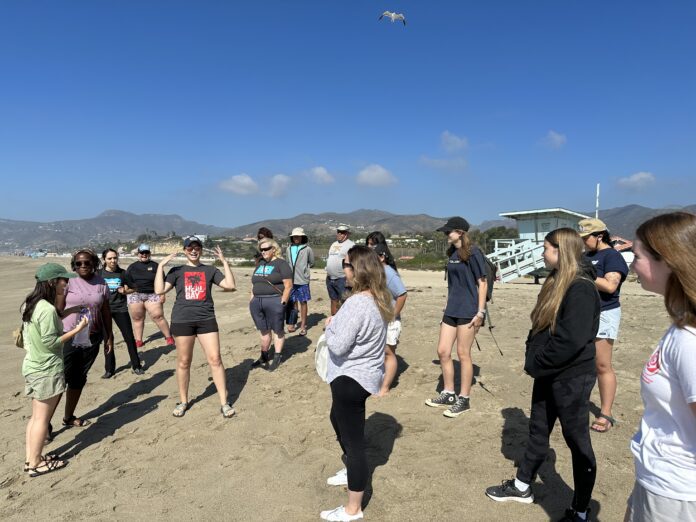 Heal the Bay and UCLA host volunteers in eDNA data gathering events
A collaborative effort between Heal the Bay and UCLA has been making waves for nearly a year now, as the two teams host volunteers monthly to help conduct very important research.
The eDNA (environmental DNA) Community Science event is hosted every last Saturday of the month and gathers volunteers for a cutting-edge science event designed to gather data from Malibu's Marine Protected Areas (MPAs).
All marine life off the coast of Malibu's shores leaves traces of DNA in their environment, and Heal the Bay and UCLA have introduced a fun and social experience that turns local volunteers into partnering scientists and environmental conservators who help collect sea water samples for eDNA water testing. Analyses gathered by the samples help gauge the quantification of biodiversity in a standardized way within a marine ecosystem, making it an ingenious tool for monitoring Marine Protected Areas.
The research campaign is led by UCLA PhD candidate Moriah Byrd. She said the purpose of the research is to understand the effectiveness and importance of Marine Protected Areas in regards to the native marine life compared to non-protected areas.
"From the DNA samples we can find out the biodiversity in these areas and it tells us how many organisms are in this ecosystem, and what their populations are," Byrd said. "That can tell us the health of the ecosystem, so our hope is that in these MPA's where we protect our oceans, the biodiversity increases."
Volunteers meet at Westward Beach, where they participate in a brief orientation followed by a volunteer practice activity to learn how to best capture the water samples. Participants are led by Byrd and Heal the Bay Coastal and Marine Scientist Emily Parker in the practice that has volunteers walk right up to the ocean and enjoy the waves coming to them as they fill up their sample collectors with seawater, avoiding the collection of beach sediment.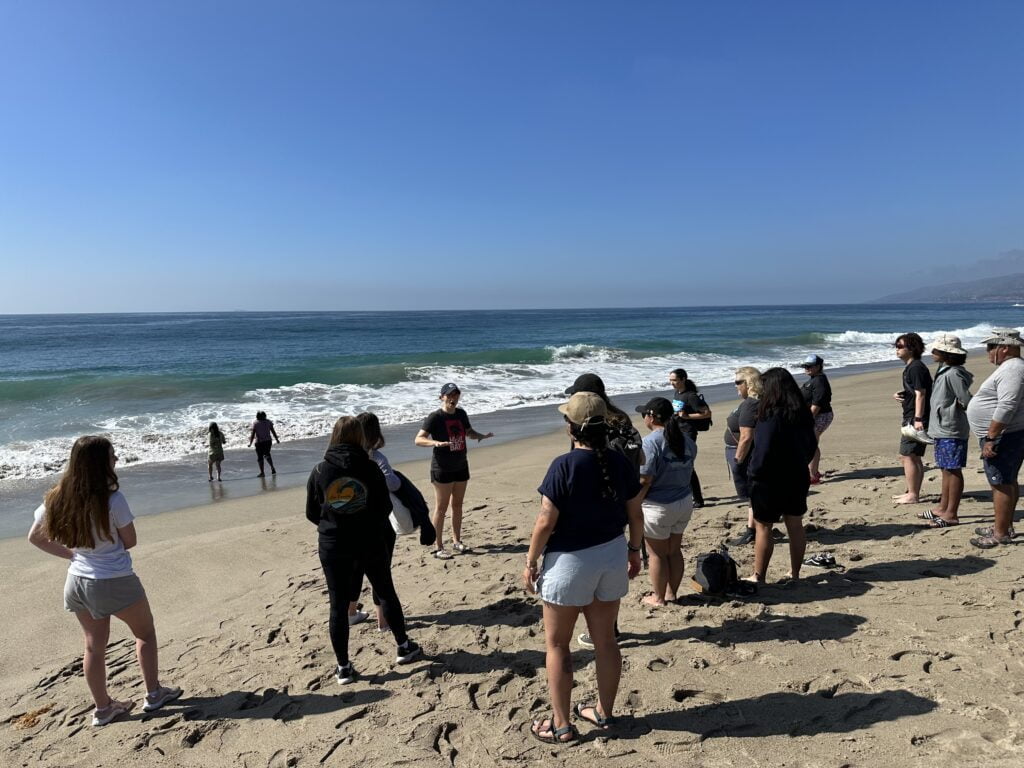 Once briefed, volunteers are split into four teams and equipped with an eDNA pack/water collection kit and carpool to the four collection sites. The sites are Point Dume SMR2A, Broad Beach SMCA2, Latigo Point OE2, and La Piedra OW2. 
Parker explained the importance of the work done by the volunteers. She explained that volunteers are split between two MPA sites and two control sites and the samples collected are compared to explore the effects between the protected and non-protected areas.
"We're showcasing how eDNA could be used as a long-term monitoring tool to help us measure the success of these MPAs, to tell us how well they're working and help us make adaptive changes to make them better," Parker said.
She said volunteer participation is instrumental to the project's success.
"Having volunteers here helps us get information quickly and efficiently, but also ensures we're collecting beaches at the exact same time, within 30 minutes of each other, making the data as comparable as possible versus just one scientist collecting the data within hours each other and having had different tides, different currents, different conditions, making data not comparable," Parker said.
Byrd said that another very important aspect of having volunteers is continuing to create interest in marine biology and environmental conservation and making stewards for marine life preservation and protection.
"Everyone that comes out is very engaged and interested, I have nothing but positive things to say about it," Byrd said. "These types of event are how people learn about marine science, learn about the avenues and careers they would not have access to otherwise and it's really about opening up the field to everybody not just a select few."
Undergrad student Ashley Barba said the eDNA event offered her an opportunity to explore her interests in different types of biology.
"I have never done something like this before; I have been getting an insight into what I may be interested in" Barba explained. "I thought the experience was interesting, it wasn't too hard, and I learned how to identify different kinds of waves, which I thought was pretty cool."
The Heal the Bay and UCLA teams hope this program can help solidify eDNA as a tool to replace more difficult, time-consuming, and costly methods.
"Collecting water samples is much easier than scuba diving or taking a boat out for visual surveys so our aim is to adapt eDNA to the management protocol, continuing a cheaper and less invasive method of gathering data," Byrd said.
The program is concluded for 2023 but will return in January 2024 and will continue throughout next year. Residents interested in participating in this important research are urged to follow @healthebay on Instagram or visit healthebay.org.