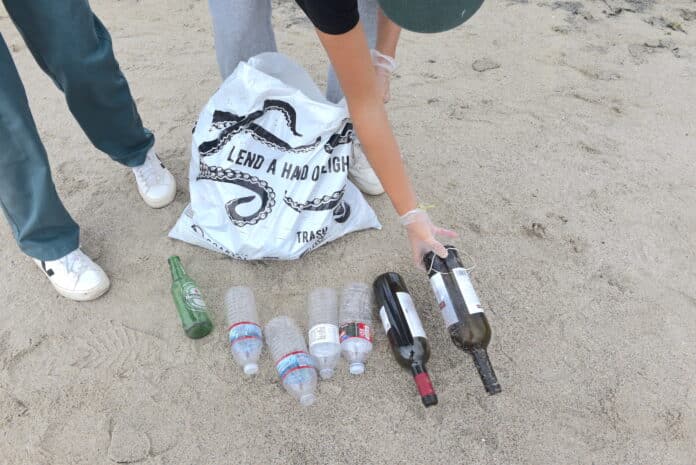 The report highlights organization's success as it expands its program's community of ocean advocates
The Surfrider Foundation published its 2022 Beach Cleanup Report highlighting the success of the program as well as shining light on the items most often collected during Surfrider beach cleanups.
"We dive into expanded polystyrene (EPS) foam and explore what it is, why it is so harmful to people and the planet, and how our policy experts and grassroots activists are passing monumental bans to reduce our dependence on single-use plastics," the report says. "Surfrider's Beach Cleanup program tackles ocean and coastal trash, caused primarily by rampant plastic pollution, through organized community action. Beach cleanups inspire volunteers to become grassroot activists, creating a ripple effect of positive changes in their own consumer behavior, within their wider communities, and beyond."
The program also supports public education efforts and provides underlying data to bolster its plastic pollution advocacy campaigns.
One of the foundation's initiatives is the Plastic Pollution Initiative, which aims to eliminate the impacts of plastic in the ocean by raising awareness about the dangers of pollution and by advocating for the reduction of single-use plastics. This includes decreasing single-use plastics at the source and helping to ensure that all existing plastic is reused or recycled rather than being burned or ending up in landfills and the environment.
The foundation's has also seen an increase in volunteer participation with 30,183 engaged volunteers, which more than doubled from last year.
"We nearly doubled the amount of volunteers engaged in beach cleanups with an additional 14,319 activists cleaning our coasts compared to last year," the report says. "This is a huge accomplishment and speaks volumes to the work Surfrider is doing on the ground to engage local communities and prove that the beach belongs to everyone."
The foundation held 1,201 total cleanups, collected nearly 580,126 of items , and collected nearly 143,070 pounds of trash.
Created in 2019, Surfrider's beach cleanup database continues to elevate the Beach Cleanup program by allowing easy data reporting across our network of chapters and student clubs.
By providing an accessible platform to showcase their collective impacts, it amplifies the work of Surfrider staff and volunteers.
The database serves as a visual aid to understand the geographic reach of Surfrider cleanups and to easily identify commonly-found items.
Of all the items collected and recorded during beach cleanups in 2022, 87.33 percent of them were plastic. About 13.6 percent of all items collected were plastic fragments smaller than a dime and 13.2 percent were plastic fragments larger than a dime. This means that out of the 580,126 items found during beach cleanups, over one quarter of them (26.8 percent) were plastic fragments.
Nearly 90 percent of all items collected were plastic. These figures continue to confirm that plastic is everywhere and it isn't going anywhere without large-scale legislative and industry change shifting away from single-use plastic products.
Since the chapter started collecting more specific data in 2012, volunteers have removed an average of 85,000 pounds of debris per year.
In 2022, the Los Angeles Chapter orchestrated 49 beach cleanups between Marina del Rey and Malibu, collecting a whopping 4,517 pounds of trash and generating $103,000 in donations.
"Beyond the communal aspect of these beach cleanup events, the educational component of sorting through trash is eye-opening for many participants," Surfrider Foundation Beach Cleanup Coordinator Sarah Plenge and Mel Bautista said in the report. "Each time, volunteers are surprised with how many cigarette butts, microplastics and other objects are found. It intrigues them and it calls them back to assist with future events, and take action beyond the sand in their daily lives."
Thirteen percent of all items found during Surfrider beach cleanups in 2022 were made of expanded polystyrene (EPS) foam, such as foam takeout food containers or packing peanuts. Products made with EPS foam are often single-use, easily littered and will not biodegrade within our lifetimes. Since EPS foam is inexpensive, it is often only used once before being disposed of. Once it's in the environment, it photodegrades and breaks down into smaller and smaller pieces, becoming more bioavailable to wildlife.
"The Surfrider Foundation continues to work tirelessly to fight for a plastic-free future where reusable systems are the norm and overall dependence on plastic is reduced," the report concludes. "Over the last decade, Surfrider has proven itself as a force to be reckoned with when it comes to fighting plastic pollution. From engaging thousands of volunteers to actively removing hundreds of thousands of pounds of trash and passing strong legislation that reduces single-use plastic, our work in 2022 shows the true strength of what can happen when we work together as One Surfrider."