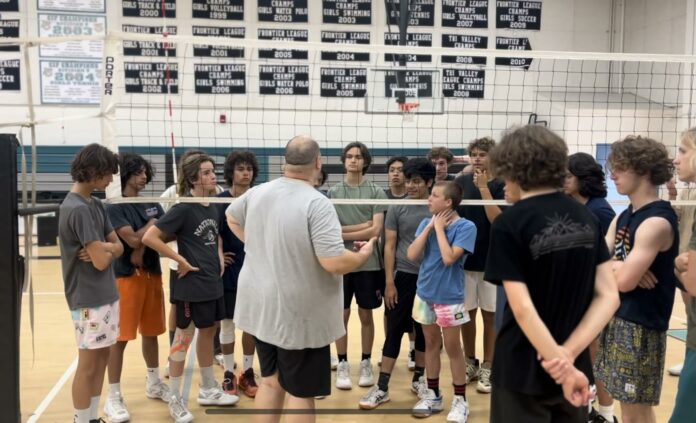 Former Dominican Republic national team player Luis Ramirez puts players through their paces at MHS gym
Youth boys and girls volleyball players took part in an impromptu training session July 11 in the Malibu High School gym with a coach who has experiences in volleyball highest level.
Luis Ramirez, a former setter on the Dominican Republic's national team who coaches and trains players in Hawaii now, offered the high school- and middle school-aged players tidbits on the sport he has been involved with for years during the two-hour clinic.
Malibu Sharks sophomore boys volleyball player Keegan Cross said the practice was great.
"It started of with a lot of basic stuff that's important to the game, but then we got into the more fun and intense gameplay of volleyball," he said.
Derek Saenz, head coach of the Sharks boys and girls teams, noted that Ramirez brought a lot of energy into the Malibu gym.
"Once it got started, it just went up, and up, and up," Saenz recalled. "The information he gave and the command he had. The presence Luis brought in the gym — you could just fell it. The kids were like, 'Ok. Let's go.'"
The spirit in the gym was palpable.
Ramirez, who has trained everyone from youth players to Olympians, lofted volleyballs high above the net right before the players rose up to smash the balls to the gym floor on the opposite side of the net. Ramirez also put the players through a drill in which they had to dive to the floor in order to hit the ball.
Cross said the visiting instructor gave him tip on how to dive for the ball.
"It was to use one arm to receive and the other to protect your chin from hitting the ground," he explained.
Ramirez, who runs the Rainbows Volleyball Club in Honolulu, was in the Los Angeles area conducting a volleyball camp at another school where a friend of Saenz's coaches. Ramirez volunteered to put Malibu's volleyball talent through their paces also, so Saenz quickly alerted his players.
Having a good work ethic, Saenz said, is the main thing he hoped the Malibu players gleamed from Ramirez.
"The urgency to move and play your best at all times," he stated. "The kids were doing what they were told and maximizing their effort there, so they got some good results."
Cross felt the practice came at an important time.
"It gave us a chance to play when the season isn't active," he noted, "so us volleyball players don't get rusty or forget what we have already learned."
Malibu has some talented volleyball players, Saenz stated, and that showed during the clinic.
"The intensity and intent was there," he said. "When you have a bunch of talented people fully engaged its how you get to the next level. That kids were super respectful and very appreciative."