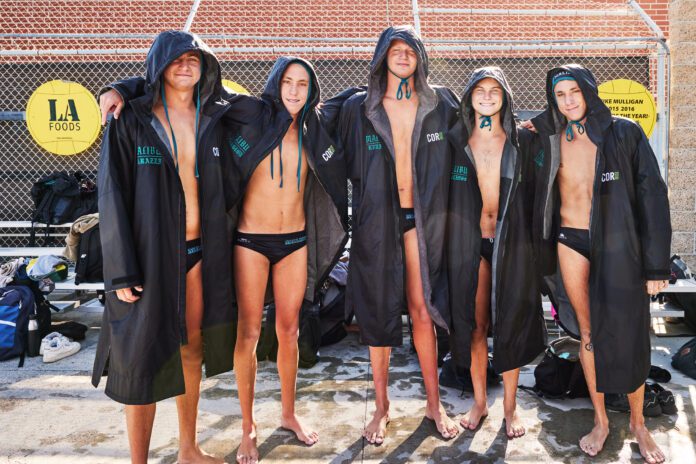 Victory over Foothill Tech clinches third straight Tri-Valley League title for Malibu High
The Malibu High boys water polo team dived into the Malibu High pool against Foothill Tech on Oct. 12 with a tweak to its starting lineup.
Instead of guarding the net as the Sharks' goalkeeper, senior Tristan Sturgeon was in the field with the rest of his teammates. Malibu head coach Hayden Goldberg made the change to his lineup in order to have all five of the team's seniors in the water together as part of the squad's Senior Night celebration.
Tristan and his twin brother, Cole, competed in the field with classmates Filip Kurial and Mikey Maischoss and Malibu's other starters, while Nico Marazzi, the Sharks' fifth senior, defended the goal.
The matchup was the first time Sturgeon, a goalkeeper throughout high school, played a field position in water polo since he was a youth player. Sturgeon's coach said he excelled.
"He had a fantastic game in the field," Goldberg said. "I was very impressed with his play. He made me look really good as a coach."
As a matter of fact, all the seniors played well as Malibu grabbed a 16-7 victory that ensured they will be the Tri-Valley League champions for the third consecutive season.
Kurial, Marazzi, Maischoss, and the Sturgeon brothers were recognized at the contest and given a bouquet. Senior Night was the first time the group had competed in the water together at the same time.
Goldberg called the five a special group of leaders. He commended them for their standout play even though they didn't have a freshman season because of the COVID-19 pandemic.
"They are a group that has always been a smiling group," Goldberg said. "That has to do with them not knowing if they were ever going to have a season when COVID hit. We didn't know what was going on in the world. So, their sophomore years, they had to come in and play varsity level with no prior varsity experience."
The Sharks played at Bishop Diego on Tuesday and at Royal on Thursday. Malibu hosts Villanova Prep on Oct. 24 and ends the regular season with a matchup at Santa Monica on Oct. 26. The CIF playoffs begin the next week.
Goldberg expects the seniors to lead Malibu for the rest of the regular season and the playoffs.
"I want them to run our workouts, to show the other kids that they need to take this serious," he said. "They want more and that is great."