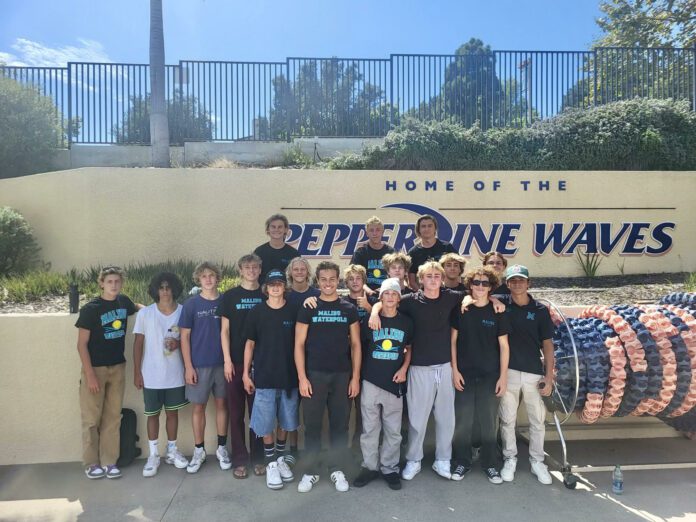 See game between Pepperdine and national champ California was an 'eye-opener,' Sharks coach says
The Malibu High Sharks boys water polo team hopped out of the pool at Malibu High and became spectators earlier this month.
After the squad concluded its participation in the three-day Malibu Tournament on Sept. 10, the Sharks traveled a few miles down Pacific Coast Highway to watch a water polo match between the Pepperdine Waves and California Golden Bears, the defending NCAA national champions, at Pepperdine's Raleigh Runnels Memorial Pool.
Malibu head coach Hayden Goldberg said attending the match was a good team-bonding experience.
"I told everybody about the match and they all wanted to go," he said.
The Sharks watched a thriller in the water. California, ranked tops in the college water polo polls, beat eighth-ranked Pepperdine 10-9 in double overtime.
From the moment the Waves and Bears jumped in the water to warm-up and until the final buzzer, Goldberg noted, the Sharks were awed by the men's water polo squads.
"Every kids' eyes were huge," the coach recalled. "They were talking about the size of the guys — the height, the weight. They were checking out the rosters to see where all the different players came from. They were talking about the crisp passing the guys were doing, the shots they were taking, and the movement in the water. It was kind of neat."
The Sharks also got a chance to see sophomore Waves utility player Milo Joseph, a Malibuite, who played water polo in high school at Crespi Carmelite in Encino. He had one exclusion in the match. Goldberg, also a club water polo coach, coached Joseph when he was younger, along with other Malibu High players.
"I coached him from 11 to 14 years old," Goldberg recalled. "He is a Malibu kid, so we wanted to go see him in our backyard."
The coach wanted his players to notice the similarities and the differences between high school water polo and the collegiate version of the sport.
"It may be a little bit faster, but they still do the same things you guys do in regard to looking across the pool to pass the ball or looking to the main setter to pass the ball," Goldberg told the Sharks. The coach said later "It was a really good eye-opener."
Malibu plays at Foothill Tech on Thursday and host Bishop Diego on Sept. 26. They will play at Villanova on Oct. 3.
Pepperdine plays in the Mountain Pacific Sports Federation Invite at USC from Friday to Sunday. They then play at UCLA on Sept. 29 and in the Gary Troyer Tournament at Claremont McKenna College on Sept. 30.
The Sharks do have team dinners, and during preseason training there was a day the team went to the beach together. This was the first time a Malibu group had attended a Waves competition, though.
"I'm just trying to get these guys comfortable with other," Goldberg said. "We want to create more chemistry. Doing things outside the pool like this to be a family for the three months we are together."