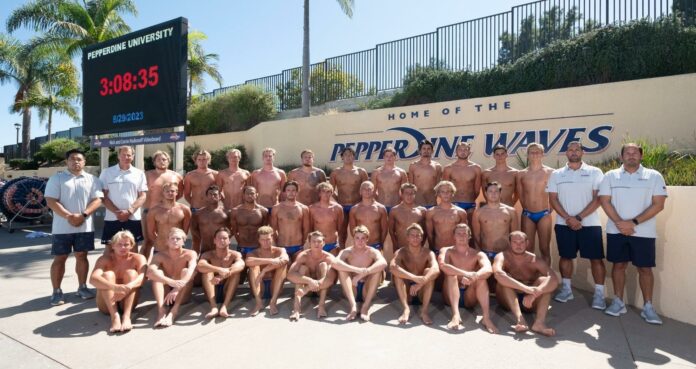 Waves excel against northeast competition, return to California for games this weekend
The Pepperdine Waves men's water polo team went undefeated at the Bruno Classic at Brown University and Harvard University last weekend.
The Waves, ranked 11th nationally, went 4-0 at the Sept. 2-3 event by defeating Fordham, Brown, Harvard, and Wagner College.
Pepperdine began the classic with a 16-10 victory over Fordham, ranked 15th, at Katherine Moran Coleman Aquatics Center in Providence, Rhode Island.
Sophomore attacker Adam Csapo had eight goals in the contest. Senior center defender Nico Tierney had two. Sophomore attacker Sandor Gal, senior attacker Christian Hosea, graduate student attacker Curtis Jarvis, graduate student utility Kaden Kaneko, junior center Matty Walsh, and freshman center Chase Wilson each scored a goal.
The Waves downed Brown 22-10 that same day. Travis Reynolds, a senior center, had four goals and Walsh tallied three. Senior attacker Andrew Outcalt, graduate student driver Ryan Brosnan, Csapo, and Jarvis had two goals each. Tierney, Wilson, Kaneko, Hosea, and Conor Brough had one goal apiece.
Goalkeeper Antonio Knez, a graduate student, had 24 saves total in both matches.
Pepperdine began the second day of the classic at Blodgett Pool in Cambridge, Massachusetts, with a 16-11 triumph over 18th-ranked Harvard. Walsh scored four goals in the match. Hosea had three scores and Brosnan, Jarvis, and Travis Reynolds scored two goals each. Csapo, Gal, and Milo Joseph also each scored one goal.
In the second game of the day, a 15-7 win over Wagner College, Walsh led the Waves with three goals. Csapo and Tierney tossed in two scores. The other Waves that scored — one goal each — were Brosnan, Brough, Gal, Kaneko, freshman utility Jon Carcarey, senior attacker Anthony D'Ambra, junior attacker Clay Kaneko, and senior attacker Andrew Outcalt.
The Waves play at Loyola Marymount on Saturday and host California Sunday at noon. The squad hosts Westcliff at noon on Sept. 14 and UC Santa Barbara that same day at 5 p.m.