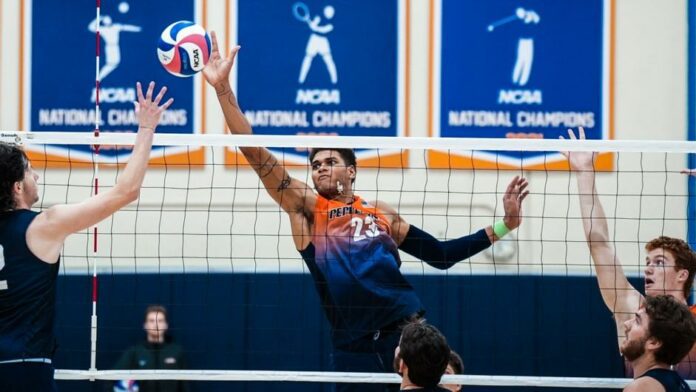 Jaylen Jasper earns spot on U.S. beach volleyball team; others get All-America and All-Academic recognition
The Pepperdine Waves men's tennis team's season ended in April. However, members of the squad received accolades this month.
Standout opposite Jaylen Jasper earned a spot on the U.S. Beach Volleyball Collegiate National Team on May 3. Two days before, Jasper and his teammate, setter Bryce Dvorak, received American Volleyball Coaches Association (AVCA) All-American recognition.
Additionally, Jasper, outside hitter Akin Akinwumi, libero Trey Cole, libero Yadiel Diaz, middle blocker Andersen Fuller, libero Brendan Read, outside hitter Kevin Roberts, and opposite Jacob Steele received All-Academic status from the Mountain Pacific Sports Federation.
Jasper was named to the All-American second team and Dvorak was honorable mention. Jasper had earned All-American honorable mention four times previously and Dvorak was a second-team All-American last year and a honorable mention in 2021.
Jasper is one of nine women and 11 men named to the red, white, and blue beach volleyball squad, part of the National Team Development Program.
The men's and women's teams will train June 11-17 at the Chula Vista Elite Athlete Training Center.
The other players on Jasper's team are Ben Braun, Kupono Browne, Nato Dickinson, Matthew Edwards, Jackson Hickman, Hugh Hughes, Thomas Hurst, Kyle Paulson, Sebastian Rodriguez, and Ryan Smith.
The women's team is composed of Peri Brennan, Alli Hansen, Xolani Hodel, Paige Kalkhoff, Chloe Loreen, Delaynie Maple, Nicole Nourse, Audrey Nourse, and Ashley Vincent.
The honors have rolled in for Jasper this spring. He was named the Mountain Pacific Sports Federation Player of the Year and he was placed on the All-MPSF first team.
Jasper ranked second in the nation at 4.99 kills and 5.47 points per set. He was seventh with 9.09 attacks a set and 16th with .364 hitting percentage.
Dvorak was named to the MPSF second team for the third consecutive season. He was second in the nation at 10.67 assists a set. Dvorak led Pepperdine to rank third nationally with 13.01 kills and 12.24 assists per set. He also helped the Waves rank eighth with a .326 collective hitting percentage.
The Waves that earned MPSF All-Academic status had to have at least a 3.00 cumulative grade-point average, be at least a sophomore academically, have spent a year at their school prior to the 2022 season, and have competed in at least 50 percent of their squad's competitions in 2022.
Steele, with his team-best 3.75 GPA, is now a four-time MPSF All-Academic honoree. Akinwumi, Cole, and Fuller received it for the second time. Diaz, Jasper, Read, and Roberts are first-time honorees.
Pepperdine ended the season with a 16-14 record. They were downed in the first round of the MPSF Tournament.