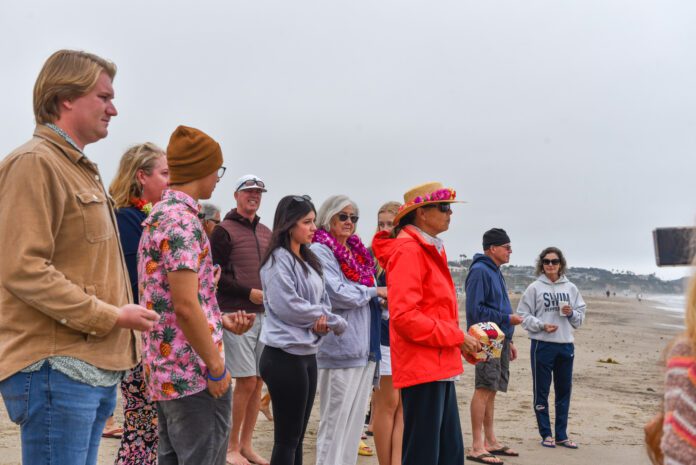 Family and friends gathered at Zuma Beach to celebrate local swimming and diving icon's memory and legacy
The swimming and diving world has lost one of its most influential and beloved coaches on Feb. 17, Nicholas Sergei Rodionoff.
Son of Sergei Rodionoff, an accomplished musician and composer, and Maria Rodionoff, an opera singer, Rodionoff was born in Los Angeles on May 22, 1935. He leaves Carrie Rodionoff, his wife of 54 years; his son, Hans Rodionoff; his daughter Nicole Morales, and four grandchildren.
Morales organized the Celebration of Life gathering at Zuma Beach on Sunday, May 21, to commemorate her father's legacy.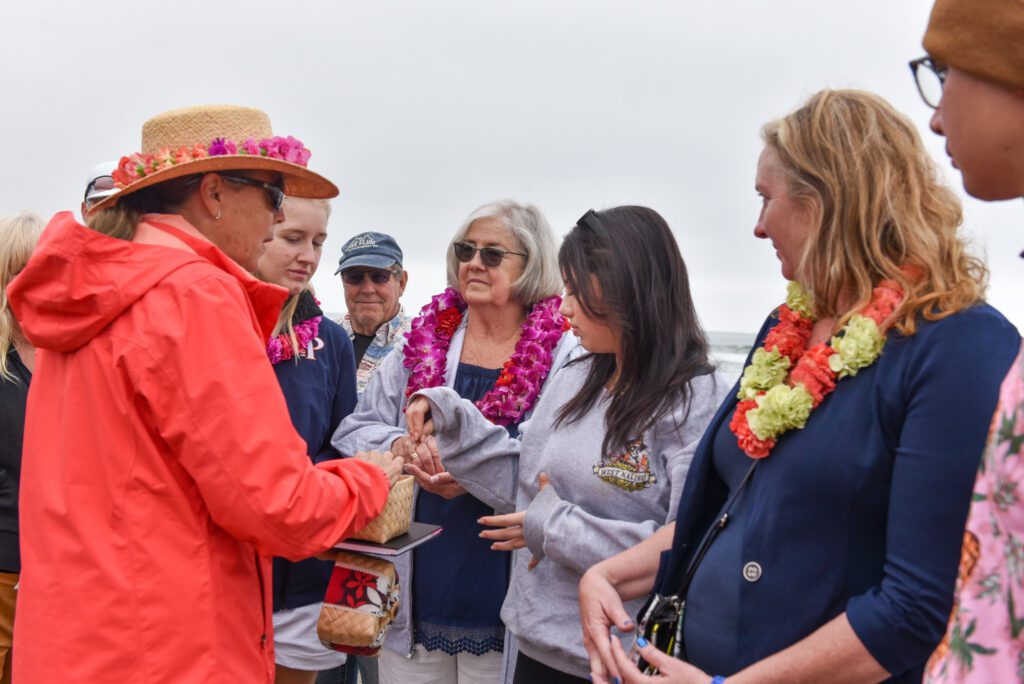 "He had a really big, big reach as far as the lives that he touched, as far as the swimmers, the divers, and I think it's really important to have this gathering and have them have a chance to sort of pay tribute to him," Morales said. "Our plan is to have this as an annual thing, every year right around the end of May, it'll be a beach day, if people want to go surf, and share their stories and all their happy memories about my dad."
Morales said she is actually working on a movie on her dad called "Nic Rodionoff: More than a Coach."
"Because he's more than a coach," she said. "He was a father figure, he just had a way to make sure you were going to be OK."
Morales was also handing out purple bracelets that read, "Rodionoff Strong: Vitamin C and walk the dog."
"That was his way of saying put something good in your body and then go get moving," Morales said. "If they didn't have a father figure, he sort of filled in the gap for a lot of people that came into his life, and you can tell they needed it."
Rodionoff attended Canoga Park High School and went to Occidental College on a football scholarship, where he joined the Alpha Tau Omega fraternity and participated in diving, football, and track and field. He captured the conference diving title in his senior year of competition. After graduating, Rodionoff started teaching full-time at Porter Junior High and after school coached the "Puddle Jumpers" — a team that got their name from working out at different pools all over the city. After leaving Porter Junior High, he coached diving at UCLA from 1964 to 1974, and became the swimming and diving coach at Birmingham High School, where he would create a dynasty that would boast 31 league championships. In recognition of his remarkable contribution and record, the pool at Birmingham High was renamed the Nick Rodionoff Pool in his honor. Rodionoff coached 36 high school All-Americans at Birmingham before leaving to become the full-time swimming and diving coach at Pepperdine in 2000, where he led the Waves to 14 top-five finishes at the Pacific Collegiate Swim and Dive Conference Championships.
Rodionoff was also well-known as a photographer. His photographs were often published on the front page of Malibu's Surfside News and he looked forward to showing his latest photos at the annual Malibu Art Show. He enjoyed catching up with old friends and people always knew where to find him because of his "Woody" station wagon.
His grandson, Tyler Morales, was given his Woody and hopes to restore it to keep his legacy going.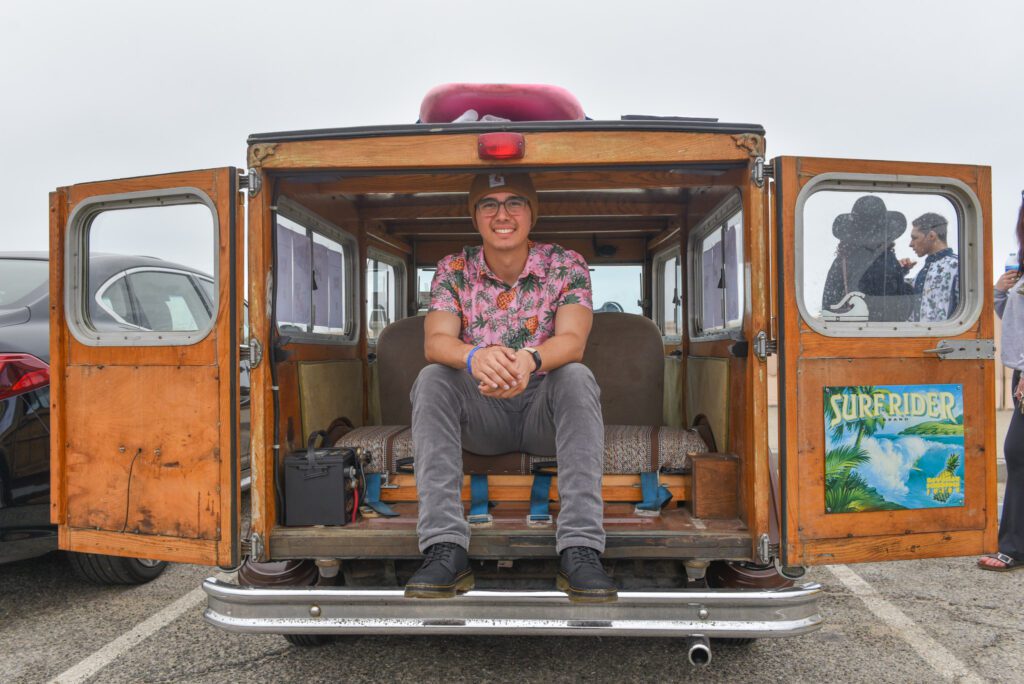 "This Woody has been a labor of love for me. My grandfather was older, so he was unable to take as good care of the car like before, and so he passed it on to me and I've been working on it ever since," he said. "It didn't start when I first got it [in 2020], so I rebuilt the car from the ground up, and it's been a labor of love, but I do it because it's something I grew up with and it's been in the family for more than 30 years."
Morales said he hopes to continue taking it to the Malibu Art Show where his grandfather used to take it.
"Even though I'm in Huntington Beach, I'd like to come to Malibu to the Malibu Art Show, I just want to honor him and this is my way of remembering him," he said. "I feel closer to him when I drive it."
Morales said he has spent over $10,000 so far to fix up the car and would need about $5,000 more to complete it. He started a GoFundMe to help raise money to complete it. To donate visit, https://gofund.me/982eff07.
On Sept. 7, 1968, Rodionoff married the love of his life, Carolyn (Carrie) Theresa Bentley. They met while he was coaching, and this was the beginning of a love story that would last for more than 50 years.
"It means everything, people that are here and it's multigenerational, are all so special to us, the fact that they would come out in the rain is pretty amazing," Bentley said. "He was an amazing man, his legacy will go on, he was everything to me and everything to them."