Local Heidi Jaeger recently began to find little works of art along the Zuma Beach walkway — etched and hand-painted stones with cheery little beach scenes and words like "Zuma," "Joy," and "Peace." At times, she would find a colorful work of art on paper instead of a painted stone, some with inspirational sayings like "Don't be afraid to be great" or "Dreams don't work unless you do." Finding the little treasures happens intermittently — not every day — but they're obviously being left by an anonymous artist or artists for the taking.
"Other people have also found the rocks over the past months," Heidi said in an interview. After amassing quite a collection, she decided the "Zuma rocks" ought to be shared with the community.
Last week, she took her found art collection to John Kozlowski, co- owner of Sea N' Soul surf shop in Zuma Plaza under Spruzzo's restaurant.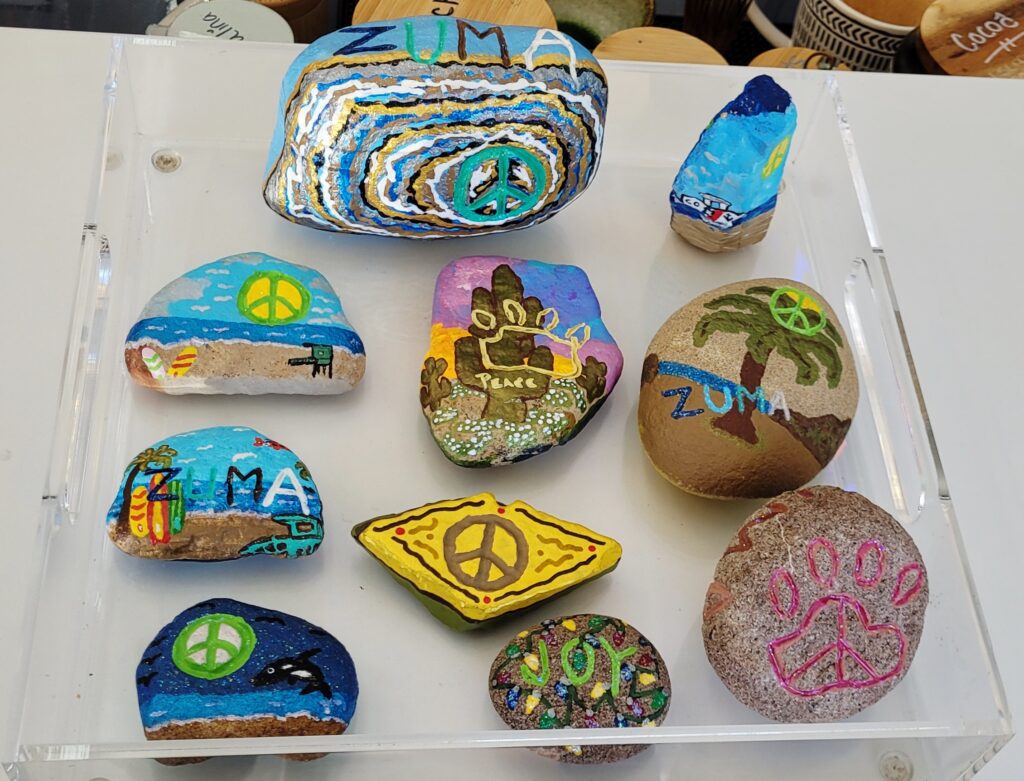 "He happily agreed to showcase the rocks at his shop," Heidi said, and now anyone can stop in and see them on an acrylic tray at the corner of the coffee bar. She hopes that other people who have found Zuma rocks will entertain the idea of donating their finds to be displayed in the shop alongside hers.
Kozlowski, who lives in Malibu with his wife Erica and two young sons, Sailor and Wylder, said he was sure his own sons would be delighted if they ever found these kinds of little art treasures at Zuma Beach. From his own experience, people are fascinated by all kinds of objects found at the beach — not only found art, but interesting items that wash up on shore, etc.
He pointed out that one of the most popular items in his store is jewelry made from sea glass found on the beaches of Malibu, as well as little jars of sea glass.