The memory of a missed shot hounded Malibu High Sharks boys basketball player William Caceres like a long-limbed and agile defender throughout the offseason last year.
Caceres missed a bucket late in the Sharks boys basketball team's season-ending, double-overtime loss to Chaffey in the semifinals of the CIF State Boys Basketball Division V Championships last March. Caceres said the weight of missing the shot rode with him from the gym and until practices began for Malibu's 2022-23 campaign.
"After I missed that game-tying shot, I made it a mission to be the best version of myself this year," he recalled. "I put in a lot of work. I was the only returning starter from last year. I made a full commitment to be obsessed with basketball to give it all I got. I didn't want to let anyone down. I love basketball."
After raining down thousands of practice shots on various hoops, the 18-year-old senior got a shot at redemption on Feb.2.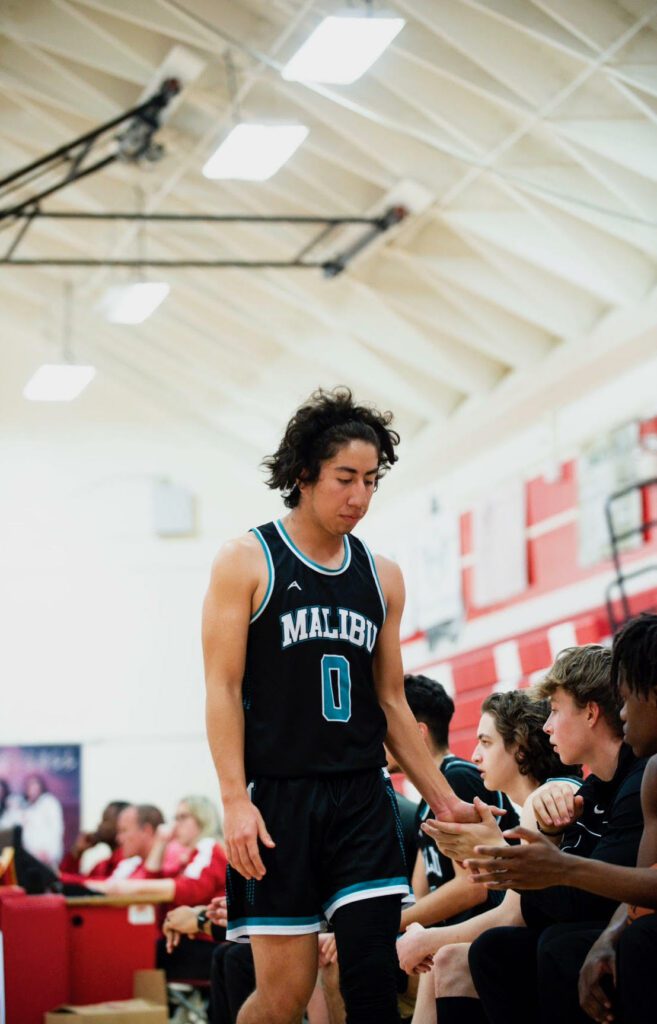 Malibu was down two points in the final seconds of its season finale at Carpinteria. Caceres dribbled the ball down the court and passed the ball to a teammate, but then the ball found its way back to him at the 3-point line. After a dribble and step back, the guard pumped faked, and his defender jumped. Caceres flicked his wrist and watched as the ball swished through that net as the game-ending buzzer sounded, giving the Sharks a 41-38 victory.
Caceres is still amazed at his game-winning splash.
"I don't know how I made that shot," he admitted. "Everyone that was cheering for us believed I was going to make that shot."
Malibu head coach Mike Sutton said, "It was a hell of a shot."
The game-winner punctuated a standout season for Caceres. He averaged 19 points per contest in the Sharks' 19-game season and was the seven-team Citrus Coast League's top scorer. (Caceres averaged 20 points a game in Malibu's 12 matchups against CCL foes.)
He and teammate Lloyd Bema were named to the CCL's All-League first team last week. Malibu's Asher Katz was named to the second team.
Malibu girls basketball players also garnered league recognition. Hannah Kaloper and Casey Ovsiowitz were named to the All-League first team and Catherine McDonough was placed on the second team. Lauren Lapajne and Whitney Shanahan were honorable mention.
Sharks boys soccer players Takota Moore and Jace Kletter were named to the All-League second team in their sport, while Brian Perez, Travis Kies, and Romane Foulquier were honorable mention.
Malibu's Jessa Kletter was named to the All-League second team in girls soccer.
Caceres was a second-team selection after his junior campaign.
"I wasn't doing any of this for recognition," Caceres said. "All the work I put in was to win. I'm really grateful to be on the team."
Sutton, Malibu's first-year coach, called Caceres a high-level shooter.
"Will is a fiery player," he explained. "He's a competitive player and he's a gifted shooter. If he misses a couple of shots, he can get down on himself because he is a perfectionist. If he keeps his confidence high, he can shoot with the best of them."
Caceres agreed with his coach.
"I've never been afraid of taking a shot," he said. "When the stakes are high, I rise up."
Malibu finished the season with a 9-10 record. This year was Caceres' best in high school.
Caceres was a standout scorer for Malibu's junior varsity team his freshman year but did not play basketball his sophomore year. The Oxnard resident said the three-hour commute via multiple bus transfers — Oxnard to Thousand Oaks to Santa Monica to Malibu — was too difficult to manage.
The commute challenge and other complexities stretched into his junior year. Eventually, Caceres got a car and hoped to join the varsity basketball team, which was already in the midst of a winning season. Caceres and former Malibu head coach Richard Harris bumped heads about whether the player could join the team. Eventually, they mended their differences, and Caceres became a key contributor during the Sharks' runs through two postseason tournaments.
"When he started playing, he had a passion for the game that was so sincere, so evident, so genuine that I instantly loved him as a player," Harris explained. "He would dive into the wall for a ball. We would have to stop him from doing stuff like that so he wouldn't hurt himself. Those are type of players every coach could use."
Harris said Caceres' hustle and shooting made Malibu a title contender.
"It seemed like he cared about basketball more than anything else in life," he remembered.
Still, the missed shot haunted Caceres, so he committed himself to hoops last spring and summer.
Malibu started the season with a 1-4 record but found its footing in December's Ojai Valley Classic.
Caceres nailed 11 3-pointers against Laguna Blanca in the opening round and tallied 21 points in the championship win over Thatcher.
He said the tournament title game was his best outing of the season because of the leadership he displayed.
"I didn't score the most points or have the most rebounds," Caceres noted. "When my team needed me the most, I stepped up that game — passing, bringing up the ball, defense — I feel very proud of myself for that game."
Sutton said Caceres' evolution as a leader strengthened throughout the season.
"He had to lead verbally and by example," the coach stated. "We had our moments when it didn't go smoothly, but it made him a better player and a stronger person."
Caceres, who scored 32 points in Malibu's senior night win over Fillmore, cherishes his senior and junior year basketball seasons.
"No one expected us to do well this year," Caceres said. "We proved a lot of people wrong. As a team, we all left it out there on the floor. I know I did. Basketball is the love of my life."