Talin Lewis was in the Big Dance for the second time in three years earlier this month.
However, instead of ballroom dancing shoes, the hoops player, who played basketball, soccer, and baseball in Malibu as a youngster, laced up basketball sneakers.
Lewis, a 6-foot-4 guard with high-flying ability, is a member of the Howard University men's basketball team that qualified for the NCAA Tournament. The Bison, seeded 16th, were defeated by the reigning national champion Kansas Jayhawks 96-68 in the tournament's first round on March 16 in Des Moines, Iowa.
Lewis, 22, said participating in the postseason spectacle, affectionally known to fans as March Madness, was amazing.
"This team hasn't been to March Madness since 1992," he stated. "To make it for the first time in 31 years is really special. Everything we had to go through to get there — we had to win the conference tournament. We said before the season we were going to do it and we did it."
The redshirt junior played two minutes in the contest and went 0-1 from the field for the Bison, who qualified for the college hoops showcase by defeating Norfolk State for the Mid-Eastern Athletic Conference Tournament crown.
The Bison, Lewis explained, are a great team to be part of.
"We all love each other," he said. "We are all brothers on and off the court. That has made this so cool."
Before attending Howard, located in Washington, D.C., Lewis was a member of the USC basketball team that advanced to the Elite Eight in the 2021 NCAA Tournament.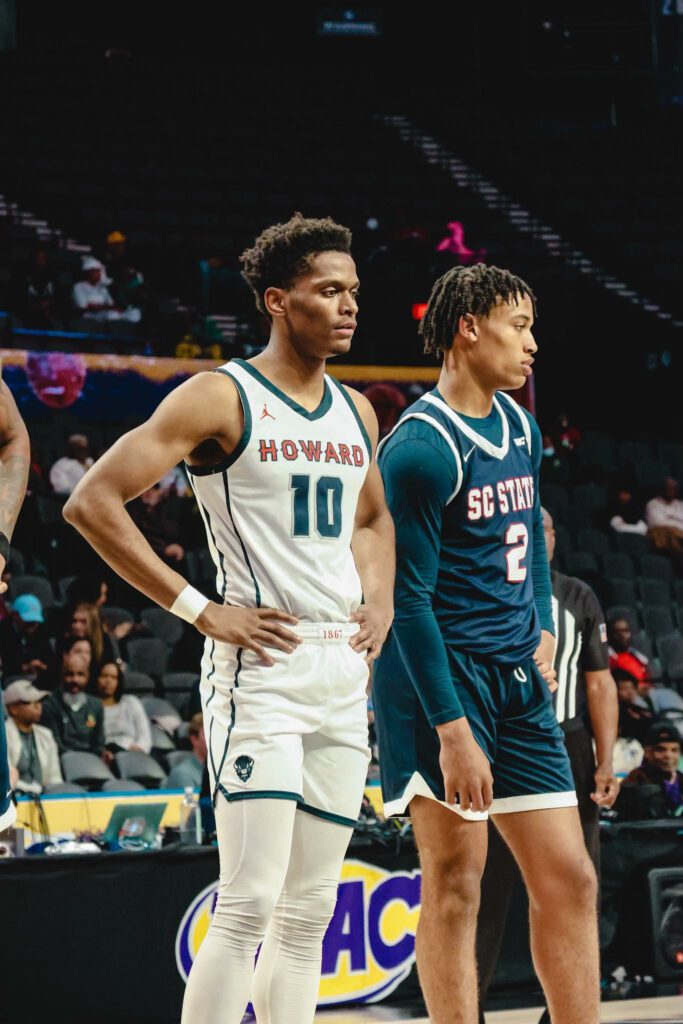 Lewis, who suffered an injury that season, said the USC's tournament run was different from what he experienced with Howard.
"We had Evan Mobley, who was an NBA lottery pick, and he played really good that year," Lewis noted. "We knew we were going to March Madness. We knew could make a big run."
The tournament appearances with Howard and USC were "special for their own reasons," he explained.
Lewis played in 13 contests this season for Howard and averaged 1.7 points a game. He scored a season-high 10 points in a victory over Gallaudet in November. However, the basketball player said that game was not his highlight of the year; instead, the team's social justice project was. Howard held a special event with the organization Mamatoto Village focused on battling racism and health disparities for Black mothers.
Black women are more likely than women from other races to die of pregnancy-related complications, according to the CDC and encounter racism from health care providers at higher rates.
Lewis said the event was the Bison's most important shot of the season.
"It was crazy to see that people that look like me have to deal with inequality in health care," he explained. "No woman should die during childbirth."
Lewis was a member of a Malibu Little League All-Star team composed of 10- and 11-year-olds that reached the championship game of the District 25 All-Star Tournament in 2012. The squad is believed to be the first Malibu group in 20 years to reach the championship game.
He was also a track and basketball standout at Oaks Christian School.
Lewis won the 2018 CIF Southern Section Division IV 300-meter hurdles and long jump titles and qualified in both events for the state meet. He also ran on the winning 4x400m relay to help lead Oaks Christian to its third-straight CIF track team title. He was the CIF Southern Section Masters champion in the long jump.
Lewis briefly committed to participate in track at the University of North Carolina after high school, but then decided to go to USC. As a freshman, Lewis competed mostly in the long jump and 400m hurdles. The COVID-19 pandemic shutdown his sophomore season.
Lewis joined the USC basketball team in 2021, but he suffered an ACL injury. He played in six games for the Trojans.
Lewis spent one year at Corban University in Oregon as a member of the basketball team before transferring to Howard. He averaged 5.7 points and 2.1 rebounds a game. He scored a season-high 26 points in a Corbin win over Evergreen in January 2022.
Lewis wants to obtain his MBA and work in sports marketing. Before that though, he is excited about his last season of college hoops.
"I'm ready to get back to work and be around the guys again," he said. "I miss it already. This is probably the closest team I have ever been on."
Lewis wants to make another NCAA Tournament appearance next season.
"Everyone wants to go dancing," he noted.