Friends, family, and community members attended the event-full day last Saturday
The Malibu/Lost Hills Sheriff's Station held another community event, this time in Agoura Hills, on Saturday, May 13, at the department headquarters. The event featured the Sheriff's K-9, Special Enforcement Bureau, Recruitment, Mounted Enforcement Detail, Search and Rescue Team, a helicopter, and activities for the kids.
Participants were able to meet their local sheriff's department deputies, members of the Arson Watch, and Malibu Search and Rescue Team members.
The open house followed an event held at the Cross Creek shopping center last month, which featured the Malibu Search and Rescue team, Mini therapy horses, coffee from Whole Foods, and an opportunity for the community to get to know its local sheriff's department.
"Once a year, we like to open our doors to the community so they can learn about what law enforcement does and how they can get involved and be a volunteer or VOP on patrol, whatever it may be," Capt. Jennifer Seetoo said. "It's just an opportunity for us to reach out to the community, invite them to our station, show them our station, and that's where the relationship starts."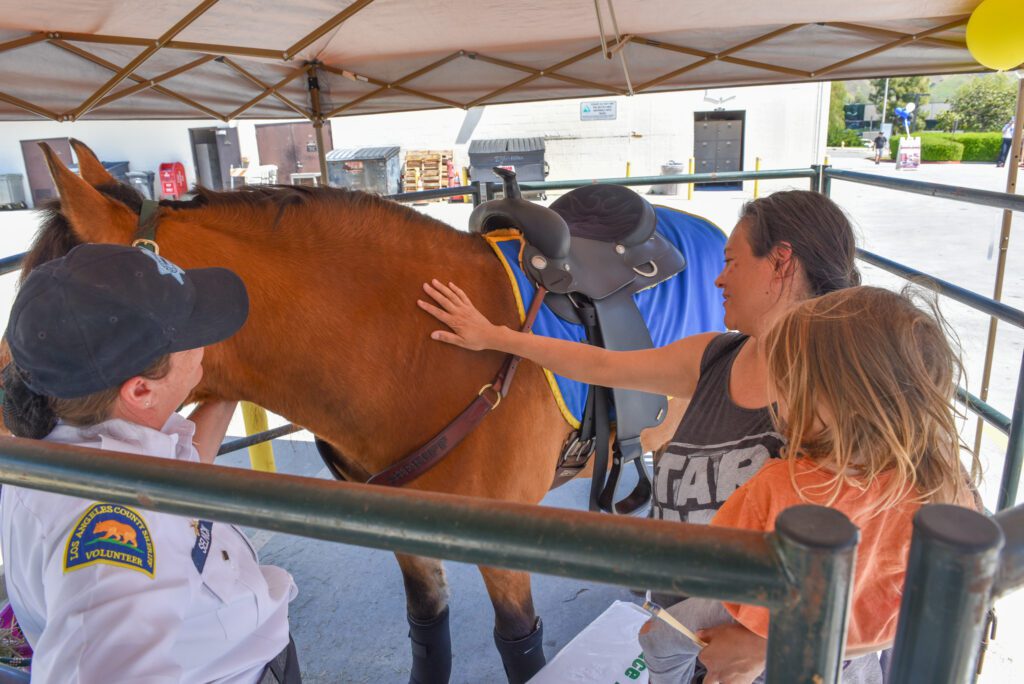 Families were able to meet some of the horses at the open house. The Los Angeles County Sheriff's Department Mounted Posse is a tradition that started in 1850, and the Malibu/Lost Hills Sheriff's Station continues the tradition at the station.
"We are able to patrol on four feet instead of two, and we go places like festivals, fairs, we patrol the malls, we go to the beach, and we're a very approachable way to meet our community, and people love horses and so we love to introduce our horses to them," Mounted Posse Volunteer Karry Mellin said. "We're a friendly way to patrol our community and make our areas safer for everyone."
The Posse comprises reserve deputies and civilian volunteers dedicated to supporting their communities within the Los Angeles County Sheriff's Department. The Posse is seeking dedicated men and women with a desire to give back to their community and volunteer their time with their horses. The minimum requirement is a horse, a trailer, a tow vehicle, and passing a background check.
Law Enforcement Technician Amy Nelson was at the open house showcasing the H125 Helicopter.
"We are interacting with the public and letting them see the aircraft we use while on patrol in Malibu's area and throughout the desert," Nelson said. "Typically, they respond to anything from a missing child, missing critical to burglary or pursuit."
Malibu Search and Rescue (Malibu SAR) displayed a rescue basket and demonstrated how they hoist and transport injured victims to a nearby hospital.
Malibu SAR reserve deputy Steve Sullivan was at the event, answering participants' questions.
In March, Malibu SAR responded to back-to-back injured hiker rescues at Escondido Falls Trail. The first victim, a female adult, suffered a broken ankle and was carried to an awaiting fire QRV for transport. As rescuers were completing the first rescue, a passerby alerted them to another female hiker who suffered more significant injuries at the waterfall.
"We've been busy with stranded and lost hikers, just the first few days getting into the hot weather," Sullivan said.
Sullivan suggests taking lots of water and cautions visitors about rattlesnakes with the warm weather approaching.
Malibu SAR also suggests wearing appropriate footwear and staying on stable trails.
Civilian Volunteer Specialist Andrew Schneider cautions hikers when taking their pets out for hikes, saying they also do dog rescues.
"Dogs have been sitting around all winter long and haven't been out there," Schneider said. "They're not conditioned for these hikes; you really have to watch your animals and make sure you're hydrated and they're hydrated — at the same time, don't take your dog out for a five-mile hike, it's not ready. It's unfortunate because the dog will walk itself until it no longer can't, and it becomes a sad situation."
Founded in 1977, the Malibu Search & Rescue Team is an all-volunteer organization comprised of Los Angeles County Sheriff's Department reserve deputy sheriffs, a select few civilian volunteer specialists, and incident support personnel.
The Malibu SAR jurisdiction includes 187 square miles of the Santa Monica Mountains from the Los Angeles/Ventura County line to Pacific Palisades, the east face of the Santa Susana Mountains and the contract cities of Westlake Village, Agoura Hills, Malibu, Calabasas, and Hidden Hills. They can also be sent anywhere in Los Angeles County to assist other LASD teams and respond anywhere in the state or country if requested to do so through the California Emergency Management Agency (Cal EMA).
As for the Los Angeles County Sheriff's Department substation near the Santa Monica College Malibu Campus, Seetoo said it will open in July.
"We're excited to be there locally with our residents in Malibu," Seetoo said. "It's July because that's what starts our fiscal year, so that's when the contract starts."
The substation will occupy a one-story wing of the building, which includes jail facilities, a helicopter pad outside, and a multi-purpose room to be shared by the Malibu community, the Sheriff's Department, and SMC.
Seetoo said while they're prepared for summer with the beach team, they're already planning for fire season.
"For summer we are looking at traffic on PCH, so trying to come up with a plan to deal with the traffic issues on PCH, but even though we're already starting summer, we're already forwarding thinking for our fire season," Seetoo said. "I've already talked to our Fire Chief Drew Smith and we're already having these conversations, having weekly meetings and starting to prepare."
The Malibu/Lost Hills Sheriffs will host a Fentanyl, Drug, and Overdose Reversal Awareness event on May 23 from 6 to 8 p.m. at Calabasas Founders Hall behind the library. The Lost Hills Sheriff's Departments Juvenile Intervention Team and Sheila Scott from the Lukelove Foundation will speak on fentanyl awareness and overdose identification and reversal. To RSVP email grayson.delaney@gmail.com.
For more information, follow the station on Instagram @lasd_lhs and on Twitter @LHSLASD.