Poetry filled Malibu Civic Theater at City Hall on Saturday
The 2023 poetry summit welcomed residents to an afternoon of art experience and enjoyment. The arts featured included paintings, music, dancing, and of course poetry. The stage was adorned with paintings done by students at Malibu Elementary and Webster Elementary.
The summit was hosted by Malibu poet Ann Buxie as part of the Malibu Library Speaker Series and was sponsored by the City of Malibu and the Los Angeles County Library.
The summit began with words from Malibu Arts Commission Chair Lotte Cherin. She greeted the audience and thanked the City of Malibu for continuing to support Malibu arts and the Library Speaker series.
"We're grateful for them letting us have this time. We are proud to present the city's annual poetry summit," Cherin said.
Buxie then took the stage to share the afternoon's first poem accompanied by music from the afternoon's live band, A Call 2Peace.
Buxie asked the audience, "Why poetry?" and shared the thoughts of poet Rabindranath Tagore on the subject of poetry.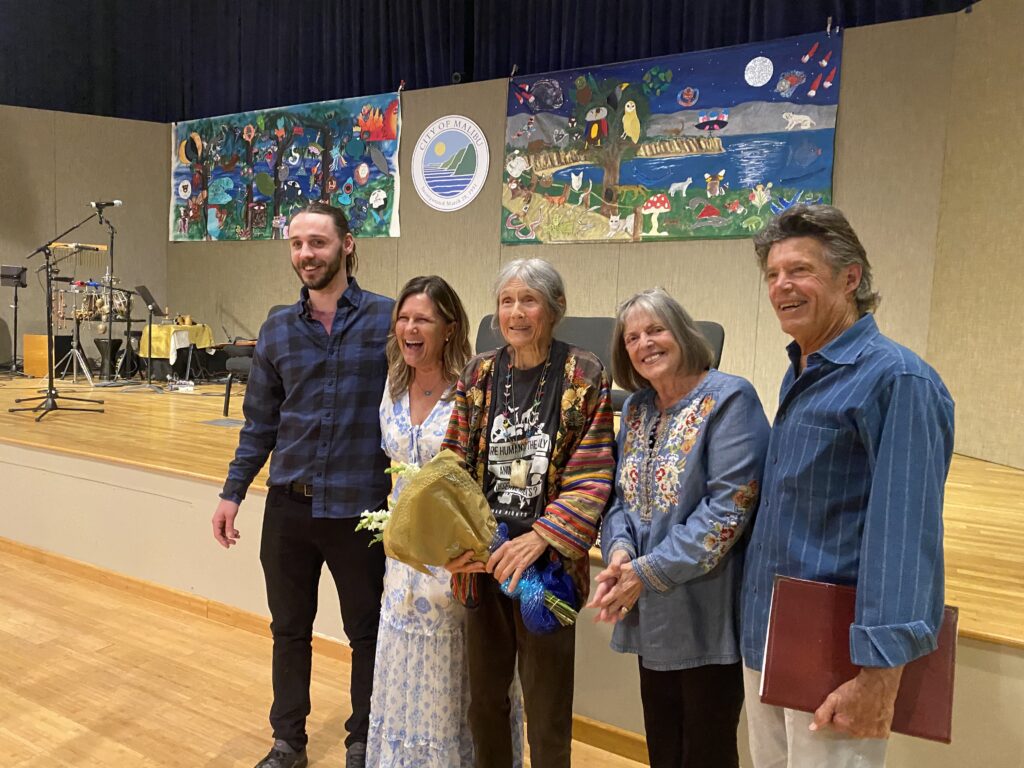 "I've found that there is something really inimitable about the way poetry allows people to hear, find or affirm their voices and remind us that we're all here together as humans, on Earth," Buxie quoted Tagore.
The first featured poets were Tracy Katz and Shifra Wylder. Together they shared a poem they had written together, about friendship and sisterhood.
The two poets met in an online poetry class during the COVID-19 pandemic, and said meeting each other during such a difficult time was a blessing.
Wylder said friendship is so important especially in difficult times, like they experienced during the pandemic.
"When we finally saw each other in person we had become friends already, but seeing each other in person solidified it," Wylder said. "It's fun, we're friends, but also like sisters."
Katz said sharing the poem at the event was a special experience.
"It feels like a way to anchor our friendship, a way to own it in a beautiful way," said Katz.
After a poetic introduction from Buxie, author Laure-Anne Bosselaar, recipient of the Isabella Gardner Prize for Poetry and a Pushcart Prize, took the stage.
She shared four original poems. The first one, "Evening," she read in three languages: English, French, and her native Flemish. She explained that Flemish is a language from Northern Belgium and currently is 47th on the list of endangered languages around the world.
Bosselaar had a vibrant energy, emphasizing her words with her hands as she shared her poems.
Next, the audience welcomed poet Ricardo Means Ybarra to the stage. Ybarra was Malibu's first Poet Laureate and continues to teach writing workshops from second grade through high school.
Ybarra welcomed each of the 10 emerging poets to the stage one by one.
The emerging poets represented local schools, including Malibu Elementary, Webster Elementary, Malibu Middle School and Malibu High School. The poems shared by the students explored themes of emotion, self-reflection, nature, memories, and art.
Among those poets was Malibu High School sophomore and poet Chloe Loquet. She said it was very impactful to her to share her poetry at the summit.
"It allows me to connect with my community while also letting me express my creativity. It allows me to open up and express my ideas, different world views on topics I'm passionate about like environmental activism and things like that," Loquet said.
Following the students, two poetry instructors who have worked with the students took the stage to share their own poems.
First, poet Nathan Hassell shared his poem titled "Into and Out of the Depressive Blue."
Next, poet Jolynn Regan praised the students for their dedication to poetry and said working with the students is a joy for herself and the other poetry instructors.
"You guys [audience] got a little taste of the poets we get to work with and it's an absolute pleasure and joy to work with them," Regan said. "To you poets, you guys touch us with your work. You do not know how much it means to us to be able to work with you all."
Buxie then led a poetry performance, which featured music played by Eduardo Del Signore, Federico Ramos, and Ron Wagner of A Call 2Peace and tap dancing from Ann Monahan, Shelley Kramer, Linda Nicholas, and Roxy DeCou of the Senior Tappers.
Buxie returned to the stage and welcomed Mik J. Hamada, Eileen Fiori, Charlotte Ward, Pamela Goldsmith, and Caron Perkal to share a crown of sonnets, poems all building on one another.
Loquet was once again invited to the stage by Buxie to share a revisioned vision statement that Buxie has informally proposed to replace the vision statement in Section 17.02.03 on Malibu's Municipal code. Buxie said she believes the city needs to recognize nature as having rights.
Buxie and Loquet shared the new code.
"The City of Malibu is home to an astonishment of plants and animals. As citizens of Malibu, our duty is to understand and support its economy. We accept the rights of Malibu's land and sea to be free of pollution; to be consulted and honored for her wisdom, beauty and healing that she offers. It is our duty to live within the circle of giving established within this economy. That all living things may flourish," Buxie and Loquet said.
Loquet said sharing the stage with Buxie was an honor.
"She's an incredible poet. She has such a unique way of viewing the world, through this whimsical, unique lens. It was important to rethink the Malibu vision statement because it not only reflects the current generation's viewpoint, but also that it reflects the viewpoints of other members of the community not just including the human members but the nature and the environment," Loquet said.
The summit closed with a performance from Gabe Diebal accompanied by A Call 2Peace.
The Malibu Library Speaker Series will continue into the summer with residents urged to register for E-notifications to get information for future dates for the 2023 Malibu Library Speaker Series by visiting malibucity.org.