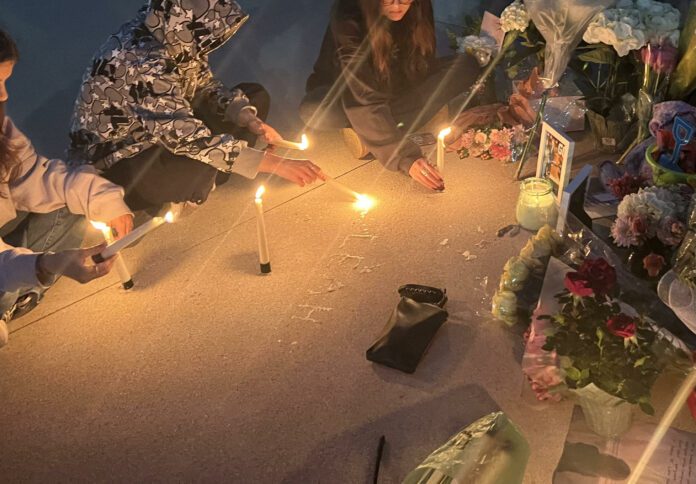 Details scarce on the passing of 11th-grade student, who died Sunday night
Flowers, candles, and stuffed animals have been displayed at the entrance of Malibu High School by friends for the 11th-grade student who died Sunday night.
MHS Principal Patrick Miller sent an email to staff and students Tuesday morning about the incident.
"Sadly, we are sharing that a tragedy has occurred within our school community. We don't have a lot of information that we can share and in any situation it is important we only share information that is accurate," Miller said in the email. "We learned last night that a student has died. That student is a grade 11 student."
"We send our condolences to her family and friends and know that this will impact many students, staff, and members of our school community," he continued. "If you, or any of your friends, are in need of support, counselors are available."
On Tuesday night, friends of the student held an intimate vigil and shared memories they had with her.
"She was always happy and always had a smile on her face," one friend said. "She was so original and pure."
Some said they had known her since kindergarten and said no matter the length in time they had known her, she was easy to get along with.
"I moved here in around seventh grade and she was my first close friend here," one student said.
"We all kind of knew her forever because Malibu is such a small school and everyone's been here since they were little," they said. "She was just so sweet, it was hard not to be friends with her."
Students at the vigil were uncomfortable with sharing what happened, saying they haven't been given any information from the school.
Miller said the school has yet to have direct communication with the family.
"We don't have confirmed information on cause of death nor do we know the families desire on what is shared nor do we know their desires on sharing cause of death," Miller said. "We have also not shared the student's name out of respect for the family. We again don't know their desires around privacy or what information is shared."
According to Malibu/Lost Hills Sheriffs Sgt. Chris Soderlund, there was no foul play involved.
"Since a juvenile is involved, we are limited in what we can discuss," he said in an email to The Malibu Times.
Miller said The Wellness Center is open for students as well as counselors available for support.
"The Wellness Center (P4) is open as a safe space for you if you need an escape, breaks, adult check-ins, and support. Our counselors and team will be available in the Wellness Center," he continued.
Miller ended his email by encouraging students not to spread misinformation and to reach out to them for support while navigating this challenging time.
"During this difficult time, many of you may need hugs, check-ins, and peer-to-peer support with each other," Miller said. "Continue to love each other, be good to each other."
"Our heart and thoughts are with her family, friends and the Malibu community of educators and staff who knew her and who serve all our students," SMMUSD Interim Superintendent Mark O. Kelly said in a press release. "Please take care of yourself, your families and each other."