While Jacqui Irwin of Thousand Oaks (D-CA) is no stranger to politics, she's not well known yet here in Malibu. At the end of 2022, as a result of the once-a-decade redistricting that California goes through, Malibu became part of the 42nd State Assembly district that Irwin represents.
The Malibu Democratic Club, headed by Jane Albrecht, held an informal "meet and greet" patio lunch for Irwin on Saturday, March 11, at the Malibu Brewing Company, attended by about 30 people.
"The purpose of doing the event was to provide an opportunity for our new rep to get to know Malibu and for Malibu to get to know our new rep," Albrecht wrote The Malibu Times. "It was intended to be an informal get-together where people could actually talk to her in person — not just listen to a speech. It was more about establishing relations than it was focused on issues. And it worked beautifully for that."
"What I find refreshing, hopeful, and something that distinguishes Jacqui from other reps we've had is that she's the first politician since I've been in Malibu that's actually taken the initiative to reach out to Malibu," Albrecht continued. "Jacqui and her staff are genuinely friendly and accessible. She's long represented an area with significant GOP as well as Dem voters, so while she supports many progressive ideas, she's also very moderate. I can see why she's won election and re-election in a purple district."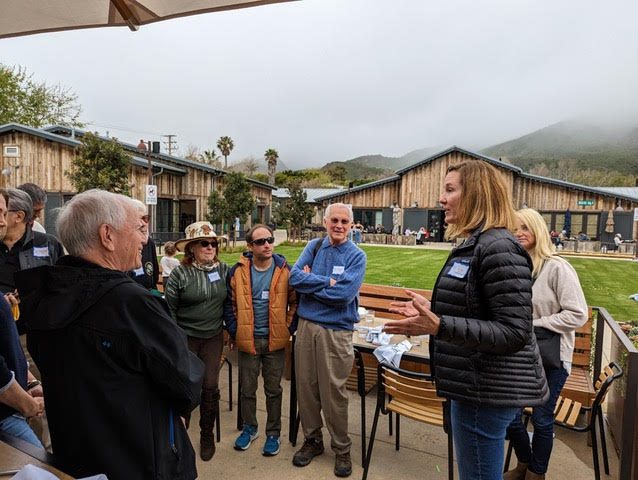 Irwin and her Deputy District Director Nancy Frawley learned some of Malibu's history at the luncheon as well as some of the current state-related concerns that Malibu residents have, such as wildfire prevention, climate change, and the environment.
Irwin communicated to the group about some of the state programs available for residents related to fire rebuilds, rain and flood damage, and homeowners insurance coverage; as well as state budget issues.
"We got to know some interesting things about our new rep," Albrecht wrote. "Irwin has a degree in systems engineering from UC San Diego and was an Academic All-American swimmer. Prior to her public service, she was as an engineer at Teledyne Systems and at Johns Hopkins University's Applied Physics Lab. She was, in essence, a rocket scientist."
"Before being elected to the State Assembly in 2014, Irwin served as a City Councilmember in Thousand Oaks for 10 years with two terms as mayor, so she understands the importance of local as well as state government," Albrecht continued. "When Irwin was first elected to the State Assembly, she won a traditionally Republican seat in Ventura County. She's been re-elected ever since, including the most recent election where the boundaries of her district were substantially changed to include Simi Valley, the Santa Monica Mountains, Malibu, and Pacific Palisades."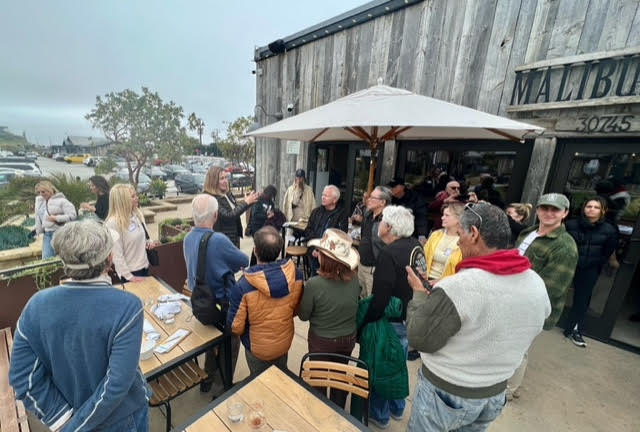 After the last election and the redistricting, Irwin found that almost half of her constituents were new, and she's expressed interest in getting to know Malibu's City Council, and return for more visits.
"I was impressed by her, and you could tell she was absorbing a lot of information and is actively reaching out to Malibu," Albrecht said in a phone interview. "Irwin is able to talk with specificity and authority. She's intelligent, well-informed, genuinely interested in getting to know all of her constituents, and works to find solutions for her constituents' problems."
Irwin is coming back to Malibu on April 30 to hike with the community (an event that was previously scheduled but postponed due to rain). For more information, check the Malibu Democratic Club website at malibudemocraticclub.org.
California State Assembly members are elected to two-year terms. Under the current provisions for term limits, each member may serve a lifetime maximum of 12 years in the State Legislature; which means Irwin will be termed out in 2026.
She is currently chair of the Revenue and Taxation Committee, and serves on four other policy committees – Agriculture, Business & Professions, Higher Education and Privacy and Consumer Protection.
Irwin receives high marks of approval (over 80 percent) for her voting record from California Environmental Voters, California Labor Federation, California Teachers Association, Equality California, and Planned Parenthood Affiliates of California.
Jacqui Irwin's district office address is 223 E. Thousand Oaks Blvd, Ste. 412, Thousand Oaks, CA 91360, and her number is (805) 370-0542.