Malibu community supports the Fanucci family through the pandemic and beyond
The Malibu community has embraced a family-run business that is seeing growing success. The Fanucci family of Woodland Hills has found strong local support for its restaurant, Nicolas Eatery. It's a family affair founded by Nicolas Fanucci, who works alongside his three sons and wife Fazilet.
Lucas Fanucci is a partner with his father, chef Nicolas, who grew up in Cannes, France, in a large Franco-Italian family. Since he was a teen, Nicolas worked in famous kitchens throughout Europe and the U.S., including Le Cirque 2000 in New York and as general manager at The French Laundry, where under his direction, the restaurant received a three-star rating from the Michelin Guide. But Nicolas "always wanted to open his own thing" according to son Lucas. So, Nicolas Eatery was born in 2019 when Malibu was in deep recovery after the Woolsey Fire that temporarily displaced the Fanuccis as well.
Things were "really great, we were getting to know the community" said Lucas "and then the pandemic happened." But Lucas added that the family was actually fortunate to be in Malibu at the time "because Malibu locals are very loyal and they're very supportive. It was very lucky we had such a support system as we did."
When the pandemic hit the restaurant adapted and "followed the rules as everyone else," according to Lucas.
Nicolas Eatery served only takeout orders at first. When restaurants reopened and closed again under restrictions, the restaurant did too. It was able to use the back patio at the Malibu Sands strip mall, where it's located on Pacific Coast Highway.
"That was really nice," Lucas said. "We kept following all the guidelines, but what was really awesome is we had people coming to us and some people just buying gift cards or giving us some form of money in order to just stay afloat and maybe not even ordering anything, just to support us. That was really something special because that's how much they really wanted us to stick around."
Along with PPP loans, the restaurant set up a GoFundMe to help support employees "because we wanted to continue to be able to pay people during that time," said Lucas. "Some people donated through GoFundMe and some would just write a check. It was amazing."
According to Lucas, although no "crazy sums of money" were donated, it was something and it was really nice to have that. We felt so supported. We were saying there was no way we can close. We can't close if we have people like this around us."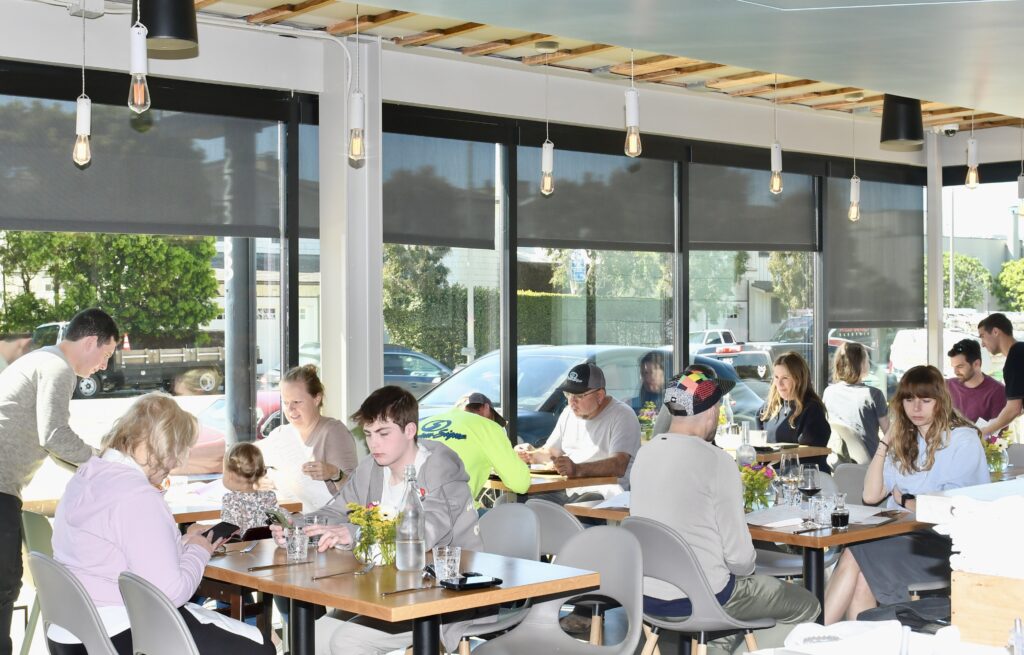 After the hardships of the pandemic more guests are returning to dine indoors.
"Our dining room has kind of been empty for a while," Lucas said.
However, the restaurant is about to open a rooftop dining area, in the works since before the pandemic. It's expected to open mid-March.
"This has been a four-year project," Lucas said. "The permitting process is extremely difficult in Malibu. It took us a very long time to procure the permits and be able to build. Then with supply chain shortages and materials on back order it caused further delays. It's nice to know we're finally at the end here."
Most of the eatery's customers are from Malibu. Lucas surmised, "about 85 percent of our guests are return guests which is kind of cool and shows you who's really dining in your restaurant. As we are going on in years we are getting more and more people from outside of Malibu, but our strongest base is Malibu locals."
Nicolas Eatery is truly a family-run restaurant and the only establishment the Fanucci family owns and operates. Lucas, 26, and Nicolas run the operations. Fazilet runs all the aesthetics from dishware and flowers to cutlery and glassware. The matriarch also helped design the restaurant. Son Sebastian, 22, works part-time serving when the restaurant is very busy, and youngest son, 17-year-old Enzo, washes dishes on busy nights.
The cuisine is French food "with a twist" using the freshest California ingredients, according to Lucas.
"Most of the dishes are a variation of the French dish," he said.
Another new feature for the restaurant is its Vietnamese menu on Tuesday nights. The family sponsored Vietnamese chef Thuy Tran, who cooks her specialties, including pho soup, "to add to the diversity of the menu."
Lucas thanked the community for its support.
"The Malibu locals are truly wonderful people," he said. "Without them we wouldn't be able to continue. We're excited for what the future holds."