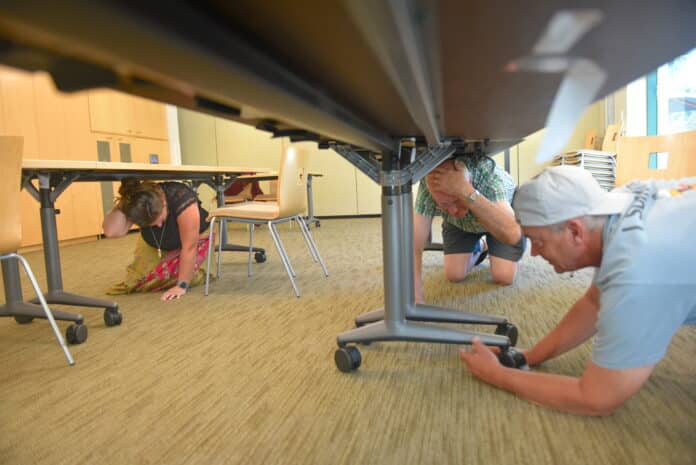 Malibu offers fire preparedness programs and readies its strategies 
Any victims of the Woolsey Fire or the many other brush fires that have taken homes and even lives from Malibu residents can't help feeling anxious and sorrowful as the Maui wildfire tragedy unfolds. While the city of Malibu has never been complacent concerning wildfire preparedness, in the nearly five years since Woolsey took three lives and 488 Malibu homes, it has stepped up efforts to keep the community safe when the next disaster hits.
Three part-time fire safety liaisons and two full-time public safety specialists have been hired by the city for free home hardening assessments and public education. Grants have expanded funding to pay for community preparedness training, fire hazard tree removal and other ongoing programs.
The Malibu Public Safety Department along with the Public Safety Commission have devised an evacuation plan in the event of an emergency. Malibu's six battery powered changeable message signs can direct evacuees to exit routes. The city's updated plan includes the purchase of 16 generators to back up signalized intersections on PCH (excluding crosswalks and the Pier) to provide power for the traffic signals. They are to be used only to facilitate evacuations during wildfires, earthquakes or other disasters when there are widespread, long-lasting power outages but, not for PSPS outages or accidental power outages.
Some Malibu residents may have limited egress, especially in box canyons. Evacuation routes are situational depending on the trajectory of the fire or other disasters, such as a tsunami.
Malibu's Public Safety Director Susan Duenas reminded, "The problems with evacuation plans are they can't specify exact routes because you can't predict. It's always situational. It's more of a management plan."
Dozens of beacon boxes to aid out of area fire crews have been installed at neighborhood entrances for fire department access. The boxes contain maps that identify water resources, such as hydrants and swimming pools, and indicate turn-around spots. "If they don't know if they can turn around, they're not going in," commented Duenas.
Malibu also uses the Everbridge system to alert 20,000 landline and mobile numbers geolocated through Verizon, although, as Duenas clarified, "We always advise people to sign up to customize their information." Your personal phone numbers can be prioritized in order of importance in the system. The city already has nearly 40,000 contacts. Sign up at malibucity.org/disasternotification or call 310-456-2489 ext. 237. Every September, test alerts are conducted on the system. City mailers are going out soon with Everbridge and evacuation information.
The city has access to use Wireless Emergency Alert System (WEA), which is like an Amber Alert. The benefit is that it sends out messages to all cellphones in a given area, so it reaches the tens of thousands of visitors, employees and tourists that are in Malibu any given day, in addition to residents, with no subscription.
If the power is out, an alert could be moot depending on where landlines or cell service is dysfunctional. The city has been looking into outdoor sirens that could be placed in strategic locations and an FM alert system. "We're working with KBUU to possibly implement alerts through radio," Duenas said. There are also NOAA (National Oceanic and Atmospheric Administration) radios. The county distributed a limited number of NOAA radios last year to Malibu senior citizens through a grant.
Duenas has requested a test alert next month for those radios that must be programmed in order to receive alerts.
"We're prepared," she said. "If power goes out we're prepared to deploy information kiosks where CERT members will be stationed to post information if traditional forms of communication are out."
Proposed locations are for Zuma, Bluffs Park and grocery stores, "the most strategic locations," according the Duenas. During a communications blackout these kiosks could offer a free WiFi hotspot or even water and snacks.
The city can also use a new tool, an emergency resolution to facilitate the removal of any dangerous encampments to reduce the risk of wildfire. A number of fires ignited at unpermitted and unregulated homeless encampments prompted this effort. As part of wildfire safety efforts, The Los Angeles Sheriff's Department and the (HOST) Homeless Outreach Services Team are prioritizing removing homeless encampments and unhoused people from the brush-covered hills and canyons of Malibu and placing them into emergency shelters.
On Sept. 5, the city is hosting a fire season briefing with LACO Fire Capt. Drew Smithover on Zoom. A fire-wise community workshop is also scheduled over Zoom on Sept. 7. Both events start at 6 p.m. Go to malibucity.org for the links.
The city has been conducting internal training at its Emergency Operations Center at City Hall. A multi-agency preplanning meeting is also scheduled to "touch base with everybody," according to Duenas.