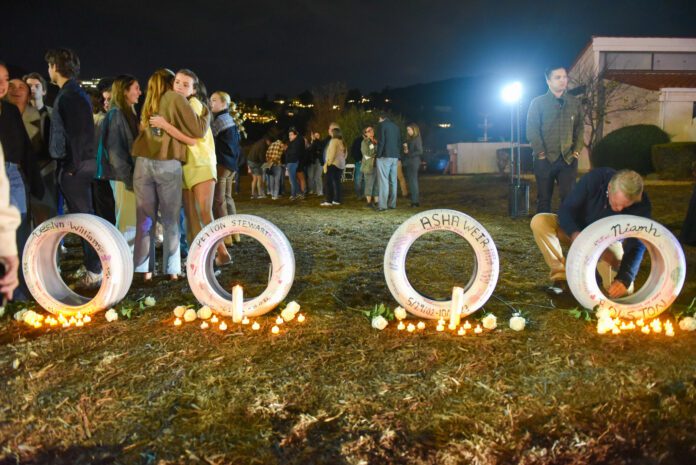 Family, friends, roommates, and city officials gathered on Tuesday night to remember the young women who were killed last month on Pacific Coast Highway.
The Malibu and Pepperdine community gathered around while four white tires were being painted with colorful hearts and the names of Deslyn Williams, Niamh Rolston, Asha Weir, and Peyton Stewart, also known as "Our Girls" to the community. 
Friends and roommates placed roses and candles to honor the four girls at last weeks vigil.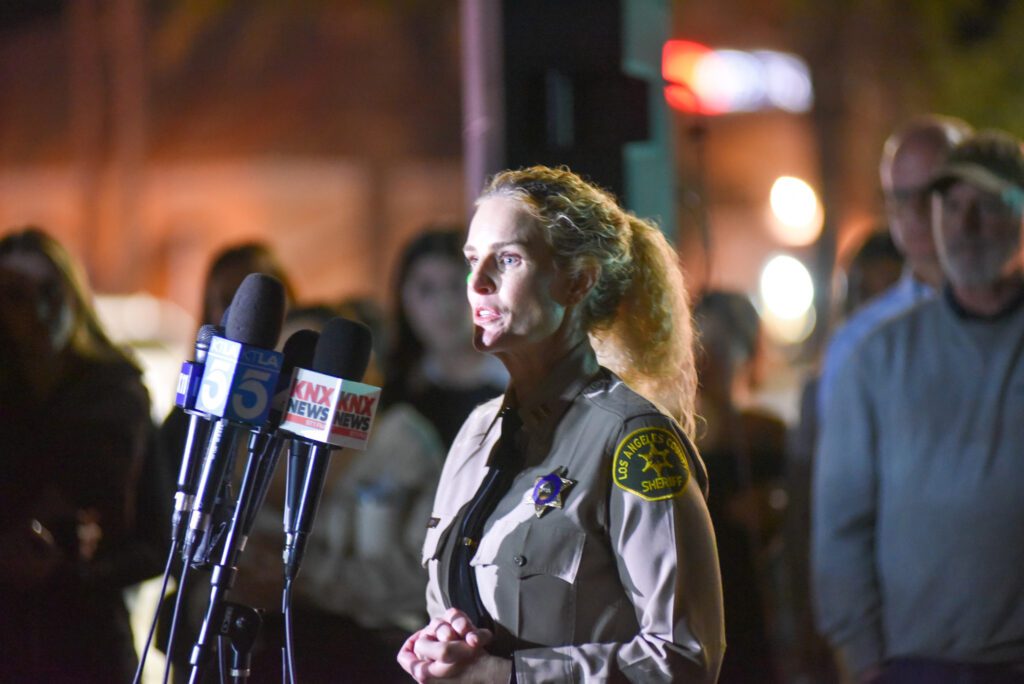 The ghost tire memorial was inspired by the Ghost Bike (also referred to as a Ghost Cycle or White Cycle), a bicycle roadside memorial placed where a cyclist had been killed or severely injured, usually by the driver of a motor vehicle.
The idea for a ghost TIRE memorial sprang up when Streets Are For Everyone – a nonprofit dedicated to improving the quality of life for pedestrians, bicyclists, and drivers alike by reducing traffic-caused fatalities to zero – joined a coalition of nonprofits and Assemblymember Laura Friedman to introduce Assembly Bill (AB) 645. The bill would allow for a pilot program to install speed cameras, with a priority around schools and high-injury networks, to eliminate traffic-related deaths.
Bridget Thompson spoke at the vigil and said she stood on the side of PCH until 3 a.m. crying and begging for her best friends to be okay.
"I lost my sisters, I lost my everything, but it wasn't just me that lost everything, on October 17 we lost four girls who were going to change the world—Deslyn Williams, Niamh Rolston, Asha Weir, and Peyton Stewart—were going to change the world," Thompson said. "They were four of the most ambitious, loving, selfless, and kind people you've ever come across; it was an absolute privilege to be loved by them."
Malibu/Lost Hills Captain Jennifer Seetoo was one of the featured speakers at the PCH Taskforce meeting the city held earlier that day and honored the four women during the vigil on Tuesday night.
"We need to focus on education, we need to focus on enforcement, and we need to focus on engineering to protect the people, the 15 million people that come here every year that enjoy this beautiful beach," Seetoo said.
Attendees at the vigil also called on to the California Department of Transportation (Caltrans) to take action to stop the deadly accidents on a stretch of road along PCH referred to as "Dead Man's Curve," due to the high number of accidents which often involve speeding drivers.
Earlier that day, the city held a special public meeting of the PCH Taskforce at Malibu City Hall with city, county, and state elected officials and Caltrans to discuss ways to address dangerous conditions on Pacific Coast Highway in Malibu.
State Assemblymember Jacqui Irwin (42nd District) chaired the meeting, and was joined by State Senator Ben Allen (24th District); Malibu Mayor Steve Uhring; LA County Supervisor Lindsey Horvath (3rd District); Malibu City Manager Steve McClary; Malibu-Lost Hills Sheriff's Station Commanding Officer Capt. Jennifer Seetoo; Rafael Molina, Deputy District Director, Division of Traffic Operations, Caltrans District 7; and Lee Haber, Chief Safety Officer, Division of Traffic Operations, Caltrans District 7.
Rafael Molina and Lee Haber represented Caltrans at the meeting on Tuesday and presented the actions they have been taking since the fatal collision.
They said they have been conducting speed studies to identify where they need to focus on safety.
"Our goal is to lower the speed limit on PCH," Haber said. "Our goal is to complete daytime and nighttime reviews by December."
Residents who spoke asked for more enforcement on PCH and for Caltrans to begin making progress on their actions.
Founder & CEO at Vivid Candi Creative Chris Wizner spoke during the meeting in the morning and at the vigil that same evening.
"I don't want this to ever happen again," Wizner said. "I'll just give my point from Caltrans and what I saw today at the PCH Taskforce [meeting]—I didn't see empathy, I didn't see activeness, I saw passiveness, I didn't see solutions, I didn't see an action plan, I heard a lot of words that we're the right words, it felt textbook, but I didn't feel the passion, I didn't see it, and I doubt I'm going to see an execution, and I'm quite sure, I'm not the only one, so Caltrans FixPCH."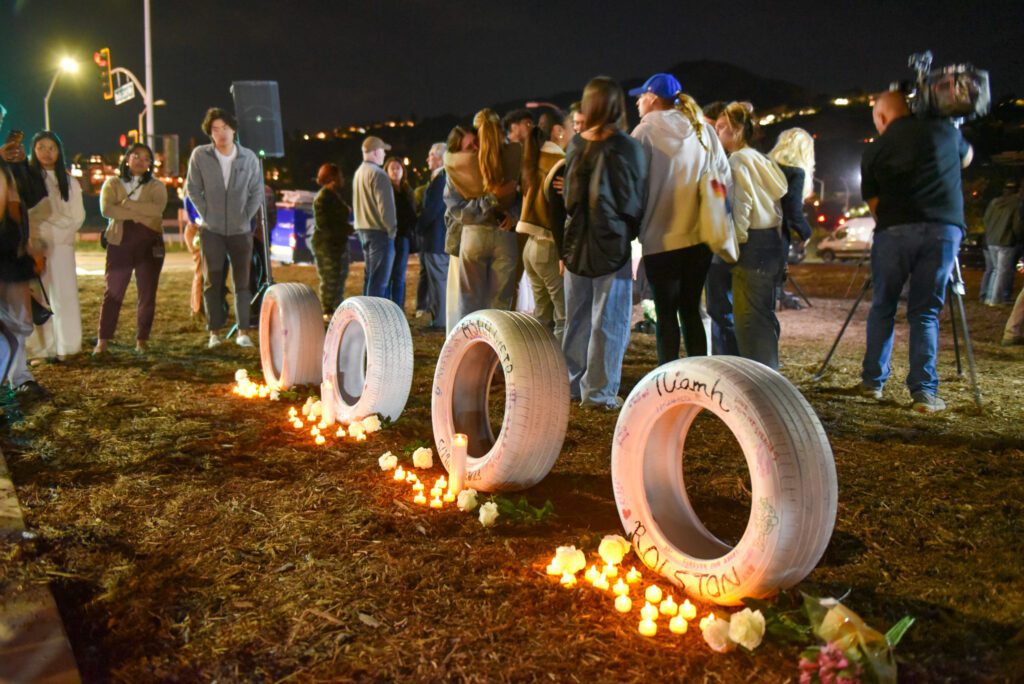 The Fix PCH Action Team will be holding a Wolrd Day of Rememberance on Sun, Nov. 19, from 9 a.m. to 12 p.m. on the corner of PCH and Webb Way for an art installation of 58 Ghost tires to remember those lives lost to tragic and unnecessary traffic violence on PCH. Parking is available on Civic Center Way.