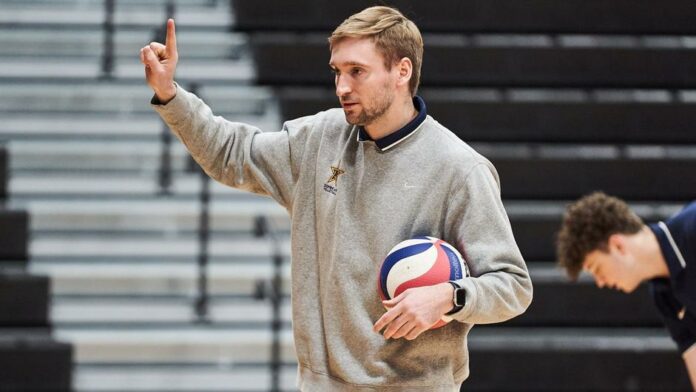 Will Craft was most recently the men's volleyball head coach at Dominican University in Illinois
By McKenzie Jackson
Special to The Malibu Times
A former professional volleyball player with a successful coaching resume has joined the Pepperdine Waves men's volleyball team coaching staff.
Pepperdine announced on July 18 that Will Craft had joined the coaching staff.
Craft, who played professional volleyball in Denmark, Estonia, and Germany before stepping into coaching, is excited to join Pepperdine's men's volleyball program.
"I think that I can bring another professional mindset into the gym that can really help to develop the pin hitters and passing lineups," he explained.
Waves head coach Jonathan Winder, entering his second season as Pepperdine's coach, is thrilled to have Craft on the sideline with him.
"Will comes with some unique experiences as a professional outside hitter, national champion assistant coach, and successful head coach," Winder noted. "He played, coaches, and has been recruiting in the Midwest where we have had some of the best players in Pepperdine program history come from."
The Waves coaching staff includes Winder, assistant coaches Matthew Pollock and Hardy Wooldridge, and director of operations Victoria Dennis. Legendary coach Marv Dunphy, the Waves coach for 34 seasons, is the head coach emeritus.
Pepperdine finished the 2023 season with a 16-14 record.
Craft was most recently the men's volleyball head coach at Dominican University in River Forest, Illinois. He was named the Northern Athletics Collegiate Conference Coach of the Year last season. Before that, he was an assistant coach for the Carthage College men's volleyball team in Kenosha, Wisconsin, helping that team win the NCAAA Division III Championship in 2022.
He was an outside hitter in the professional ranks before that for four years. Craft's pro career began in 2017 with Saaremaa Vorkpalliklubi in Estonia. Craft then played for Nordenskov UIF Volley in Denmark for two years. He was the team captain and led the squad to a silver medal at the Danish Volley Ligaen and a bronze medal at the Danish Cup. Craft helped SVG Luneberg in Germany win a bronze medal at the German Bundesliga in 2021.
Craft was an American Volleyball Coaches Association All-American, All-Midwest Collegiate Volleyball League first teamer, and MCVL All-Academic squad member at Carthage College. He helped his squad advance to the quarterfinals of the 2016 NCAAA Division III Championships. He was also on Carthage's dean's list.
Winder said Craft is enthusiastic about teaching volleyball and is willing to work hard for Pepperdine to be successful.
"He will have an immediate impact with our outside hitters, passers, and our overall offense," Winder stated. "He knows that position well since he built himself into an All-American outside hitter and professional player. We're excited to have him in Malibu to help this generation of Waves to achieve great things on and off the court."
His playing experience, Craft said, and coaching knowledge will go well with the skills and knowledge already on the Waves' coaching staff.
"I am ready to learn a lot from them," Craft noted. "I cannot wait to get in the gym with the team, and I know that we have the ability to do something special this season!"