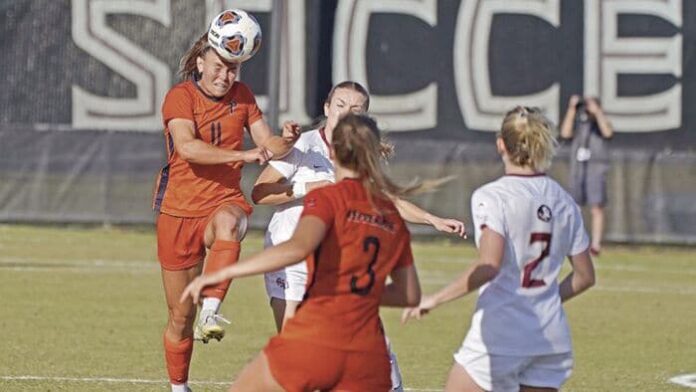 Kelsey Hill joined LA-based National Women's Soccer League team as national team replacement player
Former Pepperdine Waves women's soccer player Kelsey Hill scored a big goal in her fledging professional soccer career last week.
Hill, a 2023 Pepperdine graduate, was one of two players signed to the Angel City FC as national team replacement players on June 28.
The Los Angeles-based National Women's Soccer League team signed Hill, a defender, and Elizabeth Eddy, another defender, ahead of the 2023 FIFA Women's World Cup later this month.
Hill has been training with Angel City since the outset of their 2023 campaign in March.
She said it has been amazing.
"Being with the players and the coaching staff has helped me grow so much," Hill said in a statement. "This has been a huge opportunity for me, being able to see the work I have put in payoff is really gratifying, and I am so excited."
Hill was on Angel City's preseason roster during their exhibition match against Club America Femenil on March 8.
She began her college soccer career at Saint Mary's before transferring to Pepperdine in 2019.
Hill was a Wave for three seasons in which she made 40 appearances on the pitch. She was a key member of Pepperdine's stellar 2021 defense that posted 13 shutouts. Hill ranked third on the squad that season in most minutes played with 1,934.
She scored her first goal as a Wave that season against Vanderbilt. That October, Hill was named West Coast Conference Defensive Player of the Week in October 2021 after she scored a goal against Gonzaga and helped Pepperdine earn a 3-0 shutout. Hill also scored against San Francisco and kicked a goal in the first round of the NCAA Tournament against South Dakota State that season.
She only played in six games last season because of an injury.
Hill played in 12 games in 2020. She redshirted the 2019 season due to the WCC's transfer policy. Hill made the 2017 WCC All-Freshman team at Saint Mary's.