Malibu/Lost Hills sheriff's and public safety personnel come together at Whole Foods shopping center
The Malibu/Lost Hills Sheriffs Station, Malibu Search and Rescue, the City of Malibu staff, and community members came together to share a cup of coffee and create conversation last Tuesday, April 25, at Whole Foods shopping center.
Sgt. Christopher Soderlund was recently announced as the City of Malibu's dedicated liaison and said it's an event for the community to come out and meet a deputy and ask questions.
Soderlund has been providing updates on traffic, parking enforcement, and recent crime during the City Council meeting on Mondays.
"It's been calm with the rainy season, but now that the weather is clearing and it's getting nicer out, summer's right around the corner and we're gearing up for the beach team to start Memorial Day weekend," Soderlund said. "We're going to be ready."
Soderlund covers the entire area served by the Malibu/Lost Hills station, including Calabasas, Westlake Village, Agoura Hills, and Hidden Hills.
Mini therapy horses made an appearance, and kids and local deputies were impressed with the horses being able to play the toy piano. Whether comforting children at bedside after surgery, or visiting with a veteran who just wants to sit quietly and share space with one of our horses, the MTH team is there to bring a sense of calm, comfort, and happiness to everyone around them.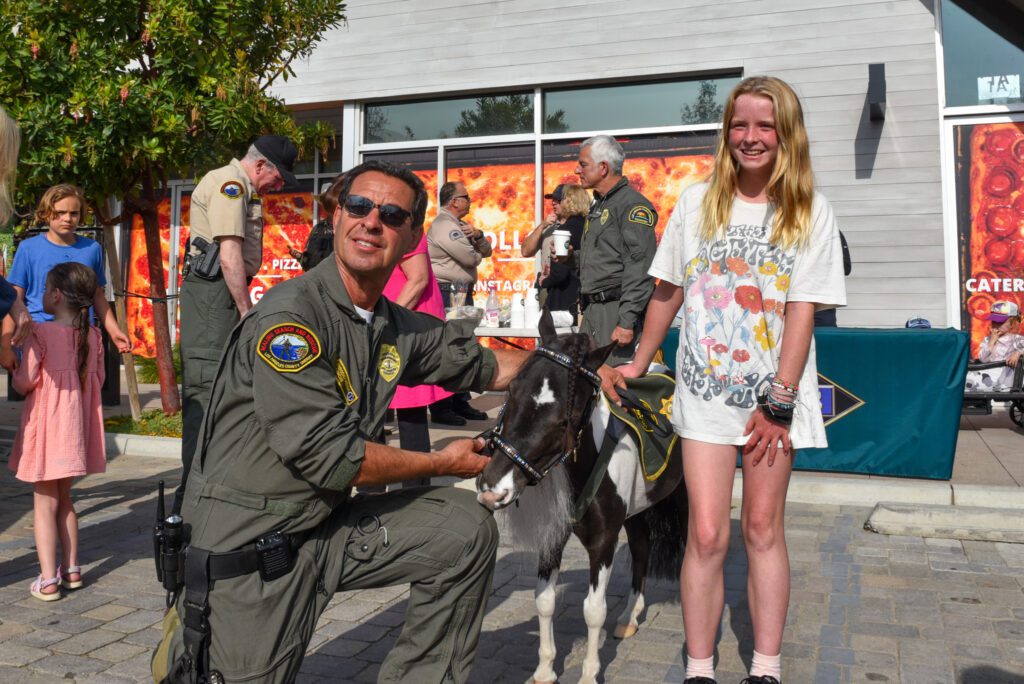 These little horse heroes have also responded to tragedies like the mass shootings in San Bernardino, Las Vegas, and Thousand Oaks, and also served as first responders during the Woolsey Fire.
The last Coffee with a Cop/Deputy in Malibu was held last November at the Malibu Farmers Market. The event also included mini therapy horses and staff from the City of Malibu. Coffee with a Deputy is designed to provide the community an opportunity to ask their local safety personnel questions, share their concerns or have a casual conversation.
The Malibu/Lost Hills Sheriff's Station will be hosting a open house on Saturday, May 13, from 9 a.m. to 2 p.m. at the station at 27050 Agoura Road. The event will include the Sheriff's K-9, Special Enforcement Bureau, Recruitment, Mounted Enforcement Detail, Search and Rescue Team, a helicopter, and activities for the kids. For more information, follow the station on Instagram @lasd_lhs and on Twitter @LHSLASD.