Residents are treated to an informational day of activities and expert tips
The City of Malibu hosted its largest-ever Public Safety Expo at City Hall on June 10.
This year's expo expanded on previous ones by hosting more vendors, more emergency and safety agencies, more guest engagement activities, and even offered free lunches.
The expo supplied the community with even more information and opportunity to speak to law enforcement and emergency professionals, as well as volunteer teams, eager to inform the community about advances in safety and emergency protocols and provide tips for creating a safer Malibu.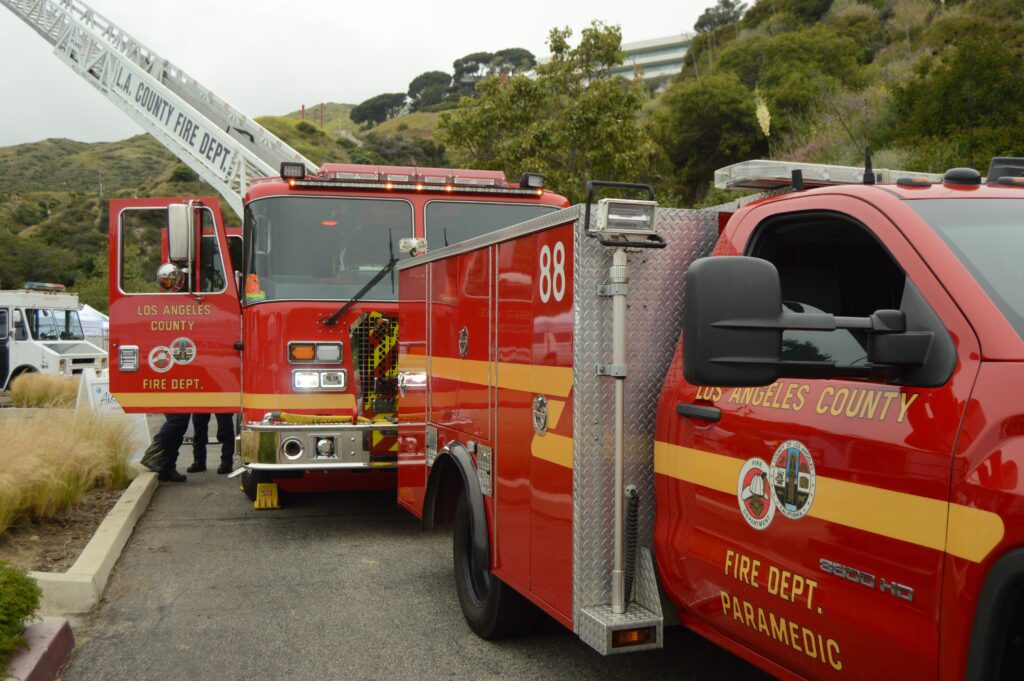 Los Angeles County Fire Department Assistant Fire Chief Drew Smith said the expo is important for creating an understanding between the community and those responsible for protecting and serving the community.
"They come here and get the expertise from all the members that ensure their public safety, and all our collaborators like Southern California Edison, and So Cal Gas, so they understand what it means to be safe in their community," Smith said.
The expo shared the date with the newly declared "Public Safety Responders Appreciation Day" as declared by the City Council on May 22.
As guests arrived at the expo, they were given the opportunity to write thank you messages and sign their names in special appreciation books for responder teams and agencies around the city. 
Those recognized were the Los Angeles County Sheriff's Department, Los Angeles County Fire Department, Malibu CERT, Los Angeles County Sheriff's Volunteers on Patrol, and Arson Watch. The books will be presented to the leaders of each public safety organization.
Guests who visited could immediately see the impressive stretch of a fire truck ladder extending from the top of a fire engine from Fire Department Station 125.
Each level of City Hall's back parking was full, and each level was lined with representatives from LA County Sheriff's, California Highway Patrol, LA County Fire Department, County of Los Angeles Lifeguards, Malibu Search and Rescue, California State Parks, Malibu CERT, Mountains Recreation and Conservation Authority, LA County Disaster Communications and more.
Making its return to the expo was the earthquake simulator, allowing guests to experience a replicated earthquake, featuring the violent shaking and sounds of a large-scale earthquake. The simulator highlights the importance of earthquake preparedness.
Malibu CERT brought a new fire safety activity to the expo with their fire extinguisher training. Guests young and old enjoyed the experience of putting out a controlled propane fire, as they were guided through the PASS (Pull-Aim-Squeeze-Sweep) procedure.
Boonson Schmidt, 14, enjoyed the expo with his family, and was one of the brave guests who took on the fire extinguisher training. He said he wasn't scared to face the fire.
"It felt good," Schmidt said, "I would say others should try this too!"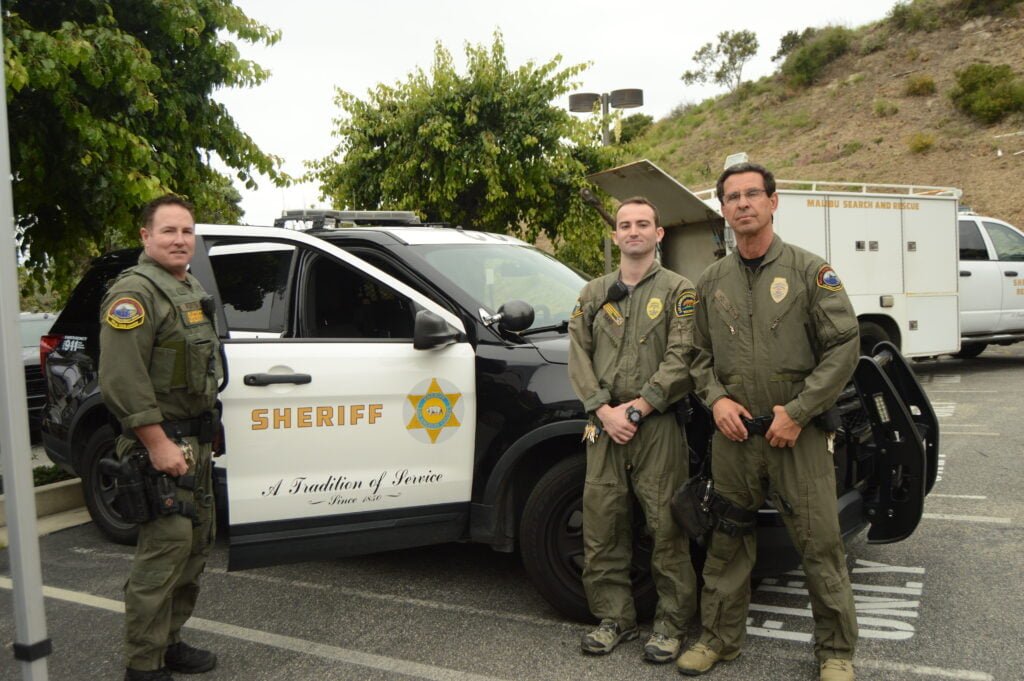 Malibu CERT Team Leader Richard Garvey said guests get an invaluable opportunity to best prepare themselves for an emergency or disaster by visiting the expo and meeting with the experts and vendors who keep their community safe.
"It's a great way to meet the people who respond to emergencies, the vendors who have supplies and services for emergencies, and see all our capabilities that are really relevant for the people of Malibu," Garvey said.
He said the expo also allows another invaluable opportunity for the agencies and teams where they can meet each other and build on their networks to keep the community prepared and safe.
"These are groups that didn't usually get to meet with each other but here we got to know each other so in certain cases of disaster or an event like that we have an idea of who's on each other's teams, know what our capabilities and specialties are, and how we can support each other," Garvey said.
As the expo expanded in size, it seemingly expanded in visitors and participation. The expo hosted a flow of families enjoying the activities, collecting giveaway items, and meeting the experts who keep the city safe.
LA County Disaster Communications Volunteer Mark Winn said the expo promotes a safer community, and as the number of visitors grows, the community will be better informed and volunteer groups are likely to get stronger.
"At events like this, if we can all educate even just three people, we grow the community to be better prepared," Winn said. "Those three people expand to three families, and those three families are three less families that will need to be rescued during an event. If we do this for every event going, in every city, we'll continue to multiply, and be safer and more prepared."