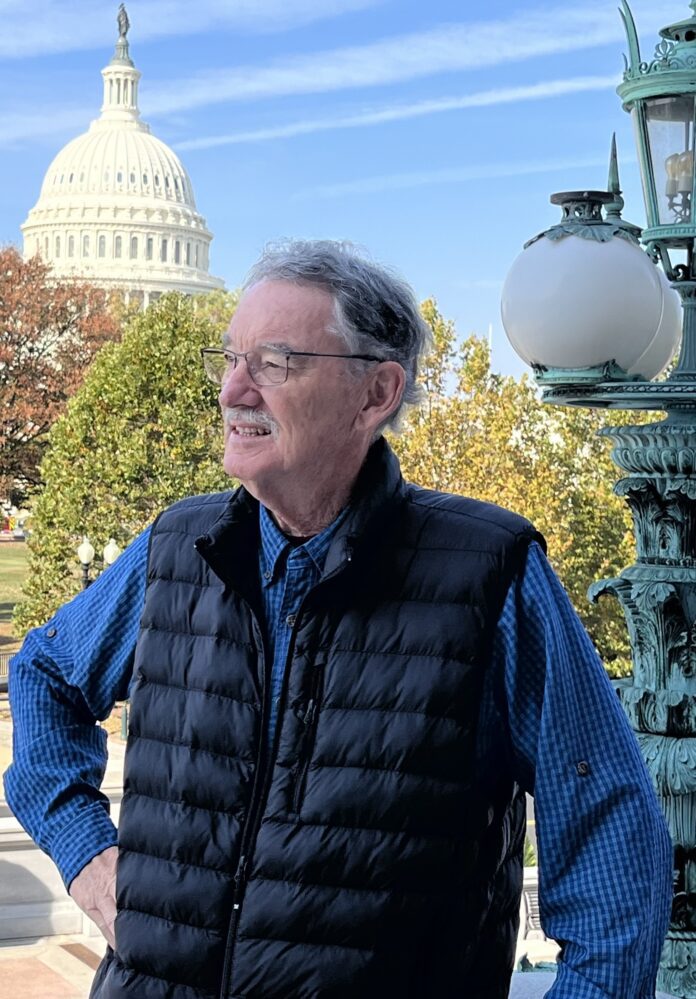 Harkening back to malibu before PCH, population increase and worries about global warming
By Barbara Burke
Special to The Malibu Times
He's a wealth of knowledge, filled with facts, stories, data and images that one could never discover about the colorful history of Malibu and the Santa Monica Mountains merely by doing a Google search.
On Oct. 14, Malibu's Larry Jones, a retired local middle school and high school history teacher, presented a history lecture, an event that was co-sponsored by the Daughters of the American Revolution Malibu Chapter at Malibu Methodist Church.
Jones grew up on Carbon Mesa in the 1950s.
"My father purchased seven acres on the Mesa in 1952 and he built our home there," Jones said. "Like many residents of the time, my parents were involved in numerous activities in the area, including at area churches and schools, they were instrumental in helping to start the local little league and scout troops, and my dad was the first PTA president at Malibu Park."
Jones shared that he always was interested in local history. The rapt audience leaned in inquisitively as he shared old photos of landmarks devoid of development, past local civic leaders and citizens throughout Malibu and the Santa Monica Mountains, photos depicting this area long before it was encumbered with its highly-traveled, perilous Pacific Coast Highway, its luxury rehabilitations venues, its billionaire mansions, its retail centers, and its various neighborhoods.
"Juan Cabrillo sailed into the Malibu Lagoon in 1542 and claimed thousands of surrounding acres for the King of Spain, the expedition led by Juan Bautista de Anza visited this area in 1776, and in 1793, George Vancouver sailed along Malibu coast as he circumnavigated the world," Jones said. His diary recounts him sailing past three rocks where sea lions gathered. Vancouver is the one who named Point Dume after Father Francisco Dumetz, who along with Father Junipero Serra, was one of the longest living priests in the area back then."
Next time attendees hike at Point Dume, Jones suggested, "Look for the historical marker at the top of the trail that recounts Vancouver's expedition visiting there."
Jones elaborated, stating, "De'Anza's exploration route is now Highway 101 and his group camped in Malibu Creek and in Calabasas' de Anza park."
Included in that expedition, he noted, was 11-year-old Jose Bartolome Tapia, who came upon the Malibu lagoon and reputedly returned to the group's campsite and announced, "I'm coming back someday and will own this land!'
That's exactly what Tapia did.
"In 1802, Tapia enslaved a lot of native American Indians in San Luis Obispo and he asked the Spanish Governor of California for Rancho Malibu," Jones said, noting that Tapia was given the Rancho Topanga Malibu Sequit, a 13,316-acre land grant, also known as the Rancho, thus becoming the first historical owner of record.
However, after Tapia's widow transferred the Rancho to her granddaughter, Maria, and her husband, Leon Victor Prudhomme, and they submitted a claim for Rancho Malibu to the newly-established State of California in 1852, their claim was rejected as there was no documentation that Tapia had applied for the Mexican land grant after Mexico established its independence from Spain.
"Prudhomme quit-claimed the Rancho to Don Mateo (Matthew) Keller for $1,400, and Keller's house in Solstice Canyon burned down in the 2007 Corral Canyon Fire," Jones said. "The Rising Sun Trail in that Canyon is named after Keller's winery."
Keller's son, Henry sold the Topanga Malibu Sequit to Frederick R. Rindge for $10 an acre in 1892.
"Things had changed over time," Jones said. "While Keller couldn't convince the county to put in a road along the coast in the 1890s, May Rindge ultimately lost her fortune because she fought so hard over so many years trying to keep a highway out of her land."
Many locals are familiar with Rindge's arduous, litigious battle against developers as they strived to keep the pristine land private. However, Jones offered some tidbits of history that were unknown by many in the crowd.
There was once an oil rig on Pt. Dume, he said, noting May Rindge sought to earn money from that endeavor.
"There wasn't any oil there, but there was a special type of clay that Mrs. Rindge used it in her company, Malibu Potteries," he said. "The Adamson House has many of those tiles inlaid in its floors, walls, and fountains, and they sell some of the tiles in the gift shop and they are installed at Watts Towers in Los Angeles."
Ultimately, like many structures in the city, Malibu Potteries burned to the ground. Ultimately, the Roosevelt Highway, now known as the Pacific Coast Highway, opened in 1929 and was the last segment of roadway needed to connect Mexico to Canada, a feat accomplished by blasting out Mugu Rock, Jones explained.
Discussion concerning yet more interesting, little-known tidbits followed.
"Right after Pearl Harbor, the military had the top of Pt. Dume shaved off, reasoning that if Japan invaded our mainland, they may well land on Zuma Beach so we needed gunned lookouts at the top of Pt. Dume," Jones noted "If one looks around Malibu and its environs, there are still vestiges of the area's history."
Some of the Rindge Railroad popped up on the land's surface in the 1992 floods, according to Jones.
"At the bottom of Zuma Creek this year due to the heavy storms, some evidence of the railroad became visible and construction crews have recently uncovered some of the railroad at Trancas as they reconstruct the bridge there," he said.
To right a wrong
A highlight of Jones' lecture focused on Ballard Mountain, which was named in recognition of African American homesteader John Ballard, who was born into slavery in Kentucky in 1829, was granted his freedom in 1859, and moved to the Santa Monica Mountains in 1880.
"Ballard struggled to keep his dream of owning his homestead in what is now Seminole Springs alive and, in the process, he had to constantly battle racism," Jones noted. "Twice, other homesteaders burned Ballard's homestead down, presumably to jump his claim."
Ballard, who died in 1905, was described as an intelligent, literate man. Ballard's homestead included a 2,031-foot peak that stands in the Santa Monica Mountains just south of Thousand Oaks and Agoura Hills. Incredulously, Jones stated, "The mountain named for Ballard today carried the name N—–head Mountain until it was renamed Ballard Mountain in 2010!"
Yes, he emphasized, in 2010.
Jones would not state the racial slur, but noted that, as recently as 2009, a local hiking map did use that nomenclature.
"Because of the dedication of a few local citizens, Paul and Leah Culberg and Moorpark College history professor Patty Colman, in 2010, the mountain was renamed Ballard Mountain and John Ballard's descendants attended a renaming ceremony," Jones continued.
Those descendents came from a long line of generations of men and women who distinguished themselves as civil leaders, Jones explained, including Claudius, John Ballard's grandson, a Berkeley-educated doctor who fought during World War I and was awarded the prestigious Croix de Guerre by France for his bravery. Both of Claudius' sons, Albert "Lucky" and Reggie, fought in World War II. Reggie, who was one of the first African American captains of a Fire Department in Los Angeles County and helped to desegregate the department, passed away in 2021 when he was 97 years old, leaving behind many descendants who live and serve their communities in the Los Angeles area.
"Unbeknownst to his descendents, John Ballard had helped to found Los Angeles' first African Methodist Episcopal Church," Jones said. "Some of his living descendents attended that church and had absolutely no idea that their great, great grandfather had helped to establish it. They also did not know he was one of the first African Americans to vote in July 1870, right after the Fifteenth Amendment was passed."
A 13-minute documentary film, released in February, 2002, called "To Right a Wrong: The Story of Ballard Mountain" documents the effort to rename the mountain. To view the documentary, go to the National Park Service website (nps.gov).
These days, Jones noted, historians such as Colman have focused on the homestead belonging to Alice Ballard, one of John Ballard's seven children.
"It was most unusual for there to be a woman homesteader," Jones said. "Alice claimed a lot adjoining John's and another 160 acres were added to the Ballard family land."
Colman shared details about Alice Ballard's homestead with The Malibu Times.
"We always knew where Mr. Ballard's land was and where his daughter Alice's land was because we have the legal land description in the actual homestead documents from the National Archives in Washington D.C., and her homestead was noted on a plat map by the federal government in 1896," Colman said. "However, after the Woolsey Fire exposed some of the archaeology in the area, there were a couple of introductory, surface-level archaeological surveys done there by both archeologists and geographical information system professionals that pinpointed exactly where it was."
Because the local National Park Services' archive building in the Santa Monica Mountains was one of many structures that burned down, the artifacts from Alice Ballard's homestead were sent to CSUN's archaeology department, Colman said. "Recently, the California African American Museum planned to have some of those artifacts on display as part of their exhibits. However, that museum is temporarily closed due to flood damage sustained in the recent rains."
As the sage poet Maya Angelou once said, "If you don't know where you've come from, you don't know where you're going." In that vein, Jones intends to keep giving history lectures in Malibu, even if only to help those who live here now to appreciate how those who came before us struggled to establish the town and rugged, yet gorgeous surrounding area that we all have the honor to live in.